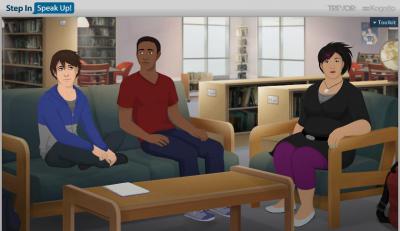 Fairfax County's online youth suicide prevention training includes FREE online simulations that prepare educators and other adults in our community to:
Recognize when a young person is exhibiting signs of psychological distress, and
Talk with the young person to be able to connect them with appropriate support.
The online trainings allow participants to enter a virtual environment and assume the role of an adult interacting with a young person. Unlike many online trainings, these are interactive and dynamic with actions you choose to move the scenario along, and participants receive real-time feedback on how well they are doing. Participants learn how to differentiate between "normal" and "at-risk" behavior and how to begin a conversation about the topic of mental distress. The courses are offered to anyone in the community, free of charge. Each training can be done in more than one sitting.
Step In, Speak Up! is a 30-minute online training to help concerned adults support youth who may be struggling due to harassment or exclusion related to sexual identity, sexual orientation or other differences.
To take a class, you'll need to create an account (first and last name, email address, user name, password). In the "Please enter your organization and select" field, begin typing and the choices will populate – use the up/down arrows on your keyboard to move through the choices if your organization is not listed, please select 'other.' Fairfax County Government employees will be asked to provide their Employee Identification Number (EIN) and FCPS employees will be asked to provide their 6-digit FCPS ID. You'll be asked to choose your role (i.e. community/family member, teacher, counselor, etc.) and agree to the site's Terms of Use, then you can create your account.
Need tech support with the trainings? There's a tech support link within the portal, or email support@kognito.com. 
Youth Suicide Prevention Training is provided as a service of the Fairfax-Falls Church Community Services Board and the Virginia Department of Behavioral Health and Developmental Services
About the training provider – Fairfax County has contracted with Kognito, a leader in online and mobile learning experiences for our online youth suicide prevention training. Kognito's online courses use role-play conversations with virtual humans to prepare users to effectively manage challenging conversations about health. Several empirical studies have shown that Kognito simulations result in statistically significant and sustainable changes in user's attitudes, skills, and behaviors.
Privacy of information on Kognito website – In some of their sites, Kognito collects personally identifiable information, like names, postal addresses, email addresses, etc., to allow users to open an individual, password-protected account to access the site and content. Kognito will not sell, give or rent your name or any other part of the information you provide to other parties. Kognito uses return email addresses to provide you with information about your account, progress in the course, and optional and anonymous surveys. Read Kognito's Privacy Policy for complete information.