Fairfax Food Council (FFC) was established by the Partnership for a Healthier Fairfax in 2015 with a vision of a vibrant food system where healthy, accessible and affordable food is valued as a basic human right. Its mission is to facilitate community partnerships and efforts to promote healthy eating.
On this page
News and Events
Food Resources
About the Food Council
News and Events
2021 FOOD SUMMIT | Empowering Equitable Food Solutions: Collaborations during COVID – and Beyond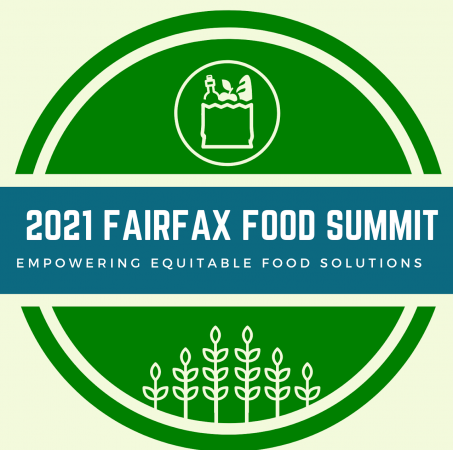 The 2021 Food Summit examined how our food system responded to the challenges faced throughout the COVID-19 pandemic, with an in-depth look at the equity impact on health, employment, urban agriculture, new food partners and collaborations, and first-time food insecure residents. The summit took place on June 16, 2021.
See: Agenda and speaker bios
See: 2021 Food Summit Highlights COVID-19 Impact on Food Equity
Fight Hunger in Fairfax County
Fairfax County Food Resources
A map of Food Resources from neighborhood & community sites, Fairfax County Public Schools, and nonprofit organization in Fairfax County is available to help residents find the location nearest to them.
Make Healthy Food Donations
Annie Turner from Food For Others and Diane Charles from the Fairfax Food Council provide tips for making healthy food donations this holiday season in our latest video.

About the Food Council
Work Groups
Food Access & Literacy Work Group
The Food Access & Literacy Work Group works collaboratively to develop innovative initiatives to increase the number of healthy food access points in the Fairfax community in the areas of highest need. The work group also facilitates collaborative initiatives to develop food literacy and nutrition education programming that is available and delivered through a variety of avenues.
Urban Agriculture Work Group
The Urban Agriculture Work Group supports food production at community settings and on public and private property to improve the environmental, economic and human health of Fairfax County. The vision of the work group is a healthy, beautiful and equitable Fairfax County where fresh food is grown within walking distance of every kitchen.
Community Food Assessment
The 2015 Community Food Assessment looks at the current status of access to healthy food. Information gathered is being used to develop and implement activities to promote increased accessibility and affordability of food in our community.
Connect to a Fairfax Food Council Meeting
Working Group and Steering Committee meetings are open to the public. All meetings are virtual until further notice (unless otherwise noted). Please email HDFairfaxFoodCouncil@fairfaxcounty.gov to RSVP for an upcoming meeting or for more information.
Urban Agriculture Work Group Meetings (2021)
| Month | Day | Time |
| --- | --- | --- |
| September | 20th | 10:00 - 11:30 a.m. |
| October | 18th | 10:00 - 11:30 a.m. |
| November | 15th | 10:00 - 11:30 a.m. |
Food Access & Literacy Work Group Meetings (2021)
| Month | Day | Time |
| --- | --- | --- |
| September | 29th | 10:30 - 11:30 a.m. |
| October | 27th | 10:30 - 11:30 a.m. |
| November | 24th | 10:30 - 11:30 a.m. |
Fairfax Food Council Steering Committee Meetings (2021)
| Month | Day | Time |
| --- | --- | --- |
| October | 21st | 10:30 - 12:00 a.m. |