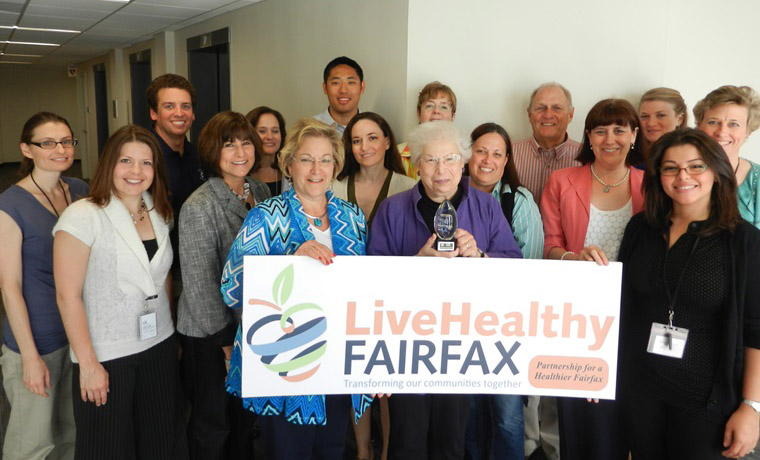 The Partnership for a Healthier Fairfax (PFHF) is a coalition of community members and organizations that are working together to strengthen the public health system and improve community health.
Since 2008, PFHF has been conducting a community-driven strategic planning process known as Mobilizing for Action through Planning and Partnerships (MAPP) to identify public health issues in the Fairfax community and develop goals and strategies to address them, which culminated in a Community Health Improvement Plan.
Published in September 2013, the Community Health Improvement Plan (CHIP) is an action-oriented plan created to make the Fairfax community a healthier place to live. It forms the basis for the Live Healthy Fairfax initiative. Find out more about the CHIP.
To strengthen the initial efforts of the Partnership for a Healthier Fairfax, Fairfax County was awarded a Community Transformation Grant (CTG) in 2011 by the U.S. Department of Health and Human Services, administered by the Centers for Disease Control and Prevented and granted to the Fairfax County Department of Neighborhood and Community Services. The CTG enabled awardees to design and implement community-level programs that prevent chronic diseases such as cancer, diabetes and heart disease. Created by the Patient Protection and Affordable Care Act, the CTG program supported states and communities in tackling the root causes of poor health so that people may lead healthier, more productive lives. Many objectives within the CHIP aligned with CDC's long-term objectives, as outlined in Healthy People 2020, as well as the strategic directions of the CTG grant.The CTG grant program ended in September 2014.
Through the established capacity within our community to engage partners in population health improvement objectives and the development of a Community Health Improvement Plan, the Health Department has received additional grant funds to support the PFHF in its many implementation efforts.
2013
National Association of County and City Health Officials – Health Impact Assessment grant
Anonymous Grant – Culturally and Linguistically Appropriate Services (CLAS) standards study
2014 - 2015
Virginia Department of Health, Healthy Eating and Active Living Grant – Health in All Policies and Increasing Accessibility to Healthy Food
Kaiser Permanente of the Mid-Atlantic States Community Benefit Grant – Food Policy Council support
Walmart Community Benefits – Eat and Run training supplies for early childcare providers
2016
Virginia Foundation for Healthy Youth – Food Policy Council Support