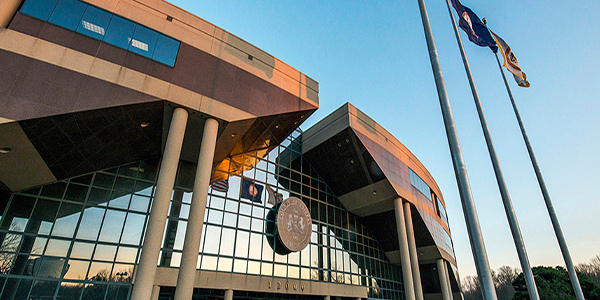 The Fairfax County Board of Supervisors adopted new local election districts today as a result of its redistricting efforts.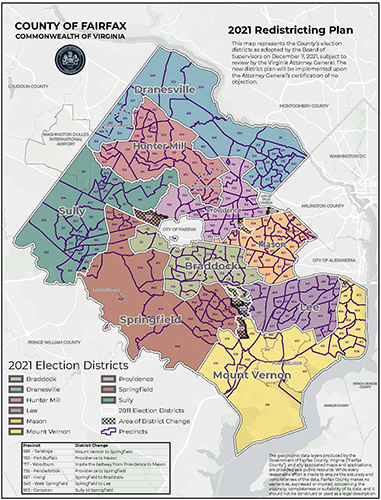 The adopted redistricting plan maintains nine election districts for the Board of Supervisors and School Board. However, it shifts seven precincts into different districts, moving them in whole or in part:
626 - Saratoga (from Mount Vernon to Springfield)
703 -Fort Buffalo (from Providence to Mason)
717 - Woodburn (split between Providence and Mason)
730 - Penderbrook (from Providence to Springfield)
827 - Irving (from Springfield to Braddock)
840 - West Springfield (from Springfield to Lee)
933 - Compton (from Sully to Springfield)
"This map, which was originally submitted by a member of the public, is the product of months of input from our residents, the Redistricting Advisory Committee and members of our board," said Board of Supervisors Chairman Jeffrey McKay. "Extensive outreach in the redistricting process has been a longtime priority for our board and produced a fair, nonpartisan and transparent process. These small adjustments aim to take population changes into account while minimizing the disruption to the daily lives of our residents and keeping communities together."
While these new districts take effect immediately, they are subject to certification by the Virginia Attorney General in accordance with the Virginia Rights of Voters Act of 2021. This process could take up to 60 days. Members of the Board of Supervisors and School Board who are in office now will complete their terms, representing the new districts as constituted in the ordinance adopted today.
State law requires that Fairfax County's Board of Supervisors be composed of one chairman elected at-large and one district supervisor elected from each local election district. The county may have as few as five districts or as many as 11 under state law.
What is Redistricting
Redistricting is a legally required process to draw new electoral boundaries to ensure proportional representation as populations grow and shift over time. It is done to create election districts with roughly equal numbers of people, although mathematical precision isn't required.
Redistricting takes place shortly after every decennial Census using data from this national population count.
Based on state-adjusted 2020 Census numbers, the county's population grew by 69,139 persons during the last decade to a total population of 1,150,856.
The population of the adopted nine election districts range from a low of 124,954 (Mount Vernon District) to a high of 130,807 (Sully District).
Under the Board of Supervisors' legal and policy criteria for redistricting, the population deviation between the most and least populated districts had to be less than 10%.
Redistricting Process
Public input was key to the redistricting process from the start.
"By design, the redistricting process was led by county residents, thanks to the Board of Supervisors," said Paul Berry, chair of the Redistricting Advisory Committee. "The committee itself represented the social, racial, economic and geographic diversity of the county, and public participation was fundamental to the process, along with a focus on equity. This was a community driven effort that I'm proud to stand behind."
The Board of Supervisors appointed the 20-member advisory group to recommend proposed electoral maps. The committee reflects the county's diverse population, and it includes representatives from the African-American, Hispanic, Asian/Pacific Islander and Arab-American communities.
The public was encouraged to submit proposed redistricting maps using the same software as the committee. In addition, residents were able to offer input and testimony to the committee and the Board of Supervisors during the entire process, including a Nov. 9 public hearing.
New District Names to Be Considered
Although not legally tied to the redistricting process, the Board of Supervisors will now consider new names for the districts.
It reappointed the Redistricting Advisory Committee to take on this task with a focus on racial and social equity. The group will have until March 1 to come up with its recommendations.
The currently existing district names will remain in place, however, until the board decides whether it will make any changes.
#  #  #