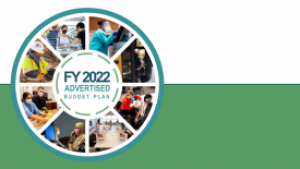 Public hearings on Fairfax County's proposed FY 2022 Budget, FY 2022-2026 Capital Improvement Program and FY 2021 Third Quarter Review take place Tuesday through Thursday, April 13-15. To ensure the safety of residents, officials and staff, the hearings will be held virtually.
The hearings begin at 4 p.m. on Tuesday, April 13, and at 3 p.m. on Wednesday and Thursday, April 14 and 15. They are televised on Fairfax County Government Channel 16 , streamed live online and available to view on demand following the hearings.
 You can provide testimony in writing, by phone or video. Use the Speakers Form to sign up and get details on the various methods on the Ways to Provide Public Hearing Testimony page.
The proposed General Fund budget is $4.49 billion, a $16.51 million increase over the FY 2021 Adopted Budget. Including other appropriated funds such as federal and state grants, the total proposed FY 2022 Budget is $8.52 billion. On Tuesday, March 9, the Fairfax County Board of Supervisors set an advertised real estate tax rate of $1.15 per $100 of assessed value. The final rate can be reduced, but not increased, from $1.15.
Mark-up of the budget, when the Board of Supervisors discusses and makes changes to the proposal, takes place on Tuesday, April 27, with adoption on Tuesday, May 4. Budget timeline.