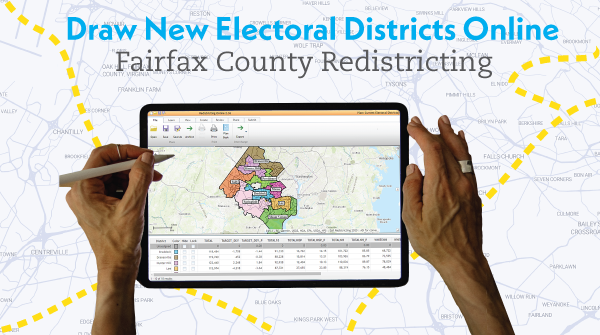 ---
We've launched an online tool to allow anyone to draw proposed new electoral maps for the Board of Supervisors and School Board.
New electoral districts are being drawn through the county's redistricting efforts, and the public is encouraged to create proposed maps.
The mapping tool and instructions are online, and the deadline for the public to submit maps is Sunday, Sept. 19 at 11:59 p.m.
Residents who don't have a computer or internet access may visit a county public library to use the mapping tool, or call 703-787-4962, TTY 711, to find other locations to use a computer.
The community advisory group that was created to recommend new electoral districts will review and consider any maps submitted by the public.
WHAT IS REDISTRICTING
As required by law, the county must redraw its political boundaries following the U.S. Census that is conducted every 10 years. This is done to ensure proportional representation as populations grow and shift over time. The goal for redistricting is to draw new electoral districts with roughly an equal number of people, although mathematical precision isn't required.
Redistricting will not change public school boundaries — only electoral districts for the Board of Supervisors and School Board. The county's redistricting efforts also will not change the electoral boundaries for state lawmakers or members of Congress.
The Board of Supervisors appointed a 20-member redistricting committee to recommend new electoral maps. The Redistricting Advisory Committee is composed of members who represent the county's diversity.
REDISTRICTING TIMELINE
Due to the late delivery of Census data, the group's work is extremely compressed, and it is anticipated that the committee will finish its map drawing by Sept. 28.
The group is using the same online mapping tool that's available to the public, and maps drawn by the committee or public also will be available for review and comment online.
The Board of Supervisors is currently scheduled to hold a Nov. 9 public hearing on the proposed new electoral districts. It is anticipated that the board will vote to adopt new districts on Dec. 7, and by state law, the county must complete redistricting by the end of this year.
For more information, visit Fairfax County's redistricting webpages.