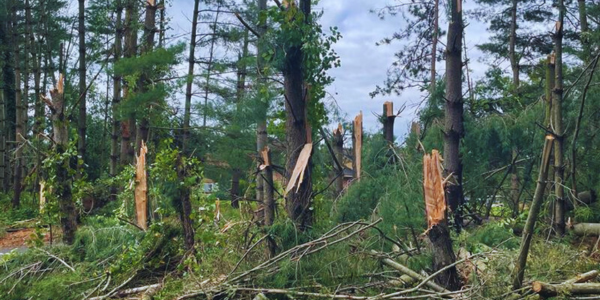 Monday's storm led to many impacts across the county, including a microburst with hurricane-force winds.
The Community Emergency Response Guide can help you prepare for threats such as storms and extreme heat.
Our Resilient Fairfax plan focuses on preparing for a changing local climate.
Monday's line of severe storms struck the county in many different ways, including a confirmed microburst in one area of the county, power outages to downed trees across the county, to minimal impacts in other areas. The forecasted strong winds and tornado potential showed yet again the increasing ways that our local climate is becoming generally "warmer, wetter and weirder" compared to historical trends according to a recent county study.
The intensity of Monday's storm varied across the county, but one particular area was hit hard near Clifton off Popes Head Road.
Damage assessment teams from our Department of Emergency Management and Security, Fire and Rescue Department and the National Weather Service were on the ground Tuesday examining the damage, including these ground and drone images: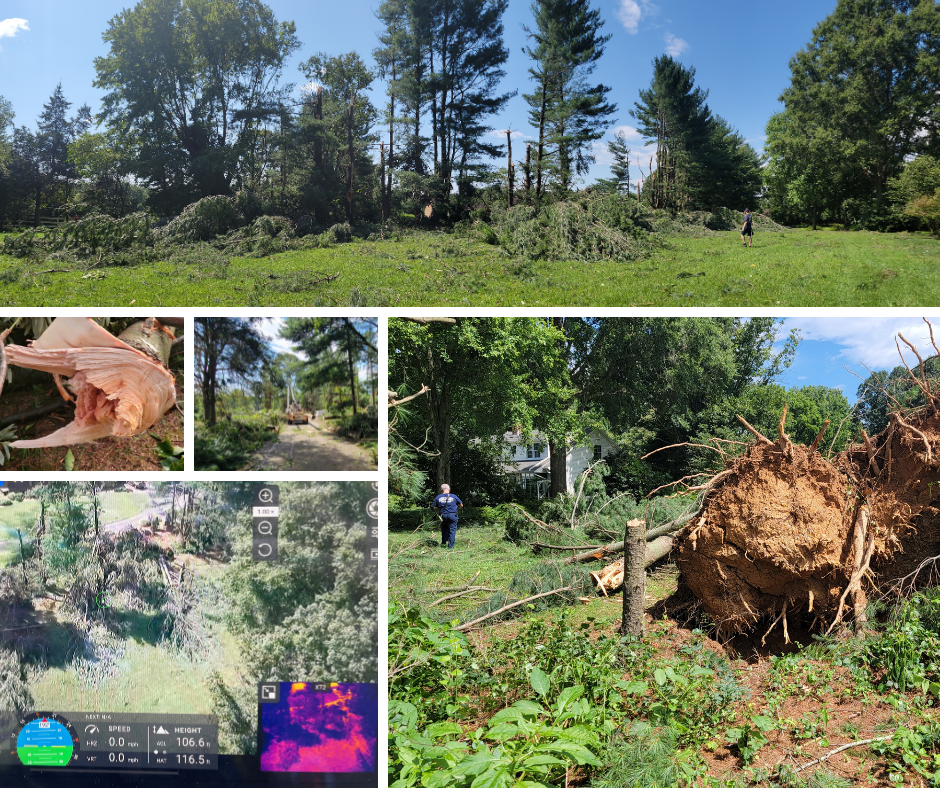 It's been determined the area was hit by a microburst, which caused the National Weather Service to issue an unusual "Destructive" Severe Thunderstorm Warning ahead of time that activated Wireless Emergency Alerts (WEA) in that area. The microburst included hurricane-force winds (70-80 mph or greater) that snapped and downed a significant number of trees and powerlines in that area (no tornado was confirmed). While there are a number of trees down, some over 24" in diameter, no significant property (home) damage was observed or reported.
PREPARING FOR EMERGENCIES
Another round of severe storms will, of course, happen again. Already this summer, we've been impacted by wildfire smoke from Canada, tornado threats and extreme heat. Our Community Emergency Response Guide helps prepare you and your neighborhoods for storms, flooding and more.
RESILIENT FAIRFAX PLANNING
Monday's storm is a reminder that intense storms can impact any neighborhood, so we all should be prepared for the worst but hope for minimal impacts.
The good news is that there is a lot we can do to be resilient, and there is a lot already being done. Our Resilient Fairfax plan is the first such plan that focuses specifically on climate adaptation and resilience. This plan is built on a strong foundation of existing county services and practices, including the county's emergency management planning, flood mitigation efforts, population services, and natural resource protections. Resilient Fairfax is envisioned to be a long-term program of iterative climate planning and implementation to help the county better anticipate, prepare for, adapt to, and build resilience to a changing climate.