Cooling Centers
Visit indoor locations during operating hours to stay cool or get relief when code red air quality days are declared (due to wildfire smoke or other causes).
In addition to shopping malls, stores or movie theaters, you may consider cooling off at one of our county facilities designated as Cooling Centers, including:
Note: Martha Washington Library is currently experiencing HVAC issues and is not acting a Cooling Center at this time (Tuesday, Sept. 5).
You are encouraged to first check that locations are open before you arrive. Consider using the Fairfax Connector BusTracker to plan your visit.
 
County Heat Plan Activation
When the National Weather Service issues a heat advisory for Fairfax County (usually 24 hours in advance), the county will then activate its heat plan.
The heat plan is activated when NWS issues one of the following alerts:
Heat Advisory: issued when the heat index values is expected to reach 105 to 109 degrees within the next 12-24 hours.
Excessive Heat Watch: Issued when there is a potential for the heat index to reach or exceed 110 degrees within the next 24-48 hours.
Excessive Heat Warning: Issued when the heat index values is expected to reach or exceed 110 degrees within the next 12-24 hours.
Supplies to Beat the Heat
When Fairfax County's heat plan is activated, supplies will be available for those who need it including water bottles, sunscreen, insect repellant, hats and cooling towels.
Fairfax County distributes supplies through outreach workers and other partners who go out into the community to check on unsheltered residents, shelters, drop-in centers, and meal sites.
The Cooling Assistance program helps keep Fairfax County residents cool during the summer months through:
Payment of electric bills to operate cooling equipment.
Payment of security deposits for electricity to operate cooling equipment for accounts in danger of being disconnected or when a deposit is needed to begin service.
Repair of a central air conditioning system or heat pump.
Purchase of a whole-house fan, including ceiling or attic fans.
Purchase and installation, or self-pick-up, of one air conditioning unit (window or portable).
To be eligible, at least one household member must be: 60 or older; 5 or younger; or disabled according to Social Security, Medicaid or 100% Veteran's Administration.
Are you in need of additional cooling during the summer? 
The Senior Cool Care Program is a program that helps low-income older citizens in our jurisdiction keep cool during summer months. This program does not provide financial assistance, but it provides additional cooling at home by providing fans for eligible older adults, age 60 and older.
The program runs May 1 through October 31, 2023. If you are interested in learning more about the program, please call the Aging, Disability & Caregiver Resource Line at 703-324-7948.
During hot days, here are eight tips to stay cool and look after others:
Drink plenty of water, even if you don't feel thirsty.
Stay inside and out of the heat if possible. Save the yard work for another day or time.
Visit indoor locations during operating hours to stay cool.
Know the symptoms of heat-related illness. Heat stroke is an emergency, so call or text 9-1-1.
Check on people with vulnerabilities in our community who may need help responding to the heat.
Never leave children, older adults, or pets alone in a car.
Fans create air flow but give a false sense of comfort and they do not reduce body temperature. Stay hydrated and take other steps to get cool.
Our Department of Emergency Management and Security has more information about extreme heat, including important terms to know.
Stay Informed with Fairfax Alerts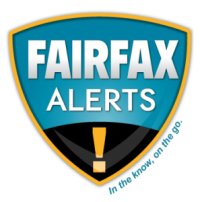 The Fairfax Alerts system delivers important emergency alerts, notifications and updates during a major crisis or emergency.
Sign up for emergency alerts that include: Heat Emergency; Public Safety, Traffic, Weather; Police Notifications; Emergency Preparedness Drills/Exercises.