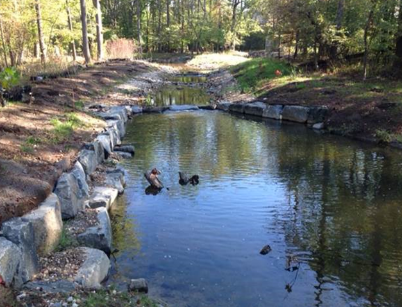 The MS4 Program has been awarded a Gold Level in Program Management and a Silver Level in Innovation by the not-for-profit Water Environment Federation (WEF) of Alexandria, VA, in the National Municipal Stormwater and Green Infrastructure Awards Program. These levels were selected based on rigorous review and discussion among the WEF work team and provides a comparative bench-marking level for the Fairfax County community among other 2018 applicants.
MS4 is the Municipal Separate Storm Sewer System.
"Congratulations to the stormwater team and all of our partners who have roles in the implementation of the county's MS4 program," said Craig Carinci, Director, Stormwater Planning Division, Department of Public Works and Environmental Services. "The county is receiving these awards as a result of team work throughout county agencies. These levels of recognition could not have been achieved without county-wide commitment and support," he said.
The National Municipal Stormwater and Green Infrastructure Awards program, developed and introduced in 2015 by the Water Environment Federation through a cooperative agreement with the U.S. Environmental Protection Agency (EPA), was established to recognize high-performing regulated MS4s. Award winners meet and exceed regulatory requirements in innovative ways that are effective and cost-efficient.
"We were impressed with the quality and quantity of Fairfax County's submittals," said Eileen J. O'Neill, Ph.D., Executive Director, WEF. "Congratulations and thank you for taking the time to prepare and submit your application for this awards program," Dr. O'Neill said.
Winners are invited to an awards ceremony at the annual WEFTEC, a water quality event to be held this year from September 29 through October 3 at the Morial Convention Center in New Orleans, Louisiana.
WEFTEC is recognized as the world's largest annual water quality technical conference and exhibition, providing "extensive educational opportunities and unparalleled access to the field's most cutting-edge technologies and services."
View information about the Fairfax County MS4 Program.
Find more information about the award at Water Environment Federation Awards and Recognition.