Watershed Education and Outreach
Our Stormwater Management Division provides experiential learning programs and teaching tools to audiences ranging from K-12. All programs are taught by stormwater scientists and are free of charge.
Who wants to talk about wastewater? We do! Wastewater Management Program employees want to bring a two-day, hands-on Sewer Science lab to your schools where we create and treat wastewater while teaching students about the processes used to clean their most valuable resource – water!
Urban Forestry offers programs on the importance and benefits of trees as well as current threats posed by invasive forest pests.
Wastewater Science Projects
Wastewater Management offers assistance to county high school students with their science projects. Interested students may apply to this free program.
Wastewater Treatment Plant Tours
Take a tour of the Noman M. Cole, Jr., Pollution Control Plant, the county's award-winning wastewater treatment facility.
Tour the I-66 Solid Waste Transfer Station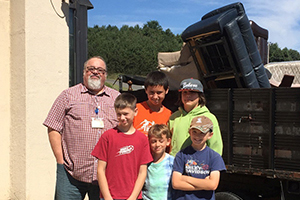 Students can take a tour of the transfer station, which includes an observation window with lots of movement, trash, brush grinding, hazardous waste collection and a recycling drop-off center.
Fairfax County Solid Waste Management professionals are available as guest speakers. Collection vehicles are available for touch-a-truck events. Call 703-324-5230, TTY 711 for more information.
Watching paint dry is a great way to protect our environment. Learn how to properly dispose of latex paint when you're done painting the town red.
How to Report Illegal Dumping into Stormdrains and Streams
Never dump oil, paint, or any substance into a stormdrain or stream. Report violations: call 703-324-5500, TTY 711 or email. Report dumping of hazardous material to 911.
Clean Fairfax Council Programs
Clean Fairfax Council offers educational workshops and games that are fun, informative and FREE! To reserve an activity, call Jennifer Cole at 703-324-5471, TTY 711.
A Field Guide to Fairfax County's Plants and Wildlife
A Field Guide to Fairfax County's Plants and Wildlife helps young readers identify common species found in our neighborhoods, schoolyards, parks, and other outdoor areas. The guide includes fun activities for exploring how organisms fit into the ecosystem and generate awareness of how humans affect the environment. For additional information, email the Stormwater Planning Division or call 703-324-5500, TTY 711.
Northern Virginia Soil and Water Conservation District Programs
The Northern Virginia Soil and Water Conservation District offers numerous educational programs for Fairfax County students.