Search Public Works & Environmental Services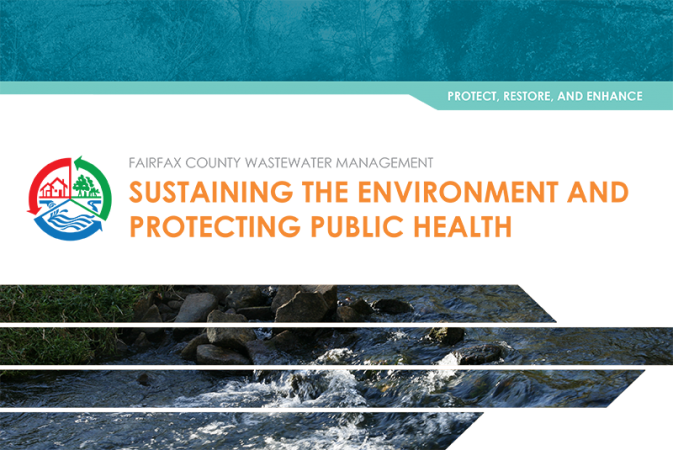 April 4, 2018
Fairfax County's Wastewater Management Program has published a new report titled "Sustaining the Environment and Protecting Public Health." The publication explains the program's efforts to protect, restore, and enhance water quality in our region – and the $2B in assets involved in the process. A new report explains the importance of Fairfax County's Wastewater Management Program. Most people don't think about wastewater. They simply flush it and forget it. Yet collecting and treating wastewater is perhaps the single most important building block on which modern society is built. If wastewater – water used for cooking, cleaning, flushing toilets, and industrial processes – was released untreated, waterborne illnesses such as cholera and typhoid would devastate our communities. The new report explains complicated industrial processes using colorful photos, infographics, and descriptive examples. A custom centerfold graphic illustrates water's journey as it is used by communities, treated, and returned to the environment. Other highlights include information about the Sewer Science Lab program for public school students and other community outreach efforts, and guidance on the proper disposal of medicine, wipes, and FOG (fats, oils, and grease). Managing wastewater is a highly regulated industry, and Fairfax County continues to meet and exceed requirements while providing a resilient, efficient, and affordable wastewater treatment program. Fairfax County's Wastewater Management Program protects public health and the region's water quality by collecting and treating millions of gallons of wastewater per day from about 340,000 residential and business customers. The county's wastewater collection and conveyance system is one of the nation's largest sanitary sewer systems, covering nearly 234 square miles. The program is operated by the Department of Public Works and Environmental Services. Read, download, or print the report. A limited number of printed copies will be made available at select county offices. For more information, contact Matthew Kaiser at 703-324-8455.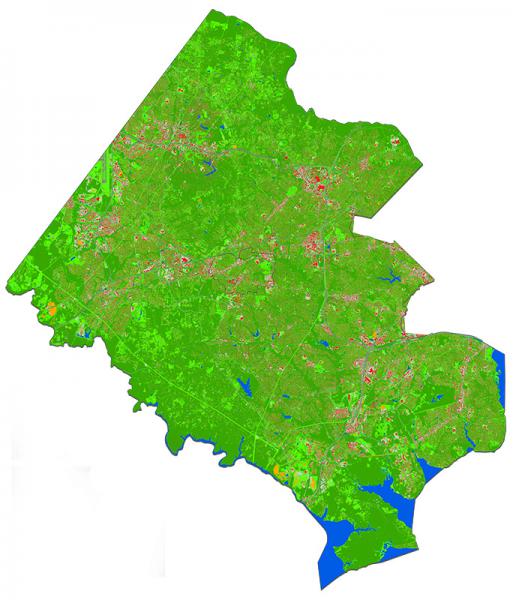 March 19, 2018
Fairfax County has earned the Arbor Day Foundation's Tree City USA designation for the 35th consecutive year. Each year since its inception in 1976, thousands of urban foresters across the country submit applications to be considered to receive this cherished designation. The accomplishment will be celebrated during a brief ceremony at the county's Earth Day event, Springfest Fairfax, on Saturday, April 21, from 10 a.m. to 4 p.m. at Sully Historic Site, 3650 Historic Sully Way in Chantilly. The Tree City USA designation is celebrated at SpringFest Fairfax 2017. It is the Foundation's belief that the Tree City USA program has been "greening up cities and towns for 42 years." It is a nationwide movement that provides the framework necessary for communities to manage and expand their public trees. To qualify as a Tree City USA community, four standards established by the Arbor Day Foundation and the National Association of State Foresters must be met. The standards were established to ensure that every qualifying community would have a viable tree management program and that no community would be excluded because of size. The standards are: A tree board or department is required. A tree care ordinance is required. A community forestry program with an annual budget of at least $2 per capita is required. An Arbor Day observance and proclamation is required. Part of managing the forest is knowing what it contains. As part of the Tree City application, urban foresters performed an i-Tree Eco survey on 200 plots across the county. For the survey, urban foresters collected a suite of measurements which describe Fairfax County's urban forest according to tree species, structure and a multitude of ecosystem services such as energy savings, stormwater mitigation, and pollution removal. The data is run through the i-Tree model which compiles summary information about the urban forest and its associated ecosystem services. An interesting snapshot appears: There are more than 44 million trees in Fairfax County The tree cover is 51.2 percent The most common species are the American Beech at number one; the red maple at number 2; and the tulip tree at number 3 Trees in the county remove 4.538 tons of pollution each year Trees in the county produce 232.9 thousand tons of oxygen per year Trees in the county provide building energy savings of more than $34 million per year Trees in the county have a structural value of more than $32 billion. Fairfax County is one of 3,400 communities that have made the commitment to become a Tree City USA. In the Commonwealth of Virginia there are 56 communities that have attained the Tree City USA designation (as of late February 2018). The i-Tree program was developed by the U.S. Forest Service, among others. Tree City USA is an Arbor Day Foundation program in cooperation with the US Forest Service, Department of Agriculture, Urban and Community Forestry Program and the National Association of State Foresters.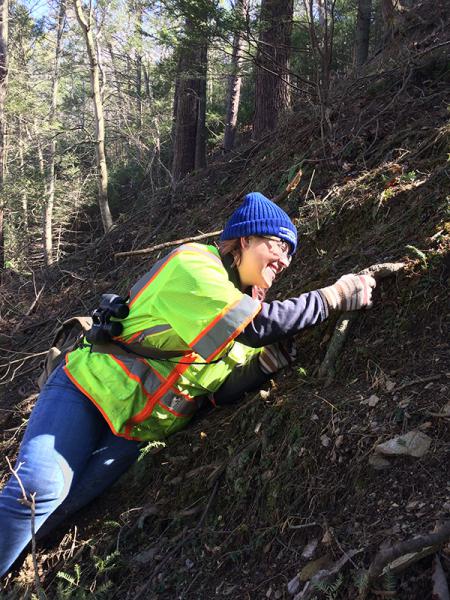 March 16, 2018
Urban foresters have been out surveying and treating trees at Hemlock Overlook, near the Occoquan River in the southern part of the county, and in Scott's Run which is in the northeastern area of the county. Hemlock trees are more common in the Appalachian Mountains, but there is a small population of naturally occurring hemlocks in Fairfax County. Urban foresters check on the health of a treated hemlock tree. "In the 1950s a particularly nasty invasive insect called the hemlock wooly adelgid (HWA) arrived in the U.S. from infested Japanese hemlocks," said Rachel Griesmer-Zakhar, Urban Forest Management Division (UFMD), Dept. of Public Works and Environmental Services. "This insect feeds on the sap of hemlock trees. The American species (Eastern and Carolina hemlocks) have no defense against this invasive pest and were virtually wiped out in Shenandoah National Park," Griesmer-Zakhar said. "Once HWA becomes established in an area it will slowly but surely kill its host."  With that in mind, urban foresters wanted to protect and conserve this resource. The common name hemlock is derived from a perceived similarity in the fragrance of its crushed foliage that is similar to the unrelated poisonous plant. Hemlock trees are not poisonous. "The wooly adelgid looks like white clumps on the undersides of branches of hemlocks," Griesmer-Zakhar said. "The white fluff is a group of aphid-like insects that take their name from its sole host and the white wax it secretes to protect its nymphs and eggs." Twice each year this pest lays 50 to 300 eggs. The young bite into the base of a hemlock needle and suck out the sap. "This means the hemlock cannot take in the water and other nourishment it needs to thrive," Griesmer-Zakhar said.  As part of UFMD's integrated pest management program, urban foresters conduct monitoring each year of the hemlock trees in the county that have been treated to see how well the pest is being controlled. In these surveys, urban foresters look for the presence of HWA and another invasive insect called hemlock elongate scale – which is not as serious as HWA – and urban foresters review the overall health of the trees. There are treatments, but they are expensive and it's difficult to reach the trees, even in Fairfax County. Many of the hemlock trees are in remote locations or growing in treacherous terrain, such as steep slopes next to streams, which is great for the trees but not so great for the urban foresters. Urban forester Rachel Griesmer-Zakhar makes the difficult climb. Chemical controls for HWA include the systemic insecticides imidacloprid and azadirachtin.  In 2015, Forest Pest Branch staff began treating a subset of the healthier hemlocks in Scott's Run Park and at Hemlock Overlook. The instructions on the label of the pesticide that urban foresters use against HWA indicates that trees should be treated annually, but staff of UFMD will treat again if the pest levels have increased to a point where the trees are declining or the HWA populations have escalated dramatically. Based on preliminary surveys done this year, it's likely that urban foresters will conduct another round of treatment either in the fall of 2018 or 2019. "We've treated 60 trees by injection using azadirachtin. As part of our integrated pest management program, we conduct monitoring each year of the hemlock trees that have been treated to see how well the pest is being controlled," Rachel said. Urban foresters inject a hemlock sapling with insecticide. About 95 percent of the hemlocks in Shenandoah National Park are dead or dying and some of these trees may have been 500 years old. The eastern hemlock tree had been known as the 'Mighty Redwood of the East' and was a scenic highlight of Virginia's Skyline Drive. A National Park Service biologist said in an interview with CNN Travel, "Where you found hemlock, you found particularly beautiful areas with unique ecosystems, shaded streams with brook trout and specific songbirds that needed that habitat." A striking, nearby example is the Limberlost Trail (at milepost 43) where the population of hemlocks in Shenandoah National Park was almost wiped out. At the trailhead, a sign explains what happened to the hemlock trees, most of which have been lost to the wooly adelgid. It's been said that the impact of a widespread loss of hemlock trees could trigger changes more significant than those that followed the demise of the American chestnut tree in the 1930s and 1940s.
6:30PM, An update on construction of the Huntington levee system will be…