Search Public Works & Environmental Services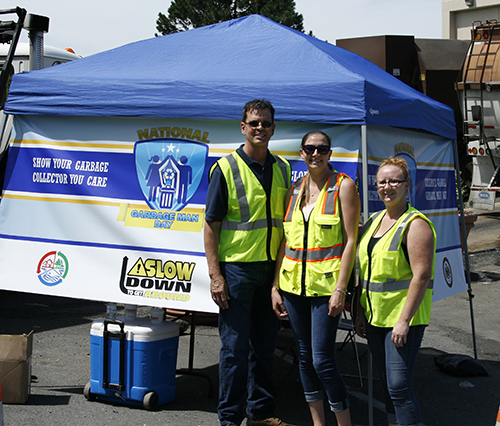 June 4, 2018
Fairfax County's Solid Waste Management Program is celebrating the sixth annual National Garbage Man Day during the week of June 17 to 24. Trash collection is hard, physical work and it's the fifth most dangerous job in the country.   To honor the service of this important labor force, a thank-you event will be held on June 19, from 9 a.m. to 2 p.m. at the I-66 transfer station located at 4618 West Ox Road in Fairfax, Va. Collection workers arriving at the transfer station to empty their trucks will be given water bottles, a custom-designed cooler bag, and a heartfelt thank-you. Most people take for granted that the trash they leave on the curb in the morning will be gone when they return home at the end of the day. Last year more than 1.3 million tons of trash and recyclables were collected from approximately 400,000 households and 116,000 businesses throughout the county. The efforts of these hardworking men and women keep communities clean and safe. "We ask that you stand with us in respecting the work they do and the service they provide, and that you slow down and pass them with care if you must get around them," said Dennis Batts, emergency operations and safety manager, Solid Waste Management Program. "You can help ensure that they get home safely to their families each night." Nationally, there are approximately 100,000 trash and recycling collection workers picking up more than 250 million tons of waste each year. Collection workers work on the hottest days of summer, the coldest days of winter, in driving rain and blowing snow, and on highways and streets where other drivers are often distracted or in a hurry. In recent years, the Solid Waste Management Program has stepped up its efforts to protect its workers and to share information with private haulers operating in the Northern Virginia region in the hopes of helping to keep them safe as well. Since its 2016 Slow Down to Get Around event, the county has continued to look for new ways to draw attention to the dangers collection workers face each day and the law that was passed to protect them—including events like Garbage Man Day, and a safety page on the Solid Waste Management Program's webpage. "Whether it's a smile and a wave or a thank-you, take a moment to show them a little love and let them know you appreciate the work they do," Batts said. In this 2017 video, Dennis Batts describes trash collection in Fairfax County and why this work is important – and dangerous.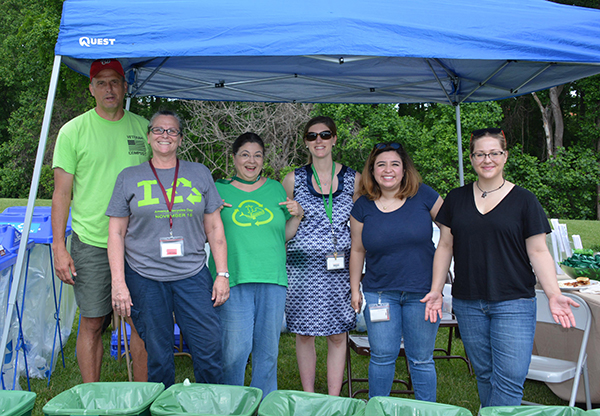 May 30, 2018
At its annual Public Works Week picnic on May 23, 2018, Fairfax County's Department of Public Works and Environmental Services collected 120 pounds of compostable materials, or about one-third of the event's overall waste. The other two-thirds were trash and recyclables. This was the second consecutive year the department demonstrated that with a little planning and coordination, a large event can move toward zero waste. Compostable material is collected at the Public Works Week picnic on May 23. More than 120 pounds of compostable material will have a future use as landscaping soil.   Staff from the Solid Waste Management Program's outreach and education team helped the Capital Facilities picnic planning committee choose compostable plates and cutlery to purchase for the event. One of the county's registered compost collectors was hired to set up a station to collect food scraps, plates, napkins, and cutlery. Staff at the station guided picnickers to the green receptacles. Instead of becoming trash, the material will be composted and turned into fertile soil for use in landscaping. Diverting two-thirds of the event's waste for composting and recycling was just the first step. Much of the trash consisted of aluminum food trays that were too dirty to be recycled. Following combustion at the waste-to-energy plant, metallic waste is extracted from the ash and recycled. As a result, the diversion rate was closer to 80 percent of the all the waste material generated during the event. Next year the outreach team will not only encourage composting, but also work with the planning committee in an attempt to eliminate bottles and cans by providing beverages in dispensers and encouraging participants to bring their own reusable cups or bottles. When it comes to reducing waste at the source, the public works department is leading by example.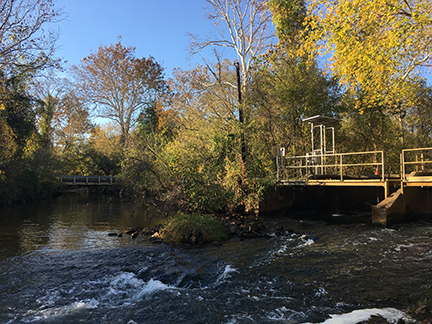 May 25, 2018
Fairfax County's wastewater treatment plant achieved perfect compliance with its National Pollutant Discharge Elimination System permit in 2017. This marks the 20th consecutive year the Noman M. Cole, Jr. Pollution Control Plant in Lorton, Va., has earned the Platinum Peak Performance Award from the National Association of Clean Water Agencies. Forty million gallons of wastewater are treated and released every day at the Noman M. Cole, Jr. Pollution Control Plant, in Lorton, Va.   NACWA's Peak Performance Awards recognize member agency facilities for excellence in wastewater treatment and recognizes the commitment, innovation, and achievements of individuals and public agencies in the clean water community. This is the 34th time NACWA has recognized the program for its performance. Wastewater Treatment Division Director Mike McGrath says the accomplishment is significant because only two dozen of the nation's 16,500 wastewater treatment plants have a compliance record 20 years or longer. "It takes hard work to keep all of the pieces working to make this happen," he said. Achieving 100 percent permit compliance means the treated water, or effluent, discharged into the plant's receiving waters does not create public health problems or harm the environment. To be eligible for a Platinum Peak Performance Award, Fairfax County's wastewater treatment facility must conduct more than 6,700 tests to verify compliance with the Clean Water Act. More than 30 years of extensive environmental monitoring in Pohick Creek and Gunston Cove has shown that aquatic ecosystems are thriving. McGrath says only a few employees have worked at the plant during the two decades of award-winning compliance. "In keeping the legacy going, I have been impressed with how new employees have stepped in and how experienced employees have mentored new staff," he said. The Wastewater Management Program is operated by the Department of Public Works and Environmental Services. The sanitary sewer system, one of the nation's largest, covering 234 square miles, includes more than 3,400 miles of pipes which convey more than 100,000 gallons of wastewater every day from 340,000 residents and businesses. A new report, titled Sustaining the Environment and Protecting Public Health, describes the Wastewater Management Program's efforts to protect, restore, and enhance water quality in Northern Virginia.  
Director Announcement
Fairfax County seeks a professional to lead a nationally accredited Department of Public Works and Environmental Services. The selected director will manage a $230 million operating budget and oversee a $2.6 billion capital improvement program. This is an opportunity for a visionary leader to direct a 1,030-person workforce committed to building and maintaining safe, reliable infrastructure that improves public health and provides a high quality of life for residents.