Search Public Works & Environmental Services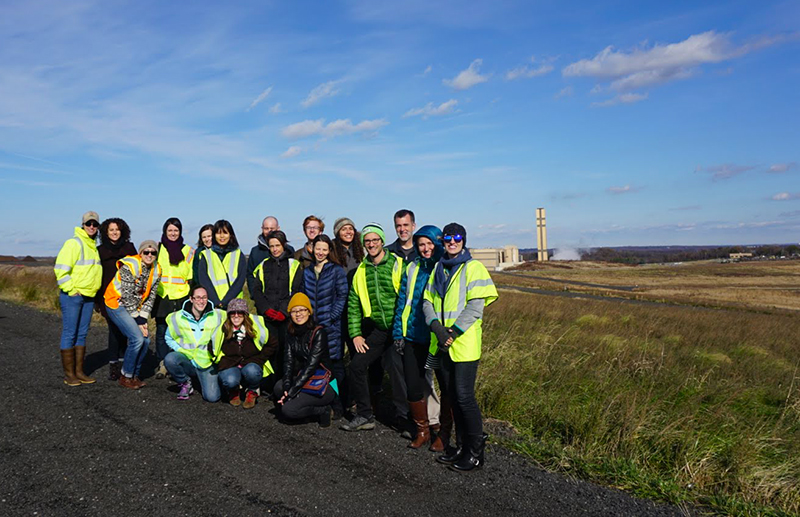 December 11, 2018
The I-95 landfill complex serves as an outdoor classroom for discussions about waste management and sustainability practices.   On Friday, November 16, a group from The World Resources Institute's Washington, D.C. office toured the I-95 landfill complex in Lorton, Va. Environmental compliance specialist Erin Abrahams led the tour, which focused on the general operations of the solid waste processing site and future sustainability goals. "The tour complimented their diverse teams on many aspects of environmental management, from waste, to water to air quality," said Abrahams. The landfill stopped accepting municipal solid waste (trash) in the early 1990s, and plans are underway to transform the site into a destination for environmental education. Highlights of the 300-acre site's operations, which are managed by the Fairfax County Solid Waste Management Program, include a residential recycling drop-off area, a household hazardous waste disposal area, a glass crushing plant, a tire recycling program, a native meadow and honeybee program, a mulching facility, a landfill gas production system, and an ash disposal area. The World Resources Institute is a global non-profit organization with a mission to "move human society to live in ways that protect Earth's environment and its capacity to provide for the needs and aspirations of current and future generations." The group's tour organizer said the tour provided a new perspective on waste management and moving toward a circular economy model.  After the tour, the group visited the adjacent Covanta Fairfax, Inc., waste-to-energy plant, which converts 650,000 tons of trash into electricity each year. More than a million gallons of reclaimed water from the county's wastewater treatment plant are pumped to the plant's cooling towers every day. To schedule a tour of the I-95 landfill complex, call 703-690-1703, TTY 711, and ask to speak with Katie Dent or Erin Abrahams.  The tour schedule is flexible and can accommodate learners of all ages.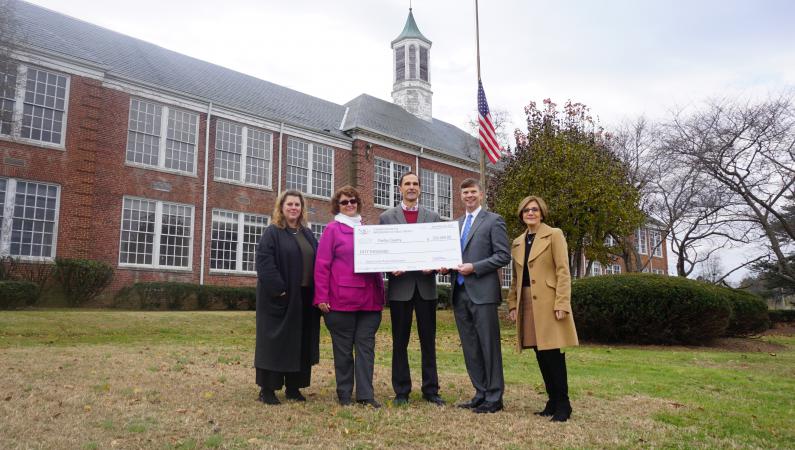 December 10, 2018
Pictured in the photo, from left to right, are Ann-Marie Twohie, director, Office for Children; Cathy Muse, director, Dept. of Procurement and Materials Management; Mount Vernon District Supervisor Dan Storck; Matt Chase, executive director, National Association of Counties; and Katayoon Shaya, branch chief, Public Private Partnerships, Building Design and Construction Division, Department of Public Works and Environmental Services.   On Friday, November 30, 2018, the National Association of Counties Foundation for the Improvement of Public Services and the U.S. Communities Foundation presented a check to Fairfax County in the amount of $50,000. The money is designated for future playground equipment to be built when the Original Mount Vernon High School site is renovated. A master development planning process for the historic school and 42-acre campus located at 8333 Richmond Highway, Alexandria, began earlier this year. The goal is to transform the site into vibrant community spaces that can be used by a mix of public, private, residential, educational, recreational, and non-profit entities. According to Department of Procurement and Materials Management Director Cathy Muse, NACo approached Fairfax County expressing an interest to donate funds toward a playground in an underserved community.  Muse was familiar with the OMVHS project and knew that a Head Start program was proposed for the redevelopment and that a playground would be required, but no funding had been identified. "It seemed serendipitous, but I connected the Foundation with the project manager and after a few conversations and a visit to the site, the Foundation voted to provide the funding to Fairfax County," said Muse. A location for the playground will be included in land use and planning concepts when the master development plan is completed and the childcare program location is finalized. Construction isn't expected to begin for at least two years. Although plans for the 42-acre site are still being developed, this generous donation will help provide vitally important play space on the campus. "This is very exciting and signals the first step in accomplishing our goal of meeting the needs in the community," said project coordinator Katayoon Shaya. "Establishing the childcare program is an important part of this redevelopment." Learn more about the OMVHS master planning project. About U.S. Communities U.S. Communities is a leading national government purchasing cooperative, providing world class government procurement resources and solutions to local and state government agencies, school districts, higher education institutions, and nonprofit organizations. U.S. Communities was founded in 1996 by the National Association of Counties in partnership with several national sponsors including the Association of School Business Officials, the National League of Cities, the United States Conference of Mayors and more recently the National Governors Association.  More than 55,000 registered agencies, education institutions and non-profits utilize U.S. Communities contracts to procure more than $2.7 billion in products and services annually.
December 6, 2018
Brian Keightley is the new Urban Forest Management Division Director, Department of Public Works and Environmental Services. Former and soon-to-retire division director Keith Cline and Keightley are working together for a smooth transition. "Brian is an outstanding addition to the Urban Forest Management Division and to Fairfax County leadership," Cline said. "I look forward to working with him over the next month during the transition as my retirement approaches on January 18, 2019. I know Brian will move the division forward and accomplish great things as director." Keightley was born and raised in the Springfield/Burke area of Fairfax County. He attended county public schools and graduated from Paul VI High School in Fairfax City. He earned a Bachelor's Degree in Forestry and Environmental Resource Management at Virginia Tech and earned a Master's Degree in Natural Resources at the Falls Church campus of Virginia Tech in 2011. "I have been licensed to practice Forestry in Maryland since 2006 and in New Jersey and Michigan through reciprocity," Keightley said. He has been a member of the Society of American Foresters since 1997 and the International Society of Arboriculture since 2007 when he received his Certified Arborist (CA) accreditation. Prior to earning his CA accreditation, he was accredited in Maryland as a licensed tree expert and erosion and sediment control inspector. "I have been in the field of forestry and natural resources for about 18 years," he said. "My first position was with the National Park Service (NPS), Center for Urban Ecology, where I worked in plant pathology." After his time with NPS, Keightley worked for private firms and conducted tasks such as forest and wetland delineations, tree preservation plans, Threatened and Endangered Species Surveys (T&E) and water quality permitting. For the past two years, he was the Deputy Division Chief for Environmental Planning and Operations, Arlington County, VA. He supervised urban forestry, natural resources, landscaping, nature centers and park ranger programs.
Featured Video
Fairfax County Employees, Chairman Sharon Bulova and Supervisor Penny Gross dug the holes and planted 15 native trees near the Government Center pollinator meadow on Halloween morning, October 31, 2018.