Search Public Works & Environmental Services
December 6, 2018
Brian Keightley is the new Urban Forest Management Division Director, Department of Public Works and Environmental Services. Former and soon-to-retire division director Keith Cline and Keightley are working together for a smooth transition. "Brian is an outstanding addition to the Urban Forest Management Division and to Fairfax County leadership," Cline said. "I look forward to working with him over the next month during the transition as my retirement approaches on January 18, 2019. I know Brian will move the division forward and accomplish great things as director." Keightley was born and raised in the Springfield/Burke area of Fairfax County. He attended county public schools and graduated from Paul VI High School in Fairfax City. He earned a Bachelor's Degree in Forestry and Environmental Resource Management at Virginia Tech and earned a Master's Degree in Natural Resources at the Falls Church campus of Virginia Tech in 2011. "I have been licensed to practice Forestry in Maryland since 2006 and in New Jersey and Michigan through reciprocity," Keightley said. He has been a member of the Society of American Foresters since 1997 and the International Society of Arboriculture since 2007 when he received his Certified Arborist (CA) accreditation. Prior to earning his CA accreditation, he was accredited in Maryland as a licensed tree expert and erosion and sediment control inspector. "I have been in the field of forestry and natural resources for about 18 years," he said. "My first position was with the National Park Service (NPS), Center for Urban Ecology, where I worked in plant pathology." After his time with NPS, Keightley worked for private firms and conducted tasks such as forest and wetland delineations, tree preservation plans, Threatened and Endangered Species Surveys (T&E) and water quality permitting. For the past two years, he was the Deputy Division Chief for Environmental Planning and Operations, Arlington County, VA. He supervised urban forestry, natural resources, landscaping, nature centers and park ranger programs.
December 5, 2018
  It is that time of year again! Black Friday and Cyber Monday have come and gone and now it is time to spread some holiday cheer in the form of work parties, family gatherings, and the promise of a happy New Year! And while consumerism typically reigns during the holidays, there are some great strategies for reducing waste you can apply when planning your next event. Food and Meal Planning Keep it simple. Most people will be attending multiple parties and will not be expecting a full-blown meal in most cases. Light appetizers made from fresh, local ingredients will typically eliminate a majority of packaging that you would otherwise generate. In 2016, six million turkeys, a value of roughly $293 million, ended up in the trash, according to the National Resource Defense Council. If you are planning a dinner party, plan ahead to determine the amount of food you will need to prepare by using the new online application, "Guest-imator," developed by the Ad Council and the Natural Resources Defense Council, via their Save the Food public service campaign. This new calculator will help you plan the menu and avoid too many leftovers. The tool takes into account the number of guests, the various types of main and side dishes, and if they are considered heavy or light. The Guestimator will also update the amount food required if the host adds or subtracts the number of guests or types of dishes served. But, if you do end up with leftovers, find ways to transform them into casseroles, soups, pies, or sandwiches by searching for creative recipes online.  Beverages Buy liquor, wine, and beer in bulk. Some stores sell super-sized bottles of spirits and wine, and many local craft beers come in growlers, or air-tight, reusable jugs typically made from glass, ceramic, or stainless steel. Growlers can also be used to preserve any remaining beer if you buy a keg and have some left over. For non-alcoholic beverages, consider mixing up large batches of punch, eggnog, cider, or cocoa and put them in a fun seasonal dispenser. Be sure to ditch plastic cups and use reusable glasses or mugs, otherwise you are defeating the purpose of purchasing beverages in bulk. If you want individual containers for beverages, buy a mix of sparkling water and soda in large plastic bottles, paper cartons, or preferably aluminum cans, that can be recycled. Decorations and Gifts Most holiday decorations can be reused from year to year, but if you have a theme or you want to generally spruce things up, consider making and giving away party decorations. Turn cookie cutters into ornaments buy adding a colorful piece of string, a sleigh bell, or decorative background. You can typically find cookie cutters at your local secondhand store, and leftover scraps of wrapping paper and ribbon are perfect for this project. Making these ornaments could not be easier, and you can tell guests to take a couple on their way out the door as a parting gift. Consider a cookie exchange. Ask guests to make and bring their favorite cookies for others to enjoy during the party and to take home with them afterwards. Have reusable cookie tins available for guests to select and take them home for a sweet holiday treat to share with their family and friends.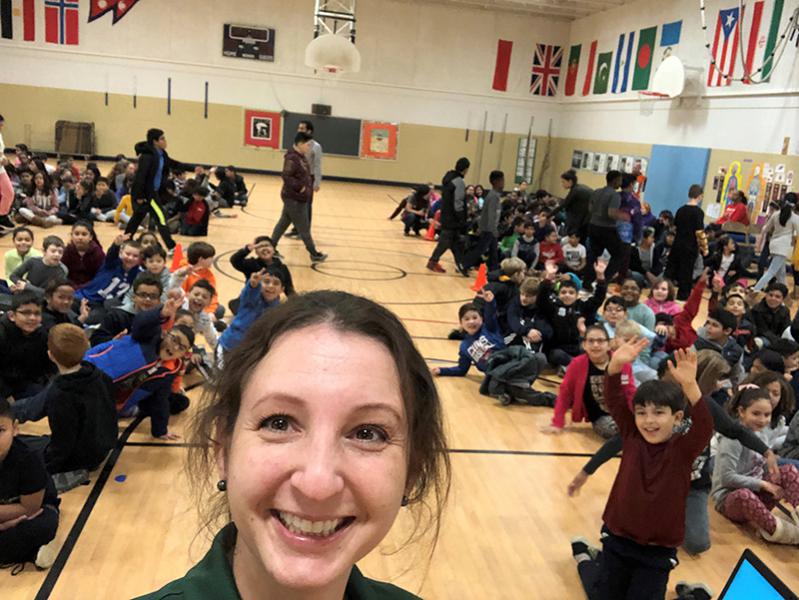 December 5, 2018
  On Friday, November 30, 2018, freshwater ecologist Danielle Wynne spoke to more than 600 students at two assemblies at Rose Hill Elementary School in Alexandria. Wynne, who leads the Watershed Education and Outreach section within the Stormwater Planning Division of Fairfax County's Department of Public Works and Environmental Services, introduced the students to what it means to be a freshwater ecologist and how her team's job is to help tell the story of the county's streams and watersheds. Elementary school students in Fairfax County Public Schools learn about the importance of streams and watersheds from kindergarten through fifth grade. They learn where water goes and why water is important in kindergarten and first grade. Second and third-graders learn about plant adaptations and study how root systems help with water retention and remediation. Students in fourth and fifth grade learn how humans affect the environment and the impact of plastic on watersheds. "My presentation bridged the gap between real world science and what the students are learning," said Wynne. "I also like introducing students to the ideas that women are scientists and not all scientists wear lab coats." Throughout the presentation, Wynne showed the students tools that are used for biological monitoring, such as a D-net for sampling benthic macroinvertebrates, organisms without backbones that live on the bottom of streams that are visible to the naked eye, and a backpack electrofishing unit that is used to send electricity into the water to momentarily stun the fish. This allows the ecologist to easily collect fish from various habitats. In addition, Wynne discussed how storm drains lead directly to the nearest waterway, not to wastewater treatment plants, and simple things that everyone can do to keep our streams healthy for generations to come. Wynne helped write the science curriculum for fifth grade, which was implemented last year. She is currently working with FCPS on the ninth grade curriculum. High school students participate in Wynne's award-winning Stream Crime Investigation lab.   The speaking event at Rose Hill ES is one of many ways in which subject matter experts from the Department of Public Works and Environmental Services partner with Fairfax County Public Schools to offer experiential learning opportunities to students. View videos of Wynne's presentation. View a video of ecologists using the electrofishing method.
Featured Video
Fairfax County Employees, Chairman Sharon Bulova and Supervisor Penny Gross dug the holes and planted 15 native trees near the Government Center pollinator meadow on Halloween morning, October 31, 2018.