Search Public Works & Environmental Services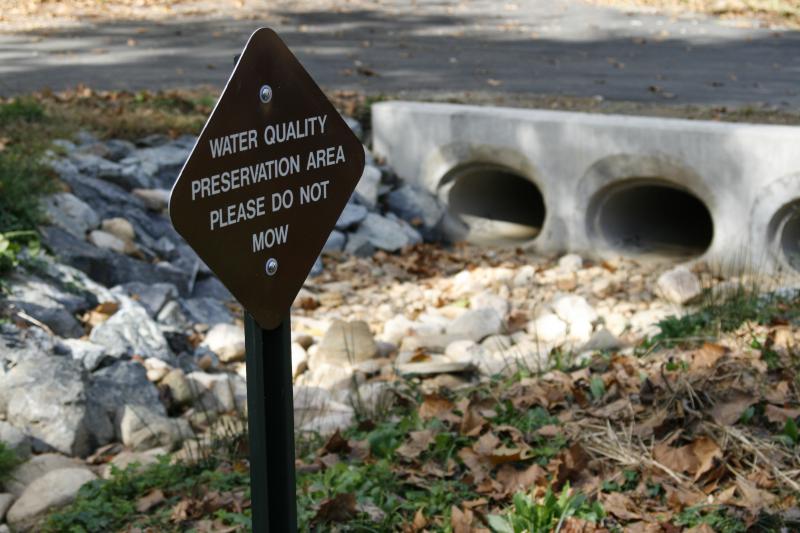 January 11, 2018
Fairfax County's Maintenance and Stormwater Management Division (MSMD) manages more than 6,000 stormwater facilities and is responsible for ensuring that these facilities are maintained properly and function as designed. Proper operation of these stormwater facilities helps to reduce the volume and improve the quality of stormwater runoff. Such runoff is not conveyed to a wastewater treatment plant and therefore flows directly from the county's drainage system, known as the Municipal Separate Storm Sewer System (MS4), to ponds and streams and ultimately to the Chesapeake Bay. The stormwater ordinance requires long-term operation and maintenance of stormwater management facilities. To assist contractors who may be hired by the county, homeowners' associations (HOAs) or commercial enterprises, MSMD has organized a full day of free training. The training will cover facility maintenance problems and common remedies and qualifies participants for eight contact hours toward the Virginia Stormwater Management Program certification offered by the Virginia Department of Environmental Quality. The free class is scheduled for Monday, February 5, 2018, from 8 a.m. to 5 p.m. The class will be held in rooms 106 and 107 at the Fairfax County Government Center's Herrity Building, located at 12055 Government Center Parkway, in Fairfax, Va. Register online. For more information, please call 703-877-2800, TTY 711.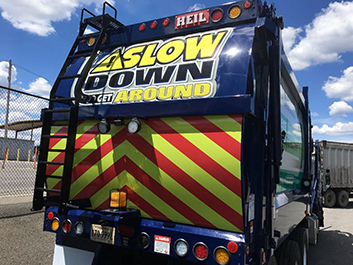 July 7, 2017
Fairfax County's Solid Waste Management Program has won the 2017 SWANA Safety Award for Biggest Improvement in the category of Collection and Transfer. This national award from the Solid Waste Association of North America recognizes the county's commitment to ensuring its solid waste employees make it home safely every night. The award will be presented during a ceremony on Sept. 27 at the International Solid Waste Association's annual conference in Baltimore, MD. According to SWANA's website, "SWANA's safety awards exemplify the solid waste industry's profound commitment to improving employee safety through communication, best practices, increased company regulations, and accident review." The U.S. Bureau of Labor and Statistics lists trash collection as the fifth most dangerous job in North America. SWMP operations manager Hans Christensen says, "Teaming up with Public Works leadership and with SWANA's support, we want to lead the way in making trash collection safer and removing our industry from the list. We owe that to our coworkers and their families." One of SWMP's significant accomplishments was reducing recordable injuries from 40 in 2015 to seven in 2016 at its collection division. The program's safety team has partnered with operations to educate staff about the program's most important value - safety. The team revised the safety program with a focus on five major components: training and evaluation, staff engagement, risk reduction, monitoring and coaching, and metrics and accountability. Some of the tangible changes that have been made to improve safety throughout the program include: Teaching supervisors to be leaders and to communicate safety goals Monthly safety posters distributed to staffed locations Tailgate talks to engage crews Monthly safety newsletter filled with news and tips Revitalized internal safety committee Safety resources website created and updated Amplify SWANA safety messages, such as Slow Down to Get Around and Safety Monday Adopted in-vehicle video system to identify coachable driving behaviors Revising operational policies and developing new procedures Conducting regular facility inspections Field observations Tracking and measuring progress toward meeting safety goals Annual safety perception survey Program safety manager Dennis Batts said, "The heart of a waste collection operation is its drivers and helpers. While picking up the trash is the task, so too is keeping those workers safe. To achieve these kind of improvements took the personal commitment of every one of our employees. Doing better starts at home and that is exactly what the Fairfax County Solid Waste Management Program did." The Fairfax County Solid Waste Management program collects trash and recycling from approximately 44,000 customers in the county and operates the I-66 transfer station and the I-95 landfill complex.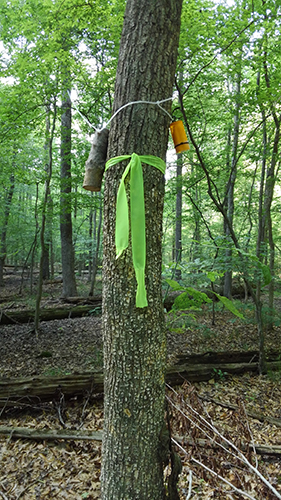 June 20, 2017
The exotic, invasive emerald ash borer (Agrilus planipennis) is an extremely challenging insect to manage. Its larvae burrow under the bark of ash trees (Fraxinus sp.) which slowly cut off the source of water and food that the tree needs to survive and is almost always fatal to North American ash species. The EAB larvae are well-protected under the bark of the tree, so it is not feasible to simply spray an insecticide to protect ash trees. The most effective treatment for EAB is to inject an insecticide into the tree which penetrates into the area where the larvae are feeding. Urban foresters have treated approximately 100 trees throughout Fairfax County with this method. Although the treatment is effective, it is also labor intensive and expensive and not feasible for all trees in the urban forest. Soon after EAB was found in the United States, researchers began to look for biological control or biocontrol agents. These are predators, parasites, or other organisms that evolved together with a particular pest or host. In that case, their life histories and survival are intricately linked and can be exploited to control exotic species introduced to new areas. EAB is native to Eastern Asia and China. Many years of testing found four EAB-specific parasitoid wasp species to use for biocontrol. These wasps lay their eggs inside the larva or eggs of EAB which kills the developing host and controls its population. In mid-June Rachel Griesmer-Zakhar, Charles Layton, Troy Shaw and Tim Stalzer, all of whom are with the Forest Pest Management Branch, Urban Forest Management Division (UFMD), received and released 2400 Oobius agrili (EAB egg parasitoid), 821 Spathius agrili (larval parasitoid) and 1821 Tetrastichus planipennisi (larval parasitoid) at four sites including Flatlick Stream Valley Park, Cub Run Stream Valley Park (two sites) and the Confederate Fortifications Historic Site. The egg parasitoid, O. agrili, were in orange plastic vials called "Oobinators" as pupae. The larval parasitoid, S. agrili, were released as adults from clear plastic drink cups. The larval parasitoid, T. planipennisi were contained within ash bolts, or small logs, as pupae. In the next few weeks, these pupae and adults will emerge and disperse to find and feed on EAB. These wasps are available to agencies who have the personnel to release and monitor the insects over time. In 2015, UFMD began the process to request these parasitoid insects from the U.S. Department of Agriculture, Animal and Plant Inspection Service. The parasitoids were produced and supplied by Animal and Plant Health Inspection Service (APHIS), Plant Protection and Quarantine (PPQ) EAB Parasitoid Rearing Facility in Brighton, MI. In addition to the injections with insecticide, Urban Foresters hope that the parasitoids will help protect the next generation of ash trees from EAB. The parasitoids, once they establish, will find and attack the larvae and eggs of EAB. After a few years, the parasitoids' populations will synchronize with the EAB population and be able to attack enough of their larvae and eggs to reduce the pest pressure and stress on both existing and future ash trees. It is hoped that these wasps will spread to other areas of the county where releases were not made to reduce the population of EAB in those areas as well. The parasitoids were produced and supplied by the U. S. Department of Agriculture Animal and Plant Health Inspection Service (APHIS), Plant Protection and Quarantine (PPQ) EAB Parasitoid Rearing Facility in Brighton, MI. For parasitoid information call 866-322-4512. --30-- The egg parasitoid, O. agrili, were in orange plastic vials called "Oobinators" as pupae; and the ash bolt were attached to an ash tree. The larval parasitoid, S. agrili, were released as adults from clear plastic drink cups as shown by Rachel Griesmer-Zakhar.
8:00AM,  Please note the following: Fairfax County is providing this training…
Hazardous Trees FAQ
What you can do about fallen or hazardous trees.
Flooding FAQ
What you should do if you see flooding.