Search Public Works & Environmental Services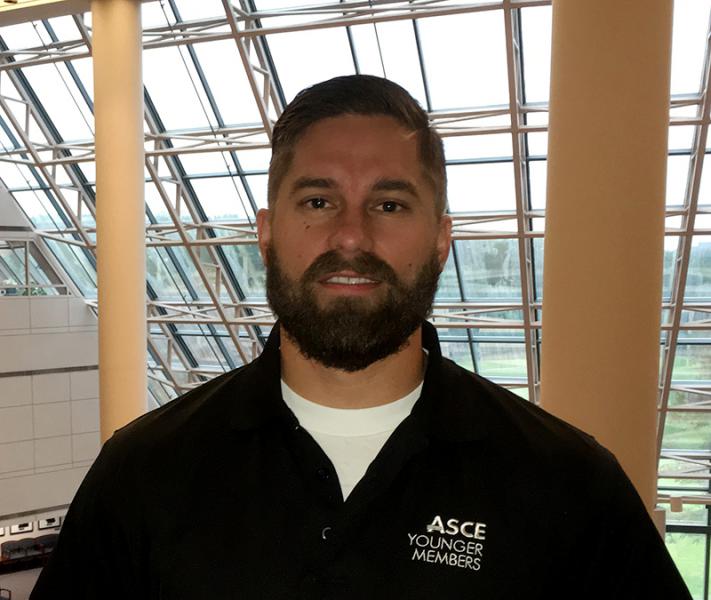 February 20, 2018
Michael Schindler, engineering tech II, Wastewater Design and Construction, Capital Facilities, Fairfax County Department of Public Works and Environmental Services, was recently awarded the U.S. President's Volunteer Service Award for his 318.5 volunteer hours in 2017. The President's Award encourages citizens to "live a life of service through presidential gratitude and national recognition." Awards are issued for service hours performed within a 12-month period. "I'm honored to receive this prestigious award from the President of the United States for my volunteer service," Schindler said. "I enjoy giving back to my community because I've been very fortunate in my life." Schindler has organized and participated in numerous community service events in the past year, including: gathering George Mason University classmates to attend tree planting and invasive plant removal events; rebuilding a pedestrian bridge on the Appalachian Trail; installing a water distribution and storage system for an orphanage in rural Nicaragua; working with a local Nicaragua community to develop a mass-scale, low-income housing project; and organizing a 5K run, raising thousands of dollars for the housing project. There are three levels of awards: gold, silver and bronze. Schindler won a silver award that included a personalized certificate, an official coin, and a congratulatory letter from the President of the United States. Schinderl is president of Engineers for International Development (EfID) at George Mason University, the organization that nominated him for the award. Schindler's focus as president of EfID is to train people to be leaders, organize professional networking workshops and provide hands-on support for students who are working to earn their engineering degrees at George Mason University. "This gives them an advantage when transitioning into the professional environment," he said. His volunteer plans for the immediate future are to build a bridge on the Appalachian Trail and to return to Nicaragua in the summer of 2018 to continue work on a project that will create a master plan for a low income housing project close to Managua, Nicaragua. Michael Schindler helps move a large log during a building project on the Appalachian Trail.Schindler has been employed by the county for eight months. He was born in Uffenheim, a small town in Bavaria, Germany. He served in the German military for six years as a paratrooper. It was Schindler's military service that brought him to American for the first time on an assignment in 2008. While he was stationed in the U.S. he met an American woman, born in Ethiopia, and decided to stay. They married just a few years later. Schindler's community service produces a ripple effect with positive impacts on many people. "Introducing kids to volunteer work to give back to their communities, to help others who are less fortunate than oneself, is one of my goals," Schindler said. Like the Boy Scouts motto, "Do a good deed every day." Schindler was a boy scout in Germany from about age ten through his teen years. According to the Corporation for National & Community Service's website, "The President's Volunteer Service Award works with certifying organizations to recognize America's most committed volunteers. The Bureau of Labor Statistics estimates the value of volunteer time to be $23.56 per hour. Through their service, Americans invest billions of dollars in their local communities and have immeasurable impact on others and the character of their communities."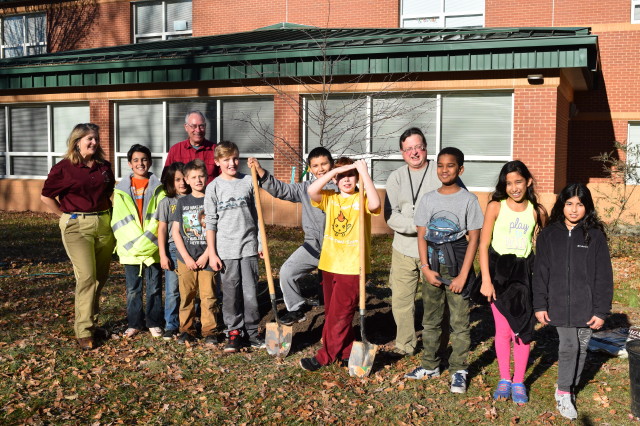 February 12, 2018
Linda Barfield and Hugh Whitehead from Urban Forest Management (left) pose with Dogwood ES teacher Mark Moseley and his class. Students learned about the environmental and socioeconomic benefits trees provide and how to properly plant and care for them during a planting event in Reston, Va., on Nov. 28, 2017.Urban forester Hugh Whitehead says it is important to provide adequate space for trees in urban development projects, a concept known as urban greening. "Potential benefits of urban greening include improved mental and physical health; improved air quality, stormwater management, water quality, and public safety; strengthened economics, and improved social well-being," Hugh said. "Urban greening contributes to the achievement of many of the goals of successful urbanization, including: diverse, accessible transportation options such as walking, biking and using public transit; a network of parks, open spaces and trails; and balancing the need for infrastructure with opportunities for strengthening our economy and development," he said. People have long recognized that nature in cities and towns provides beauty and respite. Pieter Anthony Sheehan, director of the Fairfax County Health Department's division of environmental health, says, "Urban forests play an extremely important, multifaceted role in maintaining and improving not only the economic and environmental quality conditions of communities but the health of their inhabitants." Increased urbanization does not and should not preclude nature. Urban greening creates more sustainable urban environments for everyone to enjoy.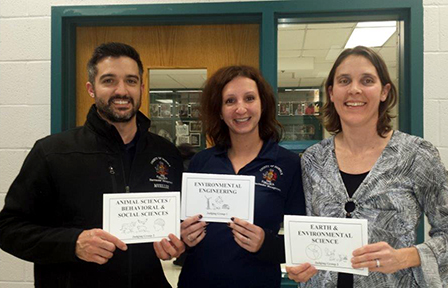 January 31, 2018
Three scientists from the Fairfax County Department of Public Works and Environmental Services served as judges at Chantilly High School's annual science fair on Wednesday, January 24, 2018. The staff members were invited to participate by biology teacher Michele Gates, who has partnered with the department's stormwater and wastewater programs for many years to deliver hands-on educational experiences to students. "I love the collaboration between the government and the schools," said Gates. Department of Public Works and Environmental Services employees Chris Mueller, Danielle Wynne, and Melissa Atwood judged student entries at Chantilly High School's annual science fair.Chantilly High School has held a science fair every year for more than 40 years. This year's fair featured 265 projects, presented by about 300 students in grades 9 to 12. The top 22 projects will compete in the 63rd Annual Fairfax County Regional Science Fair, scheduled for March 17 at Robinson Secondary School. Danielle Wynne, an ecologist in DPWES' Stormwater Planning Division, says, "Michele is an amazing teacher and we're glad to help her out at the science fair as judges. It's always a great evening where we can meet our future scientists and learn how they translate their classroom studies into meaningful projects." Chris Mueller, also an ecologist in the Stormwater Planning Division, is a Chantilly High School alumnus. "I was excited for the chance to give back to the high school that helped me become the scientist that I am today," Mueller says. "It was great to see the advanced level research projects that students were coming up with today to help address some of the issues facing our environment." Melissa Atwood, an outreach specialist in DPWES' Wastewater Treatment Division, says the fair was an incredible experience. "It is fantastic to see the students putting thought, creativity, and energy into these science projects where they can make a difference," Atwood says. "Also, it was great to see the large number of professionals that came together and supported these students, and our future professionals, as judges and volunteers during the event." "It was an amazing experience and I look forward to coming back to judge next year," says Mueller.