Search Public Works & Environmental Services
June 6, 2019
A new levee and pumping station will better protect the Huntington community from catastrophic flooding. The Fairfax County Department of Public Works and Environmental Services will hold a ribbon cutting ceremony on Saturday, June 15, 2019, at 10 a.m., to mark the completion of the Huntington Levee. The ceremony will be held in the new pumping station located at Huntington Park. Attendees should use the entrance drive located at the intersection of Arlington Terrace and Mount Vernon Drive. The Huntington Levee is 2,800 feet long and runs parallel to Cameron Run. The levee and drainage system have been designed to protect the community from storms up to and including 100-year flooding events – floods that have a one percent chance of occurring in any given year. The project received the Envision Bronze award for sustainable infrastructure. The $40M project included the construction of a new levee and pumping station, the construction of approximately 4,800 feet of recreational trails, and the renovation of nearby Farrington Park. Planning and design began in 2013, and construction activities began in February 2017. This project was managed by the Fairfax County Department of Public Works and Environmental Services. Arcadis U.S designed the levee and managed the extensive federal, state, and county permitting requirements, and Archer-Western Contractors was the general contractor in charge of construction.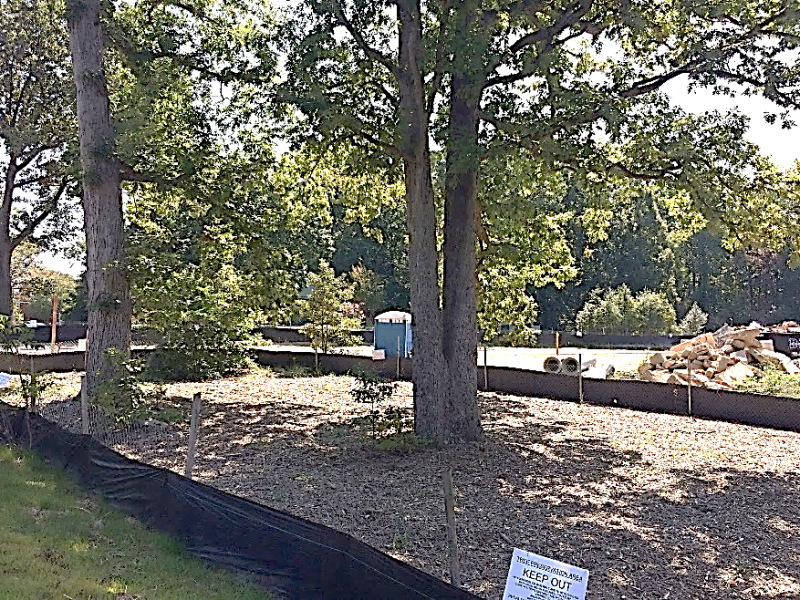 June 6, 2019
Construction is a necessary part of creating a livable environment for people in and around cities. Trees provide significant benefits to the environment and enrich neighborhoods and streets. Construction of new homes and other buildings creates a disturbance which can stress, damage or kill trees. Large, mature trees and species with sensitive roots are most susceptible to construction damage. When improperly managed, trees on construction sites may become high risk or hazardous as they may not be able to handle construction stress and may die. Certain practices during construction can help minimize the disturbance that may negatively affect trees. Tree protection fences (pictured) are one of the best ways to protect tree roots from erosion, soil compaction and heavy equipment damage. Urban foresters in Fairfax County work with developers to use sustainable practices to retain tree canopy and plant new trees to maximize the benefits of a healthy urban forest. Residents can help by controlling invasive plant species that adversely affect existing and newly planted trees and may lead to further stress. Please see more information about trees and how they are managed in Fairfax County, or call the urban forester of the day at 703-324-1770, TTY 711.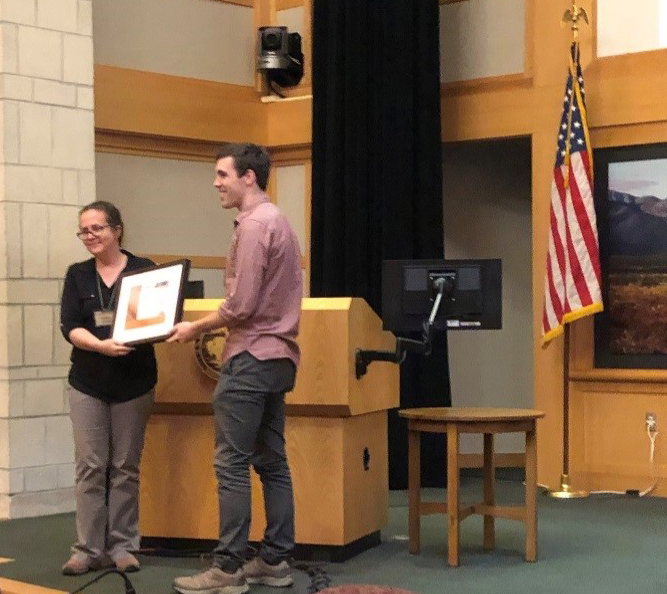 May 17, 2019
Meghan Fellows (left) receives her BUBBA at the Bay-Wide Stormwater Partners Meeting in May 2019. A first place 2019 Best Habitat Creation Project in the Bay, a BUBBA, from the Chesapeake Stormwater Network, was awarded to Meghan Fellows, CERP, Ecological Restoration Specialist, Stormwater Planning Division, for a reforestation project at Silas Burke Park which was one of five planting sites under this program. A BUBBA award recognizes the best urban Best Management Practices (BMPs) in the Chesapeake Bay watershed. Partners who worked on the project include the Fairfax County Park Authority and Ashton Manor Environmental, LLC. The Best Habitat category recognizes restoration projects that create or restore a high-quality blend of wetland or upland wildlife habitats. This year, while judges from the Chesapeake Stormwater Network sought both forest and meadow creation projects, the design jurors ultimately decided on a single award for the category. The First Place project converted more than ten acres of county parkland from turf grass and invasive species to forest, utilizing innovative planting methods and locally native plant palettes to provide water, air, wildlife habitat and human quality of life benefits. This project stood out due to the diversity of the plant community and the high level of public accessibility. The succession approach to planting and long-term maintenance strategy were other outstanding components of this project. The MS4 Team (left to right) Marty Hurd, Heather Ambrose and Emily Burton. The Municipal Separate Storm Sewer System (MS4) project team won a 2019 Gold Level in Program Management and a Silver Level in Innovation in the National Municipal Stormwater and Green Infrastructure Awards Program from the Water Environment Federation (WEF). The Gold and Silver levels were selected for the MS4 program based on rigorous review and discussion among the judges and provides a comparative benchmarking level for Fairfax County among other applicants. A 2019 third place award for the Best Outreach Campaign in the Bay from the Chesapeake Stormwater Network was given to the Watershed Education and Outreach employees who won the award for the Restore, Revitalize, Replant program, Stormwater Planning Division. This category recognizes effective stormwater education and outreach campaigns that seek to change behaviors that tangibly reduce stormwater pollution in a community. The Revitalize, Restore, Replant effort combines an environmental stewardship project with watershed education and provides the Fairfax County Public School System with an outdoor learning classroom connected to the Virginia Standards of Learning. Watershed Education and Outreach team members, left to right, Sam Duthe, Dionna Bucci, Danielle Wynne and Anna Haley with Mt. Vernon District Supervisor Daniel Storck (center). The Watershed Education and Outreach group also won a NACo Achievement Award in Civic Education and Public Information for the Stream Critter Cube Lab. The lab connects students with freshwater ecologists to learn how local scientists determine stream ecosystem health through monitoring the diversity of life found in each stream.
IT'S STORMY TIME
Learn about the environment in Fairfax County. Listen to EnviroPod.

Project Manager Dave Anglin and Host Scott Coco talk about the Backlick Stream Restoration on EnviroPod. It's a big project that will benefit the surrounding property owners, improve water quality and the natural habitat. (June 20, 2019).
If you have an idea for a topic to be discussed on EnviroPod, email SWPDMail@FairfaxCounty.gov.
Featured Video
Fairfax County celebrated the completion of its first levee on Saturday, June 15, 2019. The 2,800-foot levee is designed to protect the Huntington community from storms up to and including 100-year flooding events. The project received the Envision Bronze award from the Institute of Sustainable Infrastructure.