Search Public Works & Environmental Services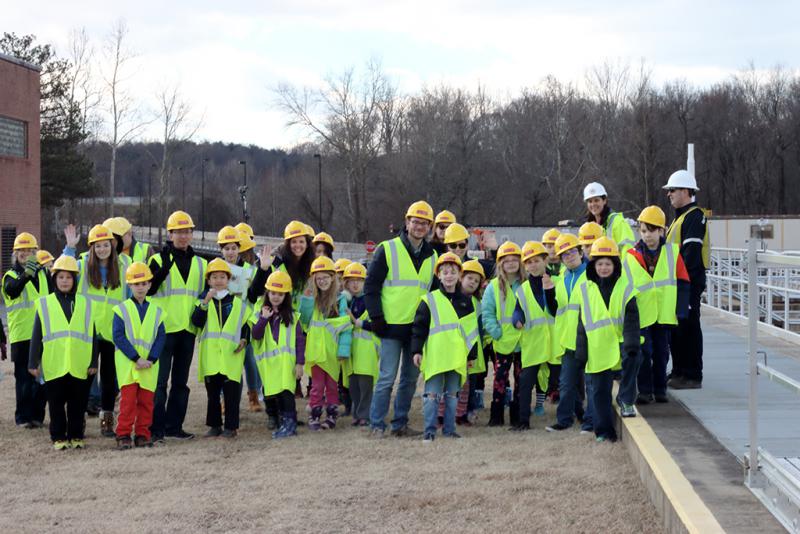 February 21, 2019
On Jan 25, 2019, Boy and Girl Scouts toured Fairfax County's Noman M. Cole, Jr. Pollution Control Plant, learned how wastewater is cleaned, and earned some badges. The Scouts walked through the tunnels under the treatment plant where they asked questions about how wastewater travels from their homes to the plant. They saw the primary and secondary treatment processes, talked to chemists in the lab, and looked at microorganisms under a microscope. A wastewater management expert answered their questions about energy and water conservation. The information provided helped the Boy Scouts, who are learning about energy use, and also helped the Girl Scouts, who are learning about water conservation as part of their Wonders of Water (WOW) badges. The tour of the plant was organized by the Wastewater Education and Outreach Group (WEOG) and eight Centreville High School students who volunteered to help. "The experience for the Scouts with WEOG would not have been possible without the high school volunteers," said Melissa Atwood, a member of WEOG. "Usually, we educate middle and high school students through our Sewer Science laboratory classes, but now we are able to connect with younger students." The tour provided WEOG an opportunity to teach the value of clean water to children in grades 2 through 5. "They were eager to learn more about where the wastewater goes and how it is cleaned," Atwood said. The Centreville HS volunteers had participated in the Sewer Science lab previously, and before the tour, they reviewed the treatment process with plant staff and learned about safety protocols. During the tour the volunteers helped maintain safety and answered questions about the plant and the importance of keeping water clean. Based on this volunteer activity, the Centreville students plan to create a poster about what they learned, an activity that will further strengthen their knowledge about the wastewater treatment process. "Volunteering at the plant really opened our eyes to see what the process is like from point A to point B," the volunteer group agreed. "It's incredible to see how hard county employees work to ensure that our water is clean and safe. It was truly a wonderful and educational experience." WEOG plans to continue expanding its outreach to younger children and to work with regional wastewater partners during the annual Wonders of Water event.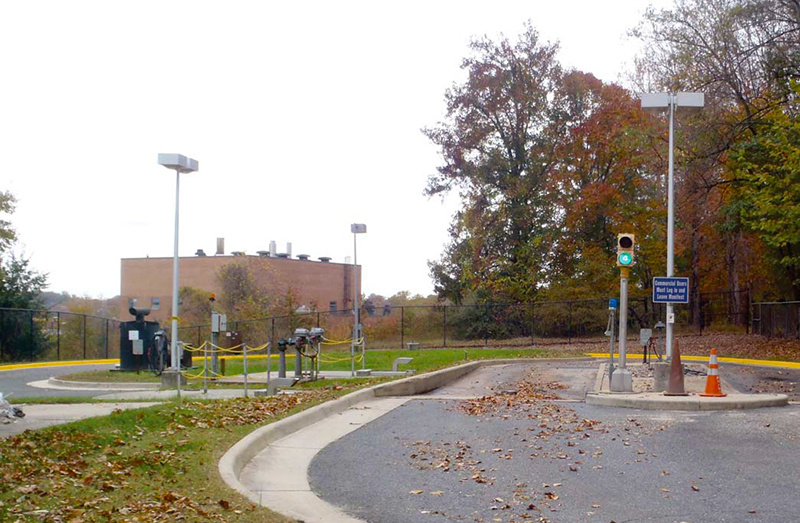 February 19, 2019
NOTICE OF PUBLIC MEETING on Proposed Hauled Wastewater Charges Tuesday, February 26, 2019 at 7:00 p.m. The Auditorium at Noman M. Cole, Jr. Pollution Control Plant 9399 Richmond Highway, Lorton, VA 22079 Wastewater from septic tanks, restaurants, and portable toilets is hauled by trucks to this septage receiving facility in Lorton. Fairfax County invites pump and haul contractors and interested parties to attend an informational meeting and provide feedback on the county's proposed charges for hauled wastewater delivered to and treated at the county's Noman M. Cole, Jr. Pollution Control Plant. The cost of receiving and treating hauled wastewater has been covered by the sewer charges paid by customers of the county's public sewer system.  The proposed charges will recover a portion of these costs, including operation, maintenance, and upcoming necessary improvements to the receiving facilities.  Haulers are currently charged a license fee by the county's Health Department for registration and inspection of the trucks to ensure proper handling and transportation of wastewater. The Health Department proposes to reduce these fees in an effort to help offset the proposed wastewater charges.  The proposed charges, which would be effective July 1, 2019, are as follows: High-Strength Waste Disposal - $27 per 1,000 gallons of the hauler's truck capacity for septic tank and restaurant grease wastes. Low-Strength Waste Disposal - $7.28 per 1,000 gallons of the hauler's truck capacity for portable toilet, recycled carwash water, salt storage wastewater and landfill leachate. This rate is based on the proposed sewer service charge for FY 2020 and will be modified as the sewer service charge is adjusted in the future. Sewage Handler License Fee – reduce from $710 per year for first truck and $360 per year for each additional truck to $150 per year per truck. Sewage Handler License Fee If Application Received After January 31 - reduce from $865 per year for first truck and $550 per year for each additional truck to $200 per year per truck. Eliminate the current process of prorating sewage handler license fees during the year. The proposed charges are comparable to the $26 per 1,000 gallons charged by the Upper Occoquan Service Authority (UOSA) for hauled wastewater.  UOSA does not have different rates for high-strength and low-strength wastes.  UOSA is the only other facility in the county that receives hauled wastewater.  Also, the license fees proposed by the Health Department are comparable to the fees charged by neighboring jurisdictions. To request reasonable ADA accommodations, call the Noman M. Cole, Jr. Pollution Control Plant at 703-550-9740, ext 253, TTY 711.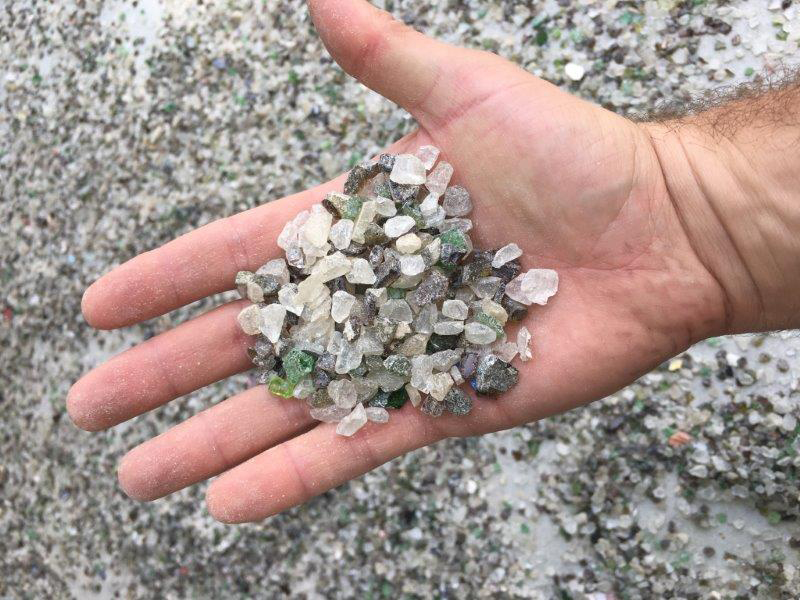 February 15, 2019
In the video above, Channel 16 interviews project manager Suzy Harding as crushed glass is placed in the trench to support a new sanitary sewer pipe. Sanitary sewer replacement projects rarely make headline news. Digging up, repairing, and replacing aging pipes is just part of wastewater infrastructure's life cycle. It happens all the time, and usually in places well away from public view. But when a project embraces sustainable practices and the idea of a circular economy and finds a constructive use for a waste product, it is worth mentioning. One example, a project along Flatlick Branch in Fairfax County's Sully Magisterial District, is currently underway. When the new sewer pipe is placed in the ground, it will rest on a bed of crushed glass instead of the traditional bedding of quarried stone.   A sanitary sewer replacement project in western Fairfax County is using crushed glass as pipe bedding and fill material.   The Glass Problem Some people may ask, "Wait, used glass is a waste product? I thought my glass gets recycled?" Unfortunately, the market for recycled glass in our area has been declining for years, and glass is notoriously difficult to process. States with bottle deposit programs and communities that collect recyclables separately are able to recycle more glass, but Virginia doesn't have a bottle deposit program, and Fairfax County has a single-stream recycling program (comingled recyclables in one bin), which was put in place to increase participation and ease of use. Glass creates many problems for single-stream recycling. It is heavy, which adds cost to transporting recyclables to and from recycling centers.  Glass containers placed in curbside recycling bins break during collection and transport to material recovery facilities, or MRFs, where recyclables are sorted. The abrasive broken glass damages the machinery at the MRFs. Glass also contaminates bales of other more valuable items, such as cardboard and plastic. Contamination has become a major problem for the recycling industry in the past two years since China, the largest customer for recycled material, imposed strict standards on the quality of recycled material it accepts. Comingled recycling is dumped on the tipping floor at a recycling center. Broken glass contaminates other materials. For years, most glass has passed through the recycling process as residue, or waste. Some of the glass is applied as landfill cover, an approved use by the Virginia Department of Environmental Quality, but most of it is simply landfilled with other unrecyclable waste. Unrecyclable material, including glass, is loaded into trucks at the end of the sorting process and delivered to a landfill. As recycling has become more expensive, many recycling programs around the country have removed glass from their collection programs, but Fairfax County has decided to weather the current market challenges until markets for recycled glass recover. In the meantime, MRFs are investing in improvements to their sorting equipment in an effort to remove glass at the beginning of the process, and the county's Department of Public Works and Environmental Services is exploring a new use for glass. A New Use for Glass Residents are encouraged to deliver their clean glass to drop-off areas located at the I-95 landfill complex in Lorton, and the I-66 transfer station in Fairfax. Glass that is taken by residents to drop-off sites in Fairfax County, the City of Alexandria, and Arlington County is collected in large containers and delivered to Fairfax County's glass processing plant, a large pulverizing machine that can crush up to 20 tons of glass per hour. The crushed glass has been tested and approved for construction uses, such as bedding and fill in the Flatlick Branch sanitary sewer replacement project. The sanitary sewer replacement project is being completed as part of the larger Flatlick Branch stream restoration project in the Cub Run Watershed. The stretch of stream spans a little more than two miles from Route 50 to Route 28, and the work was divided into three phases (SlideShare: Phase I, Phase II). The first two phases have been completed successfully, and final phase is underway. Except for a 1,000-foot gap where easements could not be acquired, phases I and II of the once badly eroded stream corridor have been reconnected to the floodplain, stabilized, and replanted with native vegetation to provide food and habitat for wildlife. When phase III is complete, the result will be a healthy stream with improved water quality and rehabilitated infrastructure, and parkland and private property will be fortified against erosion. The Flatlick Branch stream restoration project reconnected the stream to the floodplain, stabilized stream banks and stream bed, and installed native vegetation. Phase II before (left) and after (right) pictured. Phase III will proceed after the sanitary sewer replacement project is complete. In addition to restoring the stream corridor's ecological functions, the Department of Public Works and Environmental Services rehabilitated the sanitary sewer line that runs through the area, using the non-invasive Cured-in-Place pipe lining technique, in which a plastic tube is inserted into the pipe to increase the pipe's lifespan by 50 years. This trenchless method is far less expensive and creates less land disturbance than replacing old sewer pipe; however, some replacement is necessary. Sanitary Sewer Pipe Replacement The section of sanitary sewer pipe to be replaced is approximately 175 feet long and crosses under the stream. The new pipe is made of ductile iron, which is required for pipes that pass under a stream. Upgrading the pipe will provide the capacity to handle anticipated larger flows, and encasing the pipe in steel ensures the pipe will be protected well into the future. Contractors spread crushed glass to create a bedding for the new sanitary sewer pipe. Sanitary sewer pipes are buried underground, and they need to be stabilized in place. Typically, pipes are placed on a six-inch-deep bed and then covered with four inches of crushed stone to secure the pipe in place before soil is backfilled into the excavated trench. Rather than quarried stone, the section of pipe in the Flatlick project will rest on crushed glass – and lots of it. An estimated 525 tons will be needed to secure the pipe in place. Using glass recovered in Fairfax County reduces the county's reliance on quarried stone, which lowers material costs and provides an alternative waste use for glass. The crushed glass should support the sanitary sewer pipe for decades to come. If this application produces the desired results, future stormwater and wastewater pipe replacement projects will include crushed glass in their plans. Moving forward, the county's Solid Waste Management Program is actively trying to develop relationships with potential sources of clean glass, such as bottling companies, breweries, and wineries. Reliable and consistent sources of glass feedstock are necessary to ensure enough material is on hand for the construction projects that need it. Glass is still accepted in Fairfax County's curbside recycling bin program; however, recovering glass from the private sector MRFs is currently not possible. That glass is accumulating in landfills outside the county. Residents who take their clean glass to drop-off areas can be assured that their glass will be reused in a beneficial way that contributes to the county's environmental sustainability goals. Glass collected in containers at residential drop-off sites is delivered to Fairfax County's glass processing plant.       To receive more stories like this one, subscribe to our Sustainable Communities e-newsletter. Enter your email address below to join. Email address:
Featured Video
Fairfax County Employees, Chairman Sharon Bulova and Supervisor Penny Gross dug the holes and planted 15 native trees near the Government Center pollinator meadow on Halloween morning, October 31, 2018.