Department of Economic Initiatives:
1. Assists, incentivizes, and analyzes catalytic projects including public-private partnerships, real estate, land use, and transportation opportunities to meet county goals and maximize value.
2. Advises and guides the small and local businesses sector in Fairfax County as they start or grow their businesses.
3. Leads economic innovation and strategy to diversify the local economy, foment emerging sectors, and strengthen economic assets.
January 10, 2022 | 10:37AM
PIVOT Program Assists More than 1,000 Local Businesses The Fairfax County Department of Economic Initiatives announced today that it has awarded more than $16,000,000 in PIVOT grant funds to 1,016 Fairfax County businesses adversely affected by the pandemic. Businesses in the most hard-hit sectors of the Fairfax County economy, including hotel, food service, retail and personal services, and arts and culture industries, were targeted and received grants between $1,500 and $207,000. The goal of the program was to help those businesses continue their recovery by providing needed capital for ongoing operations. More than 78% of the businesses receiving grants were woman, minority and/or veteran- owned businesses. Among business owners, 69% identified as minority-owned, 44%  are women-owned, and 3% are veteran-owned. The average revenue loss between 2019 and 2020 reported by grant recipients was 40%. Businesses currently have an average of 6 employees, with the highest average among hotels, which averaged 23 employees. Retail accounted for 51% of the funds distributed. A breakdown of PIVOT grant awards by funding type, industry sector and geographic location is available on the 2021 PIVOT Business Recovery Grant Program dashboard. "We know that the impacts to our community of this pandemic will last for years, that is why we have to continue to implement programs and opportunities to support our recovery and build a more resilient community. Our goal is to provide businesses with the support to be resilient and to absorb both the current and future economic shocks. It's the key to future growth. In response we instituted a three-pronged approach to helping our small businesses – stabilization with the RISE grant and microloan programs, return to health with the PIVOT grants, and our next program, Fairfax THRIVE, will focus on growth and getting businesses to the next level," said Jeffrey McKay, Chairman of the Board of Supervisors. PIVOT was the third business recovery program instituted by Fairfax County.  Previous programs included the Microloan program in April 2020, and the RISE Grant program in June 2020.  In total these three programs have distributed more than $70 million to the Fairfax County business community to respond to the economic impacts of the pandemic.  In early 2021, Fairfax County and the Fairfax County Economic Development Authority commissioned an Economic Recovery Framework that illustrated the county lost an estimated 48,200 jobs (through December 2020) and employment losses and economic impacts were heavily concentrated in food service, health care and social assistance, hospitality, and retail sectors. The vast majority of job losses took place in industries with lower average wages and higher representation of people of color. The Framework provides a "road map" for economic recovery which was used to target PIVOT grants. ` "Responding to the needs of our business community is critically important to the well-being of workers, families, and communities throughout Fairfax County. Utilizing the resources from the American Rescue Plan Act to provide support will have positive ripple effects through our local economy. I'm pleased that so many business owners took advantage of this opportunity", said Supervisor John Foust, Chair of the Economic Initiatives Committee.   More Information on PIVOT: Web Page | Dashboard | Grantee List | Fact Sheet ______________________ The Fairfax County Department of Economic Initiatives (DEI) leads programs and initiatives to foster economic development and position Fairfax County to be an economically competitive and prosperous community for all. DEI delivers innovative solutions to cultivate a diverse and thriving local business base, facilitate development through public-private partnerships that address strategic priorities, and foster an entrepreneurial and innovative ecosystem within the County and the region, building on competitive economic strengths.   
June 10, 2021 | 05:10PM
The career fair hosted by Fairfax County Department of Economic Initiatives, the Fairfax County Economic Development Authority and the Department of Family Services and drew more than 500 job seekers at its event on Tuesday, November 4. Sixty-six companies participated in the hybrid event which gave veterans, active-duty service members and their spouses transitioning out of the military an opportunity to interview for positions both in person and virtually across the country. Employers including Amazon, Microsoft, Verizon, Cox Communications, Inova Health System and the U.S. Department of Justice were just a few of the companies on hand to talk with interested job seekers. 250 of the attendees came in person, while 259 attended virtually.  "The feedback from the business and veteran community has been extremely positive.  We were very excited to build on our partnership with Fort Belvoir and hold the event in the beautiful National Museum of the United States Army.  Given the success of the event we look forward to making this a yearly event," commented Rebecca Moudry, director of the Fairfax County Department of Economic Initiatives.   Fairfax County Supports our Veterans! More than 80,000 veterans call Fairfax County home. Fairfax County is committed to those who served our country and provides a myriad of support to veterans and their families. Below are a few of the ways that Fairfax County supports our veteran population: Veterans preference for Fairfax County Government jobs. Fairfax County is a proud Virginia Values Veterans (V3)-certified organization. In 2021 Fairfax County the 2021 Virginia Values Veterans (V3) Locality Award at the recent Virginia Veterans and Military Affairs Conference hosted by the Virginia Chamber of Commerce.  Service members receive free RECenter admissions on Veterans Day The Human Services Resource Guide includes a comprehensive list of services available for veterans. Veterans Employment Initiative: matches veterans with jobs, internships, mentorships and certifications. The Economic Development Authority has resources to help veterans interested in becoming an entrepreneur develop a business plan. Call 703-790-0600 (TTY 711) for an appointment; ask for a SCORE counselor. Entrepreneurship 101: Starting a Business in Fairfax County workshops: what is needed to get a business up and running here and the resources available to help that happen. The Virginia Department of Veterans Services also provides information on benefits; veterans education; transition and employment; care centers; veterans cemeteries; the Virginia War Memorial; and the Virginia Veteran and Family Support Program.   TAX RELIEF Personal property (car) and real estate tax relief is available to disabled veterans and spouses of veterans killed in action who meet qualifications.   VETERANS IN NEED The General District Court provides the Veterans Treatment Docket, a voluntary, court-supervised treatment program to help veterans who have been arrested and have substance use issues and/or have other diagnosed mental health conditions. Every month, an estimated dozen or more veterans are identified in our county as being homeless. We work closely with our community partners including nonprofits and faith organizations to provide housing and support services.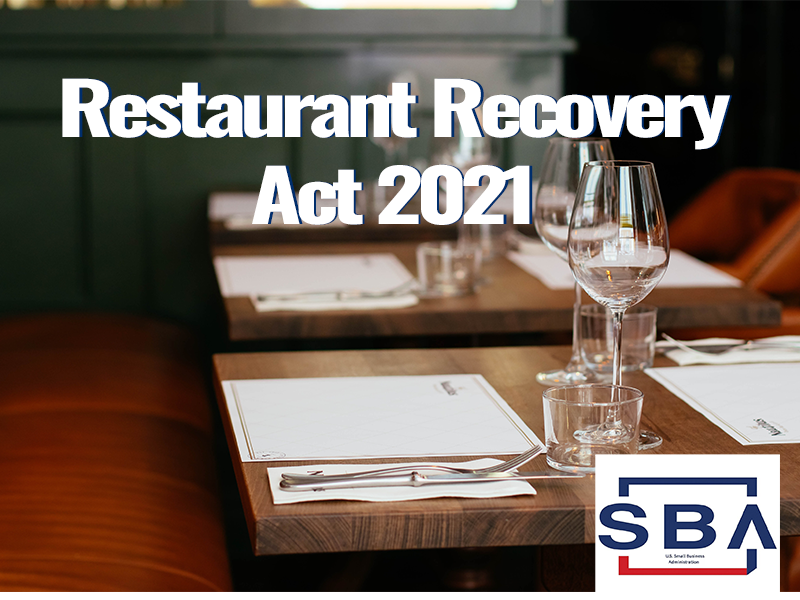 March 17, 2021 | 12:03PM
  $28.6 Billion Available as Part of Restaurants Act Info in: Spanish | Arabic | Korean The $28.6 billion Restaurant Revitalization Fund, authorized by the March stimulus bill, is now taking applications for grants for restaurants, bars, and other similar places of business that serve food or drink. The purpose of this funding is to provide support to eligible entities that suffered revenue losses related to the COVID-19 pandemic. This program provides restaurants with funding equal to their pandemic-related revenue loss up to $10 million per business and no more than $5 million per physical location. Recipients are not required to repay the funding as long as funds are used for eligible uses no later than March 11, 2023. Additionally, $5 billion of that total will be set aside expressly for businesses with 2019 gross receipts of less than $500,000. Eligible entities include: Restaurants Food stands, food trucks, food carts Caterers Bars, saloons, lounges, taverns Snack and nonalcoholic beverage bars Bakeries (onsite sales to the public comprise at least 33% of gross receipts) Brewpubs, tasting rooms, taprooms (onsite sales to the public comprise at least 33% of gross receipts) Breweries and/or microbreweries (onsite sales to the public comprise at least 33% of gross receipts) Wineries and distilleries (onsite sales to the public comprise at least 33% of gross receipts) Inns (onsite sales of food and beverage to the public comprise at least 33% of gross receipts) Licensed facilities or premises of a beverage alcohol producer where the public may taste, sample, or purchase products SBA will prioritize providing grants to small businesses owned and operated by women, veterans, and/or socially or economically disadvantaged individuals for the first 21 days. Funds will  be available until expended, so it's important to gather your paperwork now and be ready once the grant portal opens.  For more information visit the SBA RRF website | Program Guide | Sample version of  application. Info in: Spanish | Arabic | Korean
There are currently no upcoming events to view.