Are you interested in pursuing a career in the healthcare industry? The Avenues to Career Training program (ACT) offers a free 8-week training series to prepare participants to pursue a medical certification program and enter a career field with a strong labor market demand.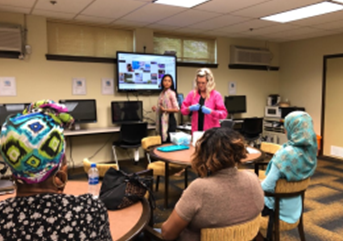 Through the 8-week course, students will learn medical terminology, general healthcare knowledge, computer training and financial literacy classes, and undertake a career exploration project to learn about job opportunities they would like to pursue.
Staff will be hosting six Course Information Sessions via ZOOM throughout the month of January - ahead of the program's February launch date:
 
INFORMATION SESSIONS
January 5, 7, 12, 14, 19 or 21
at 1 p.m.
(Use the upcoming events calendar to select your desired session)
to request the Zoom link and access instructions.

Course Requirement / Commitments:
Be a Fairfax County Resident
Have intermediate English proficiency
Have the ability to read a textbook (grade 9 reading level)
Have basic computer skills
Have internet access and access to a computer, tablet, or smartphone with camera and microphone.
Be willing to actively participate (camera on) and attend every class on-time
Have a positive attitude
 
The 8-week course will begin February 1, 2021 and run through March 26, 2021. Classes will be held weekdays from 1 to 3 p.m. ACT is provided in partnership with Britepaths, the United Way of the National Capital Area, Computer Core, and the Financial Empowerment Center at South County.