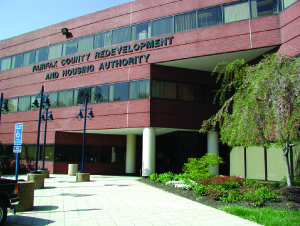 The County's affordable housing and community revitalization programs are administered by the Department of Housing and Community Development (HCD). In addition to its role as a department of County government, reporting to the County Executive and the Board of Supervisors, HCD also serves as the staff for the Fairfax County Redevelopment and Housing Authority (FCRHA). The agency has approximately 190 full-time employees.
The Fairfax County Redevelopment and Housing Authority (FCRHA)
The FCRHA is a separate political body whose members are appointed by the Board of Supervisors and which possesses specific powers granted by state code. The powers of the FCRHA are vested in eleven Commissioners appointed by the County Board of Supervisors. The schedule of FCHRA meetings and Minutes of past meetings are posted online.
The mission of the FCRHA is to initiate and provide opportunities for Fairfax County residents to live in safe, affordable housing and to help develop, preserve, and revitalize communities through fiscally responsible and open processes. To accomplish this mission, the FCRHA adopted the FCRHA Strategic Plan.
In addition to its Strategic Plan, the FCRHA prepares a 5-Year Plan for Public Housing and Housing Choice and an Annual Plan for Public Housing and Housing Choice describing how it proposes to use federal affordable housing resources, primarily the federal Public Housing and Housing Choice Voucher programs, to meet identified needs in the community. These plans also describe the FCRHA's policies in the operation of these programs. In developing these plans, the FCRHA seeks input from the community and from the Resident Advisory Council.
Every five years, the Board of Supervisors adopts a Consolidated Plan describing the County's needs, gaps in service and priorities for affordable housing, community service, homeless assistance, community development, neighborhood preservation and revitalization, employment and economic opportunity services, as well as the resources and strategies to be used to meet these needs. Each year, the Board also approves a Consolidated Plan - One Year Action Plan that sets forth how it will utilize several large federal grants, including the Community Development Block Grant and the HOME Investment Partnership Grant, to meet the needs and priorities in the Consolidated Plan. These grants are administered by HCD. The Consolidated Plan and One Year Action Plan are prepared through an intensive citizen involvement process under the leadership of the Consolidated Community Funding Advisory Committee (CCFAC). Annually, a Consolidated Annual Performance Report is submitted to the U.S. Department of Housing and Urban Development (HUD) detailing how these funds have been spent.