Are you looking to begin a career in the healthcare industry?
Perhaps you are looking to change the path of your current career?

Avenues to Career Training (ACT) is a free eight-week training program to assist eligible participants to develop foundational skills and knowledge needed for medical certification programs and a successful career in the healthcare industry. Students learn medical terminology, general healthcare principles and skills, computer training, and financial management training. The program also includes a discovery project that guides participants in helping explore the possibilities for employment and begin to chart their course for success in their chosen career.
"All of the instructors were great with helping me to achieve the confidence to succeed!"

"I've recommended this program to others – the experience has opened doors that I didn't even know existed."

"I want to thank ACT staff for all their help in starting me on my way in a career."
(Remarks from past graduates from the Class of 2021)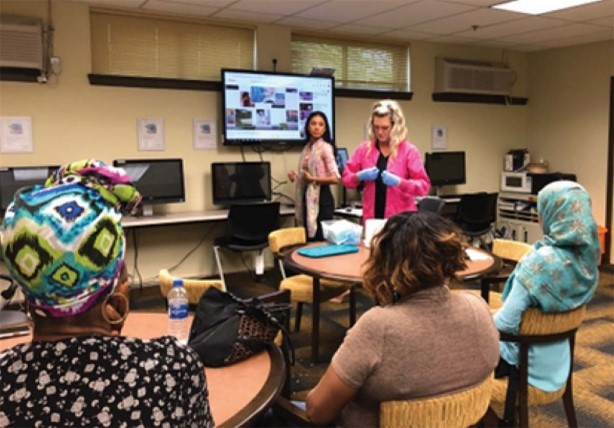 The next session of the program will run from February 7, 2022 until April 1, 2022. ACT is open to Fairfax County residents and requires the following:
Internet access
Intermediate English proficiency
Basic computer skills
Having a personal computer is strongly encouraged (a limited supply of loaner laptops may be available for individuals without computer access)
Commitment to attend classes on-time
Commitment to active participation in the course
Commitment to promoting a positive learning environment
 
Decide today to learn about the ACT and see what doors it can open for you!
ACT instructors will host three information sessions via Zoom to outline the course and answer specific questions from participants about the opportunities that the training program can provide. Sessions will be held at 10 a.m. on:
Tuesday, January 11, 2022
Thursday, January 13, 2022
Tuesday, January 18, 2022
Registration is required. Click Here to register online. Simply select "Info Session – Avenue to Career Training" from the course list. Once you see the calendar, select the date of the information session you would like to attend in the left column and click the "10:00 a.m." start time in the right column to start the registration process. You will be asked to create a profile or to sign in using Google, Facebook or your email account. Please be sure to fill out the registration information completely so that we may contact you regarding your selected course.
If you have questions or need assistance registering for the Information Session, please contact our staff by calling 703-704-6101.
_______________________________________________________________________________________________________
The Avenues to Career Training program is a partnership with Fairfax County, the United Way of the National Capital Area, Britepaths, and Computer Core.