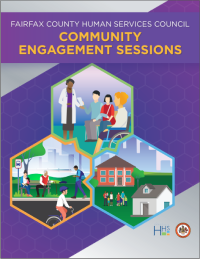 In early 2020, the Human Services Council convened community engagement meetings in the different human service regions to solicit feedback from Fairfax County's residents on inequities in housing, childcare, transportation, health care and other services. Understanding these challenges, and how they influence health, housing and human services needs is critical in identifying gaps in services, coordinating efforts and aligning programs that create a thriving community for all residents. Findings from these community engagement sessions have been translated into eight different languages. 
~ Dr. Patrice Winter, Human Services Council Chair
The Council is comprised of twenty citizens who are appointed by the Board of Supervisors, representing each of the magisterial districts in Fairfax County. Two of the Council members are appointed at-large by the Chairman of the Board of Supervisors.
Chair: Michele Menapace (Lee)
Vice Chair: Alis Wang (Mason)
Dr. Patrice Winter (Braddock)
Jeff Dannick (Braddock)
Steven Bloom (Dranesville)
Dr. Fatima Mirza (Dranesville)
Dr. Gerald V. Poje (Hunter Mill)
Paul Thomas (Hunter Mill)
Robert L. Faherty (Lee)
Christopher Falcon (Mason)
Lanita Thweatt (Mt. Vernon)
Thomas Goodwin (Providence)
Tianja Grant (Providence)
Bill Kogler (Springfield)
Steven Lam (Springfield)
Reverend Dr. Jerrold L. Foltz (Sully)
Leah Ganssle (Sully)
Kevin H. Bell (At-Large)
Martin Machowsky (At-Large)