Find NCS Facilities Near You!
Locate Community Centers, Senior Centers, Teen Centers, Technology Programs and More!
Register Your Online NCS Account Today!
Create and manage an individual or family account for everyone in the household
Create one membership account that provides access to multiple NCS facilities
Obtain your official NCS Membership Card to make check-in at any NCS facility easier and faster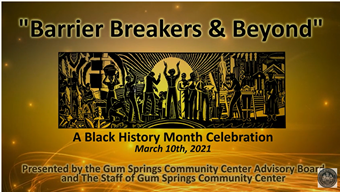 April 29, 2021
On March 10, 2021, Gum Springs Community Center in Alexandria held its annual Black History Month Celebration virtually via Zoom. The video is now available to watch in segments on Fairfax County's YouTube channel. In each segment, a Fairfax County resident portrays and tells the story of a notable African American in the areas of inspiration, science, entertainment and arts, sports, education, and politics. Featured African Americans include Kamala Harris, Kobe Bryant, Maya Angelou, Hiram Revels, George Carruthers, and many more. The video was produced by Gum Springs Community Center staff at the new Gum Springs Multimedia Studio. According to Debra Graves-Sanders, who portrayed Shirley Chisholm in the program, "Clarice Carter and I had a vision for the Black History Month program and they were able to bring our vision to light with digital media! Never in our wildest dreams did we expect the professionalism and high-tech production that Sam and the media center was able to deliver to us and the community." Have a video project you'd like to work on? The Gum Springs Multimedia Studio is available for public use; contact Sam Ettaro at Samuel.ettaro@fairfaxcounty.gov for more information.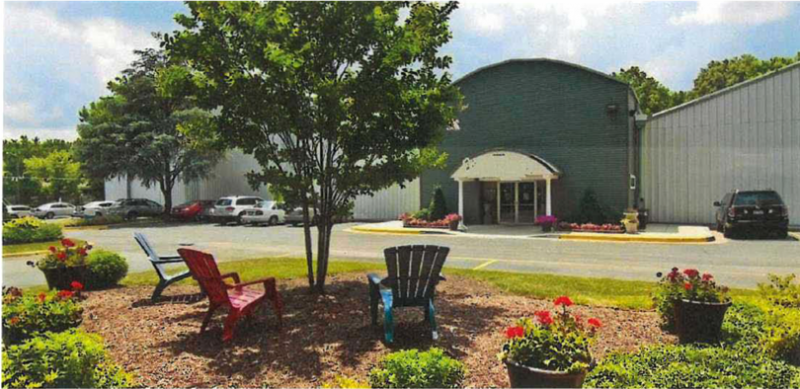 April 28, 2021
Fairfax County Neighborhood and Community Services (NCS) is hosting a series of Community Engagement Forums regarding the former Mount Vernon Athletic Club. Fairfax County purchased the facility in May 2020 with plans to establish a multi-service center to meet the immediate needs of neighborhoods in the Buckman Road area on the west side of Richmond Highway in Alexandria. In advance of the center's planned reopening in summer 2021, the county is engaging the community to ensure the new facility meets their needs and interests. NCS will host five upcoming community engagement forums to discuss the overall vision for the facility, potential resources, activities, and programs. The forum dates are: Thursday, May 6, 2021 *Virtually via Zoom* Thursday, May 13, 2021 *Virtually via Zoom*   Thursday, May 20, 2021 *In person* Thursday, May 27, 2021 *In person* Thursday, June 3, 2021 *In person* All sessions will run from 6:45 to 8 p.m. and will be hosted, depending on the date, either virtually via Zoom or in person (based on all appropriate CDC and Virginia Department of Health COVID-19 guidelines) at Mount Vernon Woods Park, 4014 Fielding Street, Alexandria. Registration is required at bit.ly/LeeCommunityConversations. Individuals who register for a virtual session will receive the Zoom link separately. The former Mount Vernon Athletic Club is currently undergoing minimal renovations and upgrades under the property's current zoning to improve the facility's functionality. The Department of Housing and Community Development, on behalf of the Fairfax County Redevelopment and Housing Authority (FCRHA), is leading the finance, design, coordination and overall project management efforts for the Phase I improvements, which include: Basic accessibility improvements (accessible restroom and paths of travel to activity areas) Select capital renewal items (mechanical, electrical and plumbing system upgrades) Safety improvements (fire alarm system upgrades, enhanced security systems) Community use updates (conversion of some of the existing tennis courts to multi-surface sports courts) Watch this video to learn what to expect in the new community and hear from Supervisor Rodney L. Lusk; Melissa McKenna, Chairman, FCHRA; and Lloyd Tucker, Director, Neighborhood and Community Services. For questions about the minor improvements and project schedule, please contact RHA@fairfaxcounty.gov. For questions regarding community outreach and potential uses for the facility, please contact ncs@fairfaxcounty.gov or visit the community center webpage.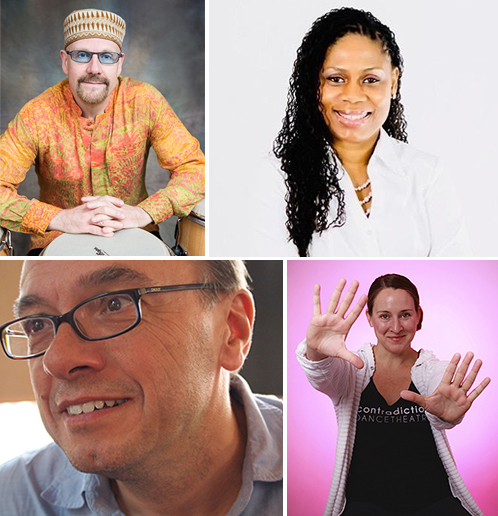 April 12, 2021
Coinciding with Older Americans Month in May, the Arts for Life Festival (previously known as the Creative Aging Festival) has been a cherished month-long celebration of the arts, transforming Fairfax County Senior Centers into hives of activity with classes and events that highlight the benefits of participating in the arts. Although Senior Centers remain closed due to the COVID-19 pandemic, the Virtual Center for Active Adults and ArtsFairfax have partnered to offer virtual Artist Residencies on the VCAA. During May and June, four teaching artists representing a range of disciplines will lead weekly interactive sessions and programs on the VCAA.  Tom Teasley Award winning percussionist, composer and educator, Tom Teasley, will lead a series of workshops that showcase his extensive musical knowledge. Called World of Rhythm and Sound, the series will consist of musical and instrument demonstrations and performances that encourage participants to join in. "My residency will bring the world of music, rhythm and multi-national cooperation to the residents. We will interact in real time with instrument demonstrations, stories of my travels, performances and even a sound meditation to end the program," says Teasley. World of Rhythm and Sound will take place every Wednesday and Thursday from 11:45 a.m. to 12:45 p.m., starting May 19 through June 24. Tammarrah Addison Master Poetess Tammarrah Addison will host a series called Pictures and Poetry: Visualizing your Words for the World, a fun and interactive low stress gathering where participants will gain inspiration to write poetry by viewing visually pleasing images selected to evoke an array of emotions and responses. Addison uses the images as a catalyst for conversation, healing, laughter, and insight. Participants may also share their own images for inspiration. Addison looks forward to leading the workshops, saying "This residence is important because it highlights creativity and the arts, but it also allows for the missing voices such as the older demographics to be seen and heard and this gathering empowers and reminds them that every image, voice and word creates some type of change and reaction in this world! I am excited to learn, give and receive from my community! We are Fairfax Strong." Pictures and Poetry will take place every Tuesday and Thursday from 5 to 6 p.m., starting April 27 through June 10. Please note: no workshops on May 27 or June 8. This workshop has limited capacity and registration is required.  Ken Avis Musician, broadcaster, and historian Ken Avis will explore Washington D.C.'s lesser-known and fascinating musical history in his series, Music City DC! - The History of Popular Music in the Nation's Capital. Avis will use film and recording to bring legendary musicians to life as he shares how social change, technology and business innovations have shaped the music that has emerged from Washington D.C. "For me, this residency is an opportunity to surprise and delight a curious audience with the rich and fascinating history of DC's music culture" says Avis. "It's a culture which has often been hidden due to the area's obsession with politics, but one which has nevertheless made a mark on the world and been shaped by the people and resources of the area." Music City DC! will take place every Monday and Thursday from 2:30 to 3:30 p.m., starting May 17 through June 28. Please note: no workshop on May 31. Kelly King; photo by Ossie White III. Dancer, choreographer and teaching artist Kelly King will lead Moving Dialogues, a movement workshop series that encourages participants to tap into their own creativity while connecting with others to create deeper meaning. No dance experience is needed to participate, and everyone is welcome. "We have lost a lot in this year; but we are still here," says King. "We still have a body. We still have each other. We will explore what our fantastic dancing bodies have to tell us; and perhaps heal with each other as we celebrate what we can do - together." Moving Dialogues will take place every Tuesday and Thursday from 6:15 to 7:15 p.m., starting May 11 through June 17.       Thank you to Claude Moore Charitable Foundation and Reston Community Center for sponsoring the Arts for Life Residencies. The VCAA will be offering additional arts programming in May, including Arts for the Aging workshops on Thursday, May 6 and 20 at 1:15 p.m. and a virtual art show on Friday, May 21 at 2:30 p.m. Visit the Virtual Center for Active Adults to view the full schedule of VCAA programs and events.
About Health & Human Services
This agency is a part of Fairfax County Health & Human Services (HHS). HHS is a network of county agencies and community partners that support the well-being of all who live, work, and play in Fairfax County.