Find NCS Facilities Near You!
Locate Community Centers, Senior Centers, Teen Centers, Technology Programs and More!
Register Your Online NCS Account Today!
Create and manage an individual or family account for everyone in the household
Create one membership account that provides access to multiple NCS facilities
Obtain your official NCS Membership Card to make check-in at any NCS facility easier and faster
April 6, 2021
  Fairfax County Office for Children has been awarded the Child Development Associate (CDA) Gold Standard by the Council for Professional Recognition. The Fairfax County Office for Children works in partnership with families, educators, and community organizations as well as other partners across Virginia to support the school readiness of our county's youngest children. "We are pleased to provide quality professional learning opportunities for the Fairfax County early childhood community, and to support educators in meeting competencies and quality standards of Virginia's unified early childhood system" shared Anne-Marie Twohie, OFC director. The CDA Gold Standard is a recognition of excellence in early childhood education learning opportunities offered to professionals. The Office for Children met all assessment criteria, including a site visit, and demonstrated that the professional learning opportunities offered for early childhood educators are aligned with CDA subject areas. School Readiness Coordinator, Betsi Closter, coordinated this effort with all divisions within OFC. For example, courses, workshops and online sessions provide educational opportunities that support quality learning experiences and quality learning environments for children ages birth to five years; continuing education classes help meet professional learning requirements for Fairfax County family child care permitting and Virginia State licensing; course offerings are analyzed to ensure all CDA Subject Areas are being met for all settings and all age groups, birth to five years; and courses offer a pathway of comprehensive coursework that covers the required 120 hours of professional learning in all CDA Subject Areas for Preschool, Infant-Toddler, and Family Child Care Credentials. Visit Child Development Associate (CDA) Gold Standard by the Council for Professional Recognition to learn more. For more information about School Readiness in Fairfax County, visit www.fairfaxcounty.gov/office-for-children/school-readiness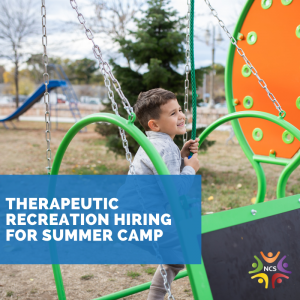 March 29, 2021
Fairfax County Department of Neighborhood and Community Services' Therapeutic Recreation Services is now hiring to fill more than 100 positions for its six-week summer camp program for school-aged youth with varying disabilities. Therapeutic Recreation (TR) Services is hosting a series of eight virtual open hire and information sessions for summer job seekers interested in working as a camp counselor or camp director. These live, interactive open hires will take place virtually via Zoom. Each session will include the opportunity for attendees to engage with TR staff, learn more about available positions, and participate in a question-and-answer period. Job seekers will have an immediate opportunity to interview for the position they are interested in and potentially be offered positions on the spot! Therapeutic Recreation offers competitive hourly pay starting at $14.31 for camp counselors and $18.88 for camp directors. Join us for one of these hiring opportunities on: Tuesday, April 6, 2021 from 3 – 5 p.m. Saturday, April 17, 2021 from 10 a.m. – noon Tuesday, April 20, 2021 from 3 – 5 p.m. Saturday, May 1, 2021 from 10 a.m. – noon Tuesday, May 4, 2021 from 3 – 5 p.m. Tuesday, May 11, 2021 from 3 – 5 p.m. Saturday, May 15, 2021 from 10 a.m. – noon Tuesday, May 18, 2021 from 3 – 5 p.m. In addition to discussing job duties, answering questions, and interviewing, the session will provide information about COVID-19 precautions and the onboarding process. Applicants must be at least 18 years old and must have or be willing to obtain CPR and first aid certifications. Applicants must have at least 250 hours of experience in a recreation or school setting serving individuals with disabilities (college course work can supplement experience). Staff must be able to work all six weeks of camp, which is tentatively scheduled for June 28 – August 6, 2021. Additional trainings for these positions are provided and attendance is mandatory; tentative training dates are June 16 – June 25, 2021. Download a flyer with Open Hire information.  For more information about TR, visit our website at: https://www.fairfaxcounty.gov/neighborhood-community-services/therapeutic-recreation.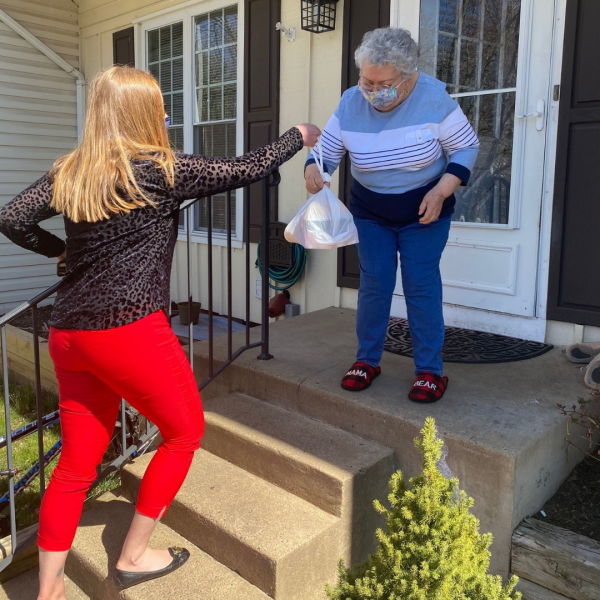 March 17, 2021
When NCS Senior Centers closed in March 2020 due to the COVID-19 pandemic, NCS, DFS and other HHS staff pivoted to meet the immediate needs of older adults – they began delivering weekly meals to participants who would typically eat their meals at Senior Centers. Now, over one year later, NCS staff have delivered over 500,000 meals through the program. Jennae Asborno, Operations Manager for Region 3, recently delivered a meal to Anna Hilda Ifante, a longtime Sully Senior Center participant. Asborno praised the NCS team's quick setup of meal deliveries, saying, "Despite everyone's concerns about their health and safety within the pandemic, the team jumped on the buses that very next week after centers closed and began delivering meals." The team implemented best practices to ensure everyone's safety. These included social distancing, delivering to the door rather than going inside homes, using personal protective equipment, and employing only one runner and one driver on a 22-passenger bus to deliver the meals. While the meal delivery program addressed food needs, during meal drop-off staff also began to discover that older adults were experiencing a range of physical, mental and social issues while self-isolating. To address these challenges, NCS implemented a wellness check program, provided resources to navigate county services, and produced weekly activity packs. All of these services have helped older adults navigate this past year while staying connected with center staff. Said Asborno, "Our staff are the most dedicated, hard-working, and flexible individuals I know. I am so very proud of what we've accomplished this past year. These older adults rely on us to be their lifeline and seeing the smiles on their face each week has been rewarding. For most, this was the only face-to-face interaction they may have had this past year." Home delivered meals, wellness assessments, and welfare check-ins were a few of the initiatives identified in July 2020 as part of the COVID-19 Response Plan for Older Adults. View the response plan to learn more about the continued efforts by Fairfax County to help care for our most vulnerable population in this pandemic and continue our mission to help them age with dignity.
About Health & Human Services
This agency is a part of Fairfax County Health & Human Services (HHS). HHS is a network of county agencies and community partners that support the well-being of all who live, work, and play in Fairfax County.