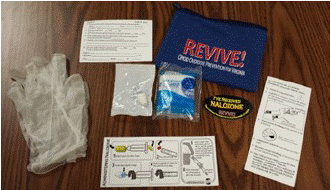 The Community Services Board has partnered with the Virginia Department of Behavioral Health and Developmental Services to launch REVIVE!, a program that makes naloxone available to lay rescuers to reverse opioid overdoses. Opioids include licit medications like hydrocodone and oxycodone, in addition to illicit drugs like heroin.
REVIVE! trains individuals on what to do and not do in an overdose situation, how to administer naloxone, and what to do afterwards. Each attendee also receives a free REVIVE! kit, which includes all the supplies needed to administer naloxone. Attendees also receive a safety plan to help individuals prevent overdose if they relapse.
Following the training, CSB will dispense free naloxone to attendees who are residents of Fairfax County and Cities of Fairfax and Falls Church.
In addition to the CSB-sponsored classes listed below, you can also request a customized group REVIVE training, or a training in Spanish. Contact Berkeley Gerstner (703-449-6313) or email CSB's Wellness, Health Promotion and Prevention team.
CSB is now offering virtual REVIVE! classes; classes are listed below.
Get a printable flyer for virtual REVIVE! trainings in English or Spanish.
Additional Community Classes
REVIVE! is also available locally through the Chris Atwood Foundation. For other training offerings throughout Virginia, visit the State's REVIVE! website.
---