September 13-19 is Direct Support Professional Recognition Week and CSB is celebrating our team of Direct Support Professionals (DSPs) who work with individuals who have intellectual or developmental disabilities. 
Barbara Wadley-Young, Ph.D., MSW, Assistant Deputy Director, Community Living & Treatment Services, explains why DSPs are so important: "Our DSPs are invaluable safeguards of our agency responsibility to provide quality residential services to individuals with developmental disabilities. They always show up to work, around the clock and despite hurricanes, snow storms and now pandemics, to ensure that some of our most vulnerable service recipients are safe and receiving needed services." Nakita Sanders, who joined CSB last year said, "I enjoy working as a DSP, because I can provide support to individuals who need it the most. I love helping our individuals become more independent and confident in their own abilities."
Many of the folks in residential programming came to the CSB following deinstitutionalization in the 1980s, going through many seasons of life together with the staff. Wadley-Young says "Many of the individuals we serve in our residential programs have been with the CSB for decades and they recognize and welcome DSPs as part of their family and friend support network."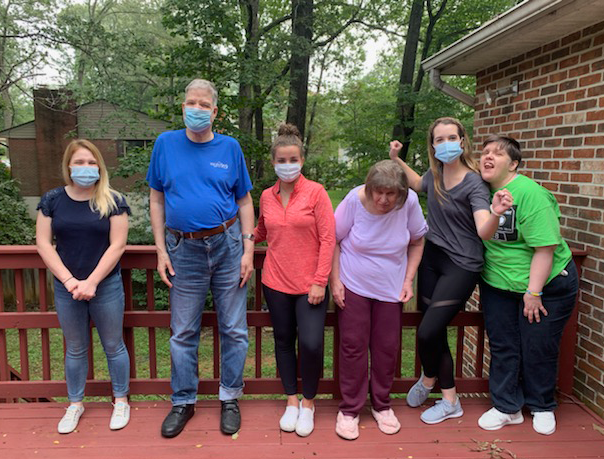 Abiodun Falowo, a 15-year DSP said, "This work has been a blessing for me. I wasn't looking to stay this long. I have a bachelors and master's degrees in information security, but this work has kept me level-headed and humble and there is joy in this work that money cannot buy." Longtime DSPs are part of incredible progress for some of the individuals they work with. Falowo explained, "Over the years I have seen so much growth take place. One man was so attached to his parents that there were daily and sometime multiple phone calls to them for various reasons. Today he is comfortable in his home, can entertain himself, and is gainfully employed. His parents traveled outside of the country a year ago – that is something they did not feel comfortable doing several years ago because of their son's anxieties."
Back in March, when everything began shutting down due to COVID-19, CSB knew the individuals with intellectual or developmental disabilities would be in good hands. "The diligence that each DSP has shown to protect individuals from the spread of the virus, while also mitigating boredom while safely supporting gradual reengagement in community life has been absolutely invaluable," said Wadley-Young.
CarLa Bryant, Assistant Director of Assisted and Community Residential Services (ACRS), noted "Some of our DSPs had to arrange for unexpected childcare when the schools closed, some work other jobs and had to make decisions about their altered work schedules. We have been very fortunate to have so many of our staff show up consistently during the crisis." Sherry Hassel, Program Coordinator for ACRS, adds, "Every shift was filled – overnights, holidays, everything – our staff have been outstanding throughout this pandemic."
The pandemic presented other important challenges for DSPs: the day programs that many individuals relied on also closed, leaving them with many more hours at home. DSPs have come up with a variety of creative activities to keep people engaged and to try to keep a sense of normalcy. There have been many new craft projects, lots of neighborhood walks, and outdoor picnics at local parks.
Regular routines like family visits were also left in limbo. The DSP staff have worked hard to help keep individuals connected with their families, at first doing virtual visits using newly available webcams, and then setting up safe, socially distanced outdoor get-togethers. Even birthdays are being celebrated in new, fun ways. One group home hosted a small, socially distanced backyard birthday party for a resident, with a few family members attending, and then many more family and friends driving past in decorated cars to honk, cheer, and drop off gifts as the gentleman watched safely from the front porch.
Parent Jessica Burmester said, "In this time of limited contact, isolating from the general community due to the pandemic, my son's group home staff have stepped up to ensure that all of his needs are met. He enjoys moving around his home, listening to music, and getting extra attention by staff. He is very happy and is well-cared for."
The requirement to become a DSP in the state of Virginia is to have at least a high school diploma and achieving the Orientation Competency training through Department of Behavioral Health and Developmental Services. DSPs also attend many required CSB-provided trainings and several recertifications over the span of working in this field. But Bryant notes that, "The true way to find a qualified DSP is to listen for the understanding that the men and women who we support are individuals who have talents, gifts and strengths, and just need support in getting to what they want in life. When we find those candidates, they become part of our team." 
The field is also changing. The position used to be one of solely caretaking of individuals with intellectual and developmental disabilities, helping with daily living skills. Today, the primary role of DSPs is to be advocates and teach new skills with the goal of helping people with disabilities to be more independent. With the Department of Justice ruling for the field of Developmental Disabilities in Virginia came a variety of changes for how people with intellectual and developmental disabilities are to be supported. Born out of the DOJ settlement is a focus on ensuring that individuals are informed and understand their rights in many areas such as where to live, who to live with, privacy and day-to-day choices. Over the last twenty years, the role of DSPs has moved away from doing the work for individuals to encouraging and empowering individuals to make choices and decisions for themselves. Today, having a life like yours and mine is the goal for the men and women we support.
Wadley-Young sums it up best: "For the CSB and the community, DSP staff are not just essential, they are superheroes. We could not be more appreciative of the compassion and commitment, at any time, and especially during this crisis."
Contact Information
Contact for news media inquiries: Lisa Flowers, Communications Director, 571-474-5435 (cell) or 703-324-7006 (office).