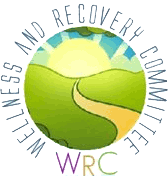 The Wellness and Recovery Committee sponsors the annual Together on the Pathway to Wellness Conference, #This Is Us: Resources. Resilience. Recovery., a day-long event on Friday, October 20, 2017, from 8:30 a.m. to 2:30 p.m. at the Fairfax County Government Center.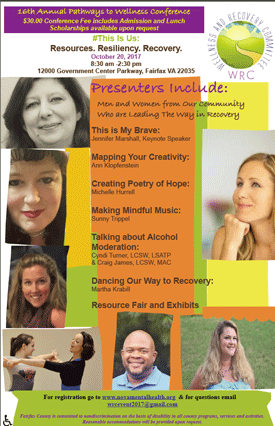 Have you or someone you care about experienced mental health and/or substance use challenges? Do you want to learn more about recovery and achieving your hopes and dreams? Then this event is for YOU! Explore how to: Stay healthy and feel good about yourself, build and grow good relationships, achieve your hopes and dreams – and have fun! This year's conference features men and women from our community who are leading the way in recovery. The Keynote Speaker will be Jennifer Marshall, founder of "This is My Brave," and other presenters will talk about how creativity, poetry, music and dance can be part of recovery.
Registration is $30. Some scholarships are available. Learn more about the conference, or register now. The conference registration fee includes lunch. Attendees who stay for the entire day can earn 4 Contact Hours/CEU.
Along with the Wellness and Recovery Committee, this conference is sponsored by the Fairfax-Falls Church Community Services Board, the Northern Virginia Mental Health Foundation, Inc., Pathway Homes, Inc. and PRS, Inc.
Questions? Contact the Conference Coordinator (703-324-2499, TTY 711).