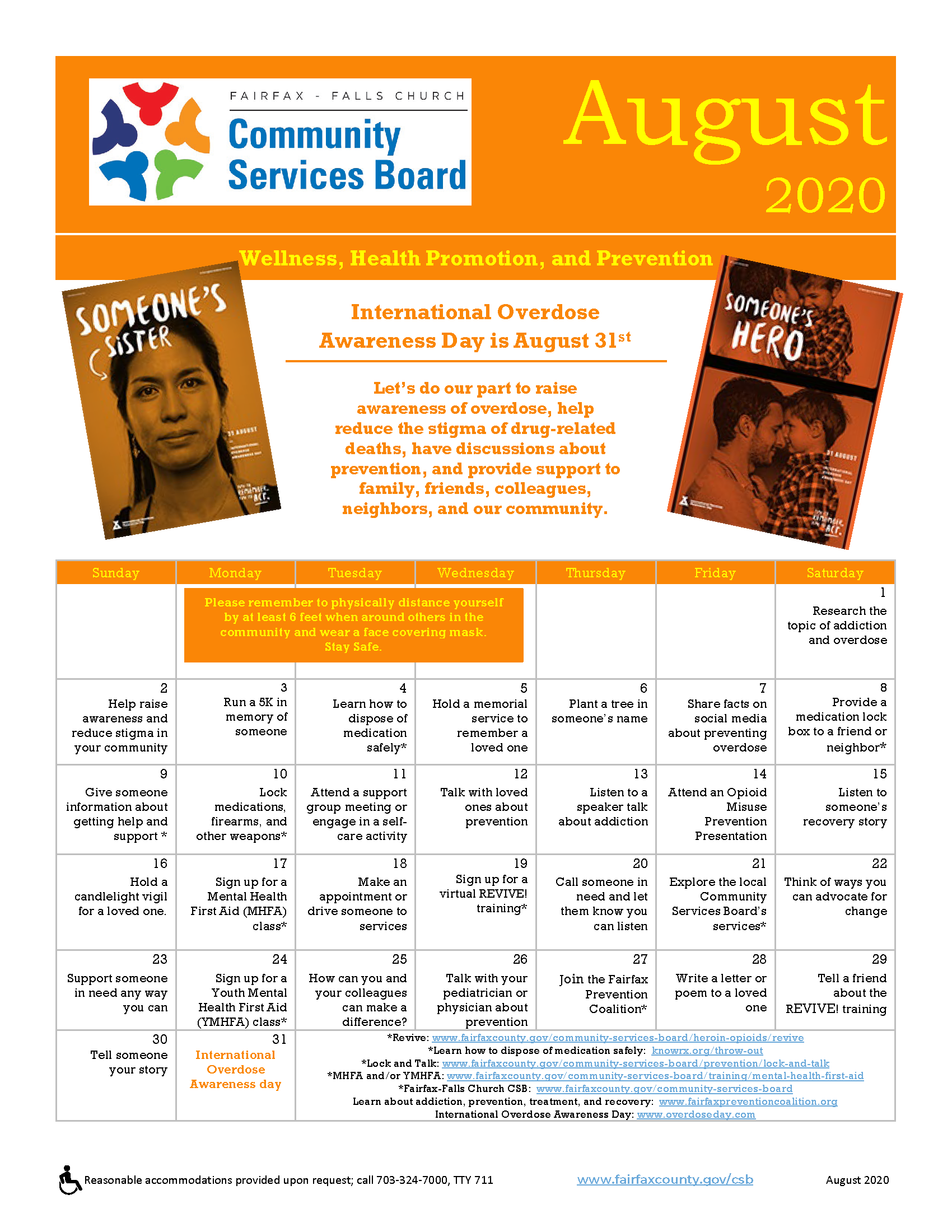 The Fairfax-Falls Church Community Services Board's Wellness, Health Promotion & Prevention team focuses on ways to strengthen our community's emotional health and ability to handle challenges related to mental health concerns and substance misuse.
Opioid addiction is a public health emergency and 54% of individuals who misused pain medicine got them from a friend or relative. International Overdose Awareness Day is August 31, 2020. Join us throughout the month of August by taking part in our calendar of activities that help to raise awareness of overdose, help reduce the stigma of drug-related deaths, of substance misuse, and ways to provide support to family, friends, colleagues, neighbors, and our community.
Learn about International Overdose Awareness Day: www.overdoseday.com
Learn about the actions you and your family can take to prevent opioid misuse in our community and fight the opioid epidemic by attending our virtual session "How to Prevent Opioid Misuse in Your Community" on August 14 or August 27.
Take part in a REVIVE! training to learn what to do and not do in an overdose situation and how to obtain naloxone, an overdose reversal medication.
Learn about the Fairfax Prevention Coalition (FPC) by joining a meeting or signing up for the FPC's newsletter.
Obtain a free lock box to secure your medication. Learn about the CSB's Lock & Talk initiative
Learn about the work of the Fairfax County Opioid and Substance Abuse Task Force.
Get the facts about opioid use disorder in Fairfax County
Reach out to the Peer Overdose Response Team (PORT) to connect and receive support to individuals who have experience with a substance use or mental health disorder.
Learn how to dispose of medications properly by visiting our regional KnowRx.org website.
[Get a printable calendar.]
Contact Information
Contact for news media inquiries: Lisa Flowers, Communications Director, 571-474-5435 (cell) or 703-324-7006 (office).