Envirothon is North America's largest high school Environmental Education Competition. Each year more than 500,000 teenagers (9th-12th grade) are positively influenced by their involvement in Envirothon. The Virginia Envirothon is a natural resources competition for high school students. Students who participate learn about stewardship and management concepts and work to solve real and hypothetical environmental problems. The program is field-oriented and gives students an opportunity to work with natural resource professionals.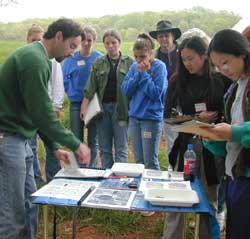 Teams compete at the local and regional level in the early spring to win a spot in the Virginia Envirothon. The top three teams from the region are eligible for a two-day state competition held in May. The winner of the state competition goes to the North American Envirothon in late July. The location for the North American competition varies from year to year.
Teams are made up of five students in 9th through 12th grades. Throughout the school year students prepare for competition with a coach, usually a teacher or natural resource professional in the community. Students are tested on their knowledge of soils/land use, forestry, wildlife, aquatic ecology and a current environmental topic that changes every year.
Students visit five "in-the-field" test stations where written and hands-on problem solving is required. They also make an oral presentation formulating a strategy for addressing a specific problem related to the current environmental topic. The test stations are each worth 100 points. The presentation is worth 200 points. The team scoring closest to 700 points is the winner.
In recent years, teams from Northern Virginia have taken top honors competing at regional, statewide and national competitions.
Examples of current environmental topics chosen for the Envirothon include:
Water Resources Management: Local Control and Local Solutions (2021)
Agriculture and the Environment: Knowledge and Technology to Feed the World (2019)
Western Rangeland Management: Balancing Diverse Views (2018)
Agricultural Soil and Water Conservation Stewardship (2017)
Invasive Species (2016)
Community and Urban Forestry (2015)
Sustainable and Local Agriculture (2014)
Rangeland Management (2013)
Low Impact Development and Non-Point Source Pollution (2012)
Chesapeake Bay Total Maximum Daily Load (2011)
Introduced Species and Their Effect on Biodiversity
Agricultural Land Conservation and Preservation
Natural Resource Management in the Urban Environment
Managing Cultural Landscapes
Water Stewardship in a Changing Climate
The Virginia Association of Soil and Water Conservation Districts, a nonprofit association, coordinates the state program. Virginia's 47 soil and water conservation districts sponsor local programs.
To learn more about forming an Envirothon team in Fairfax County, email NVSWCD or call 703-324-1460, TTY 711.
---
Northern Virginia Envirothon Competition
2021 Winners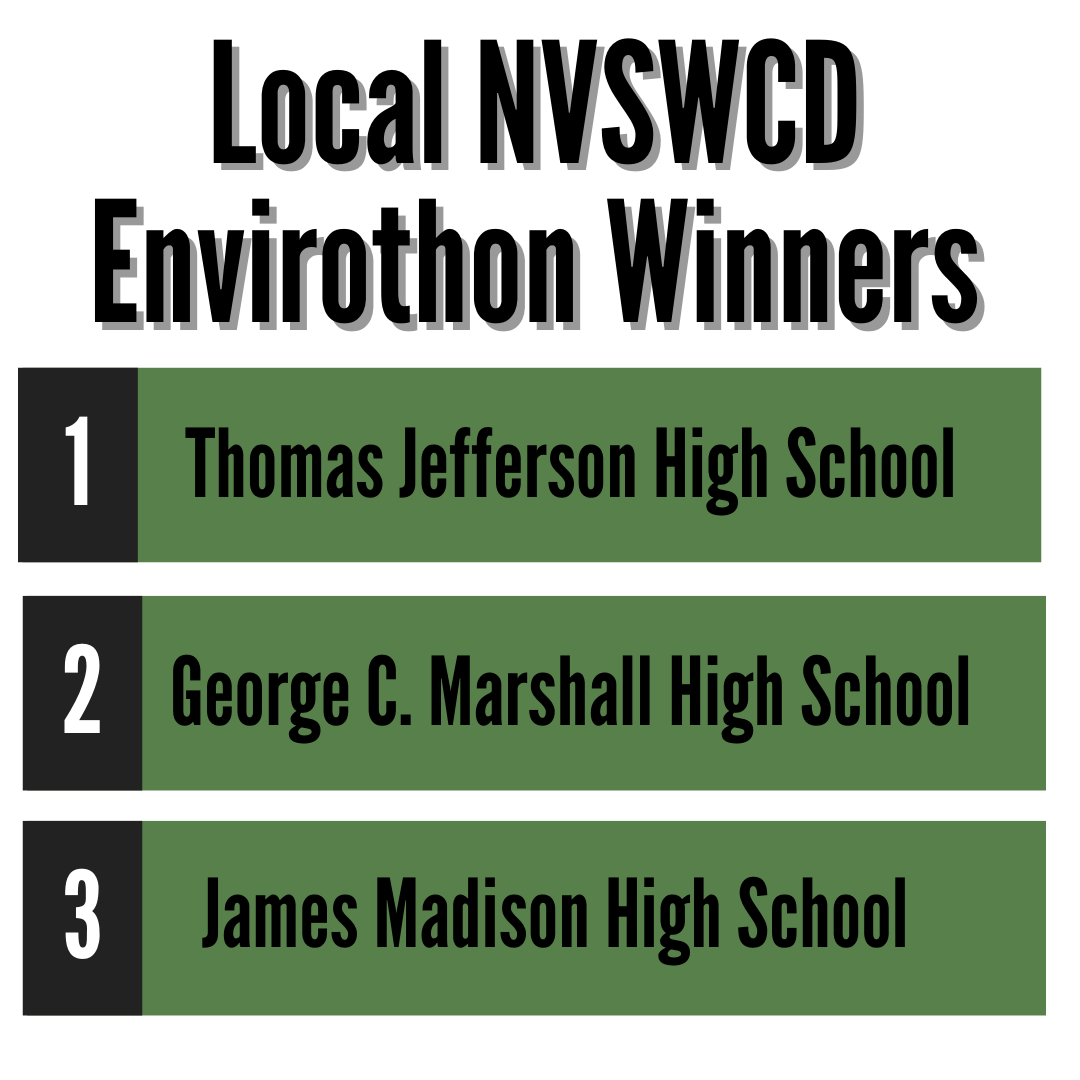 Thomas Jefferson High School for Science and Technology will be advancing to the state competition.
2016 Winners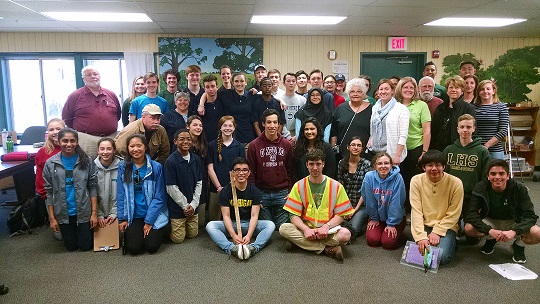 In 2016, the team from Thomas Jefferson went on to the Area II Regional and Virginia statewide competitions.
2015 Winners
The 2015 Hidden Pond team is the highest placing team in Fairfax County history and only the second team ever to advance to the National Conservation Foundation's Envirothon Competition.
2013 Winners
The 2013 Hidden Pond Envirothon Team was the first team from Northern Virginia to go to the North American competition.