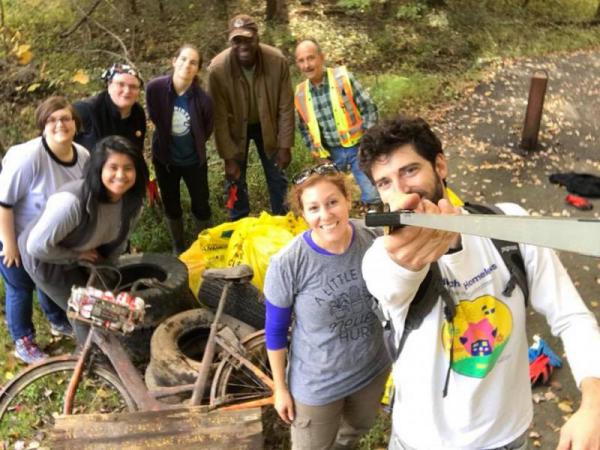 The Northern Virginia Soil and Water Conservation District is a political subdivision of the Commonwealth of Virginia. Its boundaries are the same as those of Fairfax County, home to nearly one million people. Founded in 1945 by citizens concerned about conserving natural resources, NVSWCD is now one of 47 conservation districts in Virginia and approximately 3,000 nationwide. The agency is governed by a five-member Board of Directors who employ seven staff to carry out the organization's technical and educational programs. 
The agency's goal is to promote clean streams and protected natural resources. We achieve this through effective leadership, technical assistance and outreach programs in collaboration with government, industry, and the public. 
NVSWCD is not a regulatory agency. Instead, the agency provides conservation information, technical services, educational programs and volunteer opportunities to residents on many aspects of water quality, nonpoint source pollution and stream health. We also connect residents with environmental initiatives and opportunities through our Watershed Calendar and other online listserves and our seasonal newsletter, Conservation Currents. 
The Northern Virginia Soil and Water Conservation District is an equal opportunity/affirmative action employer. Its programs, activities and employment opportunities are available to all people regardless of race, color, religion, sex, age, national origin, or political affiliation. 
Open Positions with NVSWCD
There are no open positions at this time. 
Internships with NVSWCD
The Northern Virginia Soil and Water Conservation District (NVSWCD) seeks an enthusiastic and organized team player to join us as our Fall Outreach and Education Intern. This fall internship position will support NVSWCD's outreach and engagement programs. Through these efforts, we reach thousands of people and have a deep impact on the Fairfax County community. In addition, the intern will support the development of outreach and informational material for delivery through social media (Facebook and Instagram), webinars, and printed material. Other duties that support NVSWCD's mission may be assigned as necessary and build upon the strengths and interests of the individual. Interns will report to NVSWCD's Communications and Education Specialist and closely coordinate efforts with other NVSWCD staff. NVSWCD's interns work in a professional setting and acquire practical experience in data collection and management, as well as the development of programmatic guidance, execution of education and engagement programs, and informational or promotional materials for various audiences. 
For more information on this role, please see the full position description. Interested applicants should email their resume, cover letter, and 2-3 references to conservationdistrict@fairfaxcounty.gov by midnight on Friday, August 19, 2022.