[Click the image for a printable calendar]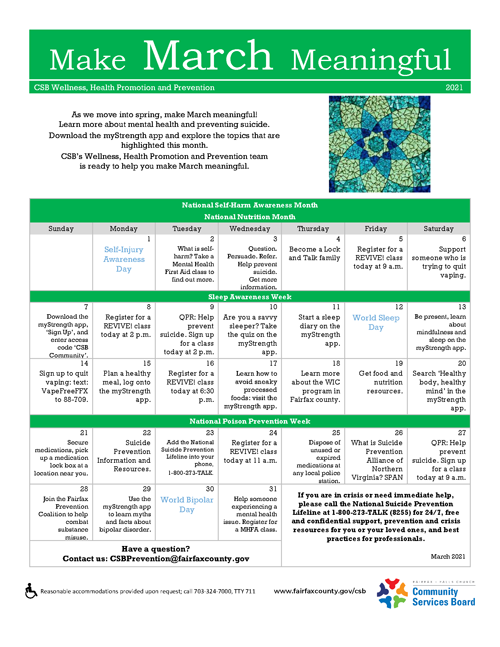 The Fairfax-Falls Church Community Services Board's Wellness, Health Promotion & Prevention team focuses on ways to strengthen our community's emotional health and ability to handle challenges related to mental health concerns and substance misuse.
This month we are focusing on making March meaningful. We highlight National Self-Harm Awareness Month, National Nutrition Month, Sleep Awareness Week, and National Poison Prevention Week. We encourage the community to learn more about mental health and preventing suicide. The community can download the myStrength app and explore some of what is highlighted this month
Physical and mental health are equally important; balance can be achieved. Let's take care of ourselves and loved ones by raising awareness and increasing our education about our overall health. Take a class and learn what to do if someone is at any stage of needing help. Reach out, talk with others, and listen; connect them with resources. Explore our calendar of suggestions and reach out to the prevention team for more information about the activities suggested.
Calendar Resource Links
[Get a printable calendar.]
Contact Information
Contact for news media inquiries: Lisa Flowers, Communications Director, 571-474-5435 (cell) or 703-324-7006 (office).