CONGRATULATIONS to our new STATE CHAMPIONS! South Lakes High School boys soccer team AND James Madison High School boys lacrosse team both won their Virginia state titles.
Farmers Markets operated by the Park Authority are now open for the season. Check the locations, hours, and producers for markets in our area. Learn more
Check out this summer's programs at Reston Regional and Patrick Henry Library. Summer Library Events in Hunter Mill
Hunter Mill HIghlights Newsletter
This month's edition of Hunter Mill Highlights newsletter, with the latest in news, programs, and announcements for the County and the Hunter Mill District.
Now Showing
This month on Channel 16's cable show, "Connecting with Supervisor Hudgins" -
FAMILY MEDICAL LEAVE ACT of 2020
Guests discuss the impacts of the Family Medical Leave Act of 2020.
First Wednesdays with Supervisor Hudgins
First Wednesdays: You are invited to come and share any concern you may have on any issue with Supervisor Hudgins, or just talk with her one-on-one. First Wednesdays hours are 4 p.m. to 6 p.m. Sessions beginning in 2019 are:
October 2 - Reston Regional Library, Reston
November 6 - Patrick Henry Library, Vienna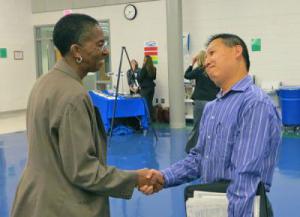 Reston PRC Zoning Amendment
On March 5, Supervisor Hudgins requested the PRC amendment be deferred indefinitely. Below are the links for information on the Reston PRC Zoning Ordinance Amendment proposal:
Live videos of small group session
Reston Town Center North Update
In July 2017, the County issued a Request for Proposal (RFP) for redevelopment concepts for Blocks 7 & 8 located south of Bowman Towne Drive. The RFP was issued to development teams that pre-qualified during the first phase of the RFP. Reston Civic Core, LLC submitted a proposal on October 27, 2017. The proposal was reviewed by a selection advisory committee consisting of Reston citizens and senior County staff from multiple agencies. Due to the additional scope offered in excess of the RFP scope and the substantial financial commitment required of the County, the advisory committee recommended rejection of the Reston Civic Core proposal. On May 1, 2018, the Board of Supervisors concurred with the recommendation to reject the proposal. Future planning and procurement options are under evaluation for the public facility improvements in the Reston Town Center North redevelopment area.
Newsletter and eBlast
Sign up to subscribe to Hunter Mill Highlights electronic newsletter and eBlast.  Your source of news, programs, updates and topics in the Hunter Mill District and the County.
Community Room
The North County Government Center Community Room is available for County residents and community groups free of charge. 
Home Owner Associations
Update your HOA information and contacts.  This listing is used to keep you informed of issues and opportunities that will impact your neighborhood.