Community Meetings on the FY2019 Proposed County Budget
Supervisor Hudgins invites you to participate in presentations and discussions on the County's proposed FY2019 budget. Hear from your elected officials and County agencies, public schools officials, share your ideas, and help build a vibrant community. Staff will also be available to advise on the County's program for tax relief for seniors and disabled residents. Two budget presentations are planned for the Hunter Mill District:
Saturday, February 24, 9-11 am at James Madison High School (Warhawk Hall), 2500 James Madison Drive, Vienna
Thursday, March 8, 7-9 pm at South Lakes High School (Lecture Hall), 11400 South Lakes Drive, Reston.
Hunter Mill HIghlights Newsletter
This month's edition of Hunter Mill Highlights newsletter, with the latest in news, programs, and announcements for the County and the Hunter Mill District.
Now Showing
This month on Channel 16's cable show, "Connecting with Supervisor Hudgins" -
Black History Month
Students discuss the namesakes of their schools - Louise Archer, Lutie Coates, and Langston Hughes.
First Wednesdays with Supervisor Hudgins
First Wednesdays: You are invited to come and share any concern you may have on any issue with Supervisor Hudgins, or just talk with her one-on-one. First Wednesdays hours are 4 p.m. to 6 p.m. Upcoming sessions are:
February 7 - Reston Regional Library, Reston
March 7 - Patrick Henry Library, Vienna
April 4 - Reston Regional Library, Reston
May 2 - Patrick Henry Library, Vienna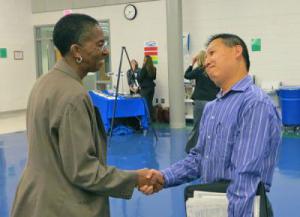 Newsletter and eBlast
Sign up to subscribe to Hunter Mill Highlights electronic newsletter and eBlast. Your source of news, programs, updates and topics in the Hunter Mill District and the County.
Community Room
The North County Government Center Community Room is available for County residents and community groups free of charge.
Home Owner Associations
Update your HOA information and contacts. This listing is used to keep you informed of issues and opportunities that will impact your neighborhood.