Hunter Mill HIghlights Newsletter
This month's edition of Hunter Mill Highlights newsletter, with the latest in news, programs, and announcements for the County and the Hunter Mill District.
Now Showing
This month on Channel 16's cable show, "Connecting with Supervisor Hudgins" -
Preventing Winter Weather Woes
Supervisor Hudgins and her guests discuss how the County operates during winter weather emergencies and what preventative actions our agencies are taking to ensure the safety of our community.
First Wednesdays with Supervisor Hudgins
First Wednesdays: You are invited to come and share any concern you may have on any issue with Supervisor Hudgins, or just talk with her one-on-one. First Wednesdays hours are 4 p.m. to 6 p.m. Upcoming sessions are:
February 7 - Reston Regional Library, Reston
March 7 - Patrick Henry Library, Vienna
April 4 - Reston Regional Library, Reston
May 2 - Patrick Henry Library, Vienna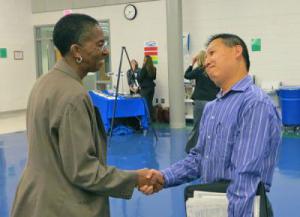 Newsletter and eBlast
Sign up to subscribe to Hunter Mill Highlights electronic newsletter and eBlast. Your source of news, programs, updates and topics in the Hunter Mill District and the County.
Community Room
The North County Government Center Community Room is available for County residents and community groups free of charge.
Home Owner Associations
Update your HOA information and contacts. This listing is used to keep you informed of issues and opportunities that will impact your neighborhood.