Coronavirus Updates From Hunter Mill District
About Supervisor Alcorn
Supervisor Walter L. Alcorn began his term Jan. 1, 2020, representing the Hunter Mill District. Learn more about him.
March 13, 2020
  UPDATED March 30, 2020 Hunter Mill District Supervisor Walter Alcorn is encouraging everyone who can to consider volunteering or donating to assist our local community organizations noted below or through your own faith community or civic organization. "We are entering a challenging few weeks when it is more important than ever for neighbors to help neighbors," said Alcorn. "We are all concerned right now about Coronavirus, but this is affecting some of us more than others and many of us have the ability to reach out, volunteer and donate to help those in our more vulnerable communities. It can be as simple as calling an elderly neighbor or relative and check on their well being and perhaps offering to shop for food and necessities. You may also want to contact your faith community to see where assistance is needed. If you already volunteer for a local nonprofit, I encourage you to contact them as well." How You Can Help: Lake Anne and Hunters Woods Fellowship Houses Food Delivery Volunteers are needed to assist with food delivery to low-income older adults at the Lake Anne and Hunters Woods Fellowship Houses. More information, including how to sign up online.    HeathWorks Needs PPEs HealthWorks for Northern Virginia is a nonprofit community health center serving those who are the most vulnerable – always, but especially now – those who are very low income, uninsured and do not have access to health care services in Fairfax County. It is providing screening and testing for COVID-19 and is not charging patients any fees because HeathWorks wants them to be seen if they are ill. HealthWorks is looking for donations of surgical or N95 masks (any size), face shields/goggles, gowns, disposable gloves, hand sanitizer and sanitizing wipes. They will gladly arrange to pick up donated items.In-kind donations can be arranged by contacting Lisa Knapp at 703-840-4688 or email lknapp@hwnova.or Financial donations can be made through our website at www.hwnova.org   Herndon-Reston FISH  Donations enable Herndon Reston FISH to assist members of our community get through financial crises. The pandemic will certainly increase the demand for the emergency assistance that FISH provides. How to donate.    Blood Donations It's important that healthy individuals continue to donate blood. If you are able, please consider donating blood: Inova Blood Donor Services   Embry Rucker Shelter, 11975 Bowman Towne Drive, Reston, VA 20190, 703-437-1975 There is a table set up in front of the building at 11975 Bowman Towne Drive in Reston to drop off donations. Priority needs include: Rain coats and ponchos  Cleaning products—bleach, 409, Lysol, other disinfectants, paper towels, empty spray bottles, wipes, laundry pods, Windex Gift cards for grocery stores and fast food restaurants —please call the front desk to make this drop gift card donations at 703-437-1975 Tissues Hand sanitizer Shampoo Body wash Men's and women's underwear (No socks needed) You can also make requested donations through Amazon.   Cornerstones Food Pantry /Assistance Services, ASAPP, 11484 Washington Plaza West, Suite 120, Reston, VA 20190, 571-323-1410 Cornerstones anticipates a higher than usual demand for services from under-resourced families, especially when children are out of school and in need of meals typically covered by school meal programs. Adults who work hourly jobs and may be off from work will also be adversely affected.  Seniors may be in greater need as they are shut off from family members and other usual resources.  You may come into the pantry to make your donation. The location is 11484 Washington Plaza West, Suite 120 in Reston. If you do not want to enter the building, call 571-323-1410 and a staff member may be able to assist you outside. Urgent needs: Gift cards for grocery stores, gas stations and fast food restaurants Rice Beans Lentils Cooking oil Oatmeal Eggs Milk Clorox wipes Bleach and other disinfectants Spray bottles Paper towels You can also make requested donations through Amazon.    Herndon Neighborhood Resource Center, 1086 Elden Street, Herndon, VA 20170, 703-435-6830 Donations needed: Cleaning products—Clorox wipes, bleach, other disinfectants, spray bottles, paper towels   Connections for Hope Partnership, 1141 Elden Street, Suite 200, Herndon, VA 20170, 703-429-5000 Donations needed: Cleaning products—Clorox wipes, bleach, other disinfectants, spray bottles, paper towels   Shelter House, 2310 Pinecrest Road, Suite 304 Reston, VA 20191, 703-955-7876 Shelter House has a convenient way to make requested donations through Amazon.   Shepherd's Center, 541 Marshall Rd SW, Vienna, VA 22180 Check their web site for updates. They are coordinating a "friendly caller" program to have residents reach out with phone calls to our older adults who may be feeling isolated. If you would like to participate in their program and request a senior to befriend, call 703-281-5038 or email office@scov.org You may also want to replicate this idea in your neighborhood to coordinate a community effort to call seniors and drop off food and necessities.   Neighbor to Neighbor Program (N2N)  N2N program helps HOAs organize opportunities for neighbors to provide volunteer services such as grocery deliveries and friendly check-in phone calls to those most vulnerable in your neighborhood. More info: https://fairfaxcounty.gov/health/neighbor   Food for Neighbors  Monetary donations are needed to help feed children and young people. Make a donation.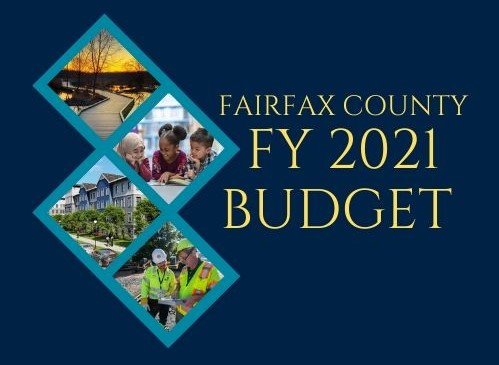 February 24, 2020
County Executive Bryan Hill presents his proposed Fiscal Year (FY) 2021 Advertised Budget Plan to the Board of Supervisors on Tuesday, Feb. 25 at approximately 10 a.m. at the regularly scheduled board meeting. The meeting will be held in the Board Auditorium, Fairfax County Government Center, 12000 Government Center Parkway, Fairfax. You can also view the presentation live online or through your cable provider on Channel 16 or Channel 1016 in HD through Cox. Budget-related materials will be available online after Hill begins his presentation.   Budget Process Timeline FCPS Budget Information   In addition, 2020 real estate tax assessments will be available online on Feb. 25 and will be mailed to all county property owners.    Get More Information and Provide Your Input on the Proposed Budget: Hunter Mill District Supervisor Walter Alcorn has two town halls scheduled to discuss the proposed FY 2021 Budget. Residents are encouraged to attend - RSVP at huntermill@fairfaxcounty.gov. Please include the date of the town hall you plan to attend with "March 21 Town Hall" or "March 30 Town Hall" in the subject line. Hunter Mill District FY 21 Budget Town Halls: Saturday, March 21 9 a.m. to noon Council Chamber at Town Hall 127 Center Street S Vienna, VA 22180 Monday, March 30 7 to 9 p.m. Dogwood Elementary School 2300 Glade Drive Reston, VA 20191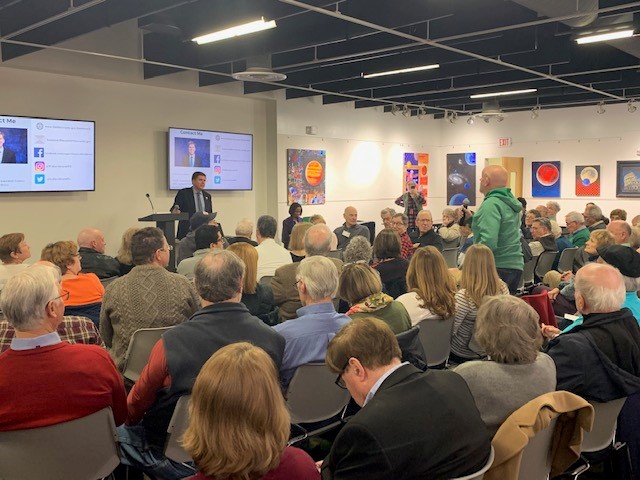 February 13, 2020
Hunter Mill District Supervisor Walter Alcorn is hosting a town hall on Wednesday, Feb. 26, 7 to 9 p.m. at James Madison High School, Lecture Hall, 2500 James Madison Dr. in Vienna. Please RSVP to huntermill@fairfaxcounty.gov and put "Feb. 26 town hall" in the subject line. "My first town hall, which took place in Reston on Feb. 3, was a great discussion on priorities for our district and I look forward to the same in Vienna," said Alcorn. "Bring your questions!" More town halls will be scheduled in March;  dates and locations will be announced soon.