Supervisor Hudgins and the Department of Tax Administration will hold a Tax Relief Workshop for senior and disabled residents on Tuesday, March 20, from 10 am to noon. Staff will be on hand to answer any questions about the program, determine eligibility, and assist residents in filling out the application form. No appointment is necessary. Please visit the Tax Relief website for application form, requirements, and other information, or call 703-222-8234
.
Hunter Mill HIghlights Newsletter
This month's edition of Hunter Mill Highlights newsletter, with the latest in news, programs, and announcements for the County and the Hunter Mill District.
Now Showing
This month on Channel 16's cable show, "Connecting with Supervisor Hudgins" -
Reston PRC Proposed Zoning Amendment
Supervisor Hudgins is joined by County staff to discuss the Reston Planned Residential Community (PRC) District proposed zoning amendment.
First Wednesdays with Supervisor Hudgins
First Wednesdays: You are invited to come and share any concern you may have on any issue with Supervisor Hudgins, or just talk with her one-on-one. First Wednesdays hours are 4 p.m. to 6 p.m. Upcoming sessions are:
April 4 - Reston Regional Library, Reston
May 2 - Patrick Henry Library, Vienna
June 6 - Reston Regional Library, Reston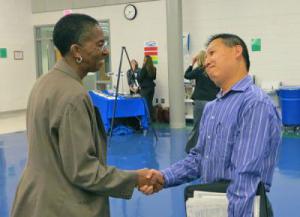 Newsletter and eBlast
Sign up to subscribe to Hunter Mill Highlights electronic newsletter and eBlast. Your source of news, programs, updates and topics in the Hunter Mill District and the County.
Community Room
The North County Government Center Community Room is available for County residents and community groups free of charge.
Home Owner Associations
Update your HOA information and contacts. This listing is used to keep you informed of issues and opportunities that will impact your neighborhood.