Thursday evenings • 7:30 p.m. • June 21 through August 23 • Frying Pan Farm Park
I am excited to welcome you to the 2018 Hunter Mill Melodies concert series at Frying Pan Farm Park! This free entertainment series features a wide variety of musical acts from across the United States and from around the world. The variety and quality of the acts is a reflection of Fairfax County's diversity and community spirit, some of the many qualities that make this a wonderful place to call home. Come early for a picnic in the park, and visit with the farm animals and enjoy a wagon ride. Then, set up your blanket or chair, sit back and relax, and enjoy the show. If you would like to volunteer, call my office at 703-478-0283.

I look forward to sharing with you a wonderful summer of music under the stars.
Sincerely,
Catherine M. Hudgins
Hunter Mill District Supervisor
Rain Cancellations:
For last minute performance cancellations due to inclement weather, call the HOTLINE at
703-324-SHOW (7469)
one hour prior to the program start time.

Download Flyer
Click image to view more photos
Join Our E-Newsletter ‌Subscribe
Hunter Mill Melodies is presented in partnership with the Hunter Mill District Supervisor, the supporters of Hunter Mill Melodies, Fairfax County Park Authority, Fairfax County Park Foundation, and generous contributions from the following sponsors: Cox Communication, Dominion Energy, Friends of Frying Pan Farm Park, Brandywine Realty Trust, Whole Foods Market and The Floris Conservatory.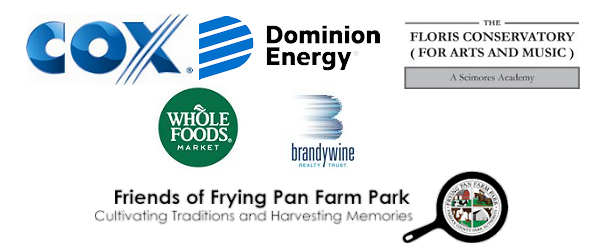 Summer Entertainment Series
2709 West Ox Road
Herndon, VA, 20171
Admission to Kidwell Farm and Frying Pan Farm Park and parking are free except for select special events.