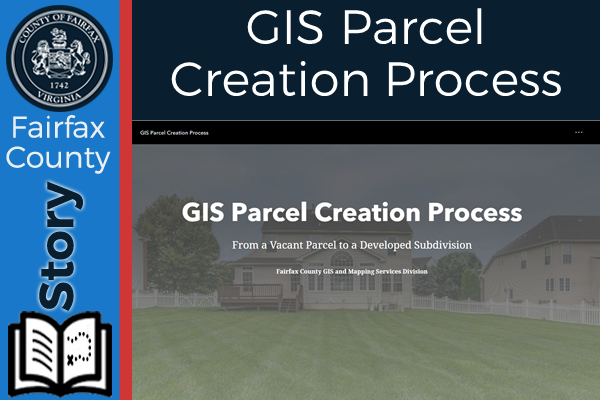 October 22, 2020
The GIS and Mapping Services Division has released the GIS Parcel Creation Process story map to show the process by which parcels are created and entered into GIS in Fairfax County. The story follows the development of vacant land into a residential subdivision and uses images of relevant documents and a web map to show the process in which the lot is divided into individual parcels inside a new subdivision, Kenilworth.  Click the image below to view the story map. It has also been added to our Property & Planning application gallery.
August 25, 2020
The GIS and Mapping Services Division has released the Tree Canopy and Impervious Surface Estimator to allow users to calculate coverage areas for these two land cover types. Impervious surfaces are features such as roads, sidewalks, driveways and buildings that prevent water from infiltrating the ground surface. These features generate runoff when it rains and the water travels to storm drains and other low points, contributing to flooding and transporting pollutants. Tree canopy can intercept and reduce stormwater runoff and its coverage is monitored by the county as development occurs. Estimating impervious surface and tree canopy can help stormwater and other planning efforts. The application will be updated as new data becomes available. Click the image below to use the application. It has also been added to our Infrastructure & Environment application gallery.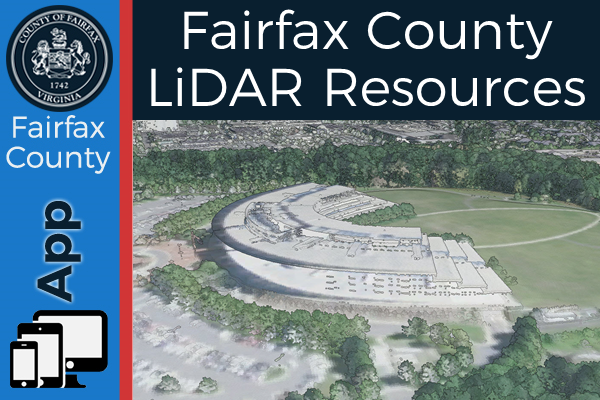 June 5, 2020
The GIS and Mapping Services Division has posted our latest Light Detection and Ranging (LiDAR) data, captured in December 2018, and developed a site to consolidate our elevation resources. The new site provides access to 2D and 3D applications for viewing the data as well as some examples of how it is used in Fairfax County. For those who would like to use the data, links to the server layers are provided as well as metadata reports for each collection. Information for purchasing our legacy data can also be found here.  Click the image to see the new site.    
GIS Day
GIS Day is a global event during which GIS (Geographic Information Systems) users work to expand the understanding of how GIS technology and geography make a difference in our lives. GIS, a computer-based tool used to map and analyze features and events, combines the power of a database with the visualization capabilities offered by maps. Hundreds of thousands of people in the world use GIS to solve problems in areas such as environmental protection, pollution, health care, land use, asset deployment and routing, natural resources, conservation, business efficiency, education and social inequities.
GIS Day provides an opportunity to recognize effective and creative use of spatial tools by Fairfax County staff to better serve agencies and constituents. This culminates in the presentation of the GIS Excellence Awards.