Subscribe to Strategic Plan Updates
Stay in the know with occasional updates as the strategic plan process unfolds. Subscribe in one of two ways:
Questions? Comments? 
We invite your ongoing questions and comments about the strategic plan as it continues to be developed and then adopted later this year by the Board of Supervisors.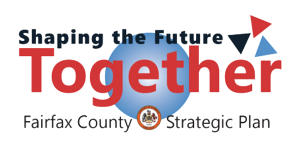 After pausing for a year due to COVID-19 in 2020 (which followed more than a year of work, engagement, development and refinement in 2019), County Executive Bryan Hill presented a first-ever countywide strategic plan to the Board of Supervisors in February 2021. The proposed plan:
Sets a clear, unified, community-driven vision for the next 10-20 years.

Aligns and integrates existing issue- and department-specific plans.

Provides a tool for focusing and prioritizing initiatives over the next 3-5 years.

Aims to communicate progress on achieving measurable outcomes to all stakeholders.
NOTE: This plan is subject to change following community feedback and direction from the Board of Supervisors. It's anticipated the Board will adopt a final plan in October 2021.
Note from County Executive Bryan Hill
Fairfax County is an outstanding place to live, work, play, and learn. Over the last 30+ years, countless people have contributed to the sense of home and place we experience today. As we acknowledge our past and current successes, we must focus on the future and what we aspire to become as a community over the next 30+ years.
One year ago, we put forth a proposed Countywide Strategic Plan for the Board of Supervisors to review and adopt, following a planned third round of extensive community input as directed by the board. Shortly afterwards, COVID-19 hit the county with tremendous force, which disrupted the daily lives of our residents and required us to face our new reality in completely uncharted territory.
Our challenge was clear: To maintain continuity of county operations while simultaneously adapting to an unprecedented emergency, with immediate and wide-ranging impacts on public health, the economy, education, and the sudden inability of many of our residents to meet their most basic needs and support their families.
We see that the disparities in health and economic conditions that existed prior to the pandemic have been exacerbated, further reinforcing the critical need to sustain our efforts to promote racial and social equity. With our One Fairfax focus, we are able to identify areas where people and places within the county are affected by the impacts of COVID-19 more than others and strategically mobilize our resources to respond.
It has been incredibly gratifying to see how our community came together with county government to collaborate in brand new ways, as we collectively responded to needs for COVID-19 testing, treatment, and communication, while also addressing increased requests for food, childcare, and housing. However, as our economy continues to recover and we move into a new phase of the COVID-19 public health response, we face significant current and future budget challenges that will require us to focus our limited resources on our top strategic priorities and most urgent community needs.
Many people have asked why we need this plan, and the answer is simple: Now more than ever, we must intentionally align existing government and community plans and priorities to respond to the areas of greatest importance to our residents, and strategically focus our resources on these priorities over the next 5, 10, 20 years and beyond.
The milestone of presenting our first-ever Countywide Strategic Plan signifies the beginning of a new era in Fairfax County: A new way to work, think, collaborate, and communicate as we continue to optimize our service delivery within the parameters of our available resources.
Our ongoing process will prioritize effective and transparent government planning, and communicate a clear vision of the future, so our residents and community partners can see where we are going, how we plan to get there, and what we plan to achieve together.
This plan will also frame and integrate other related work, such as the county's Capital Improvement Program, to ensure that we are aligning large facility and infrastructure investments with our future vision of how the county will continue to grow and develop over time. As new countywide initiatives emerge, such as the Chairman's Taskforce on Equity and Opportunity and our commitment to improve our use of data for countywide decision making, they will be continuously integrated and embedded within the framework of the plan. We will also continue to work closely with Fairfax County Public Schools, who were active participants and key partners in the development of the proposed plan.
To our Board of Supervisors: I'm excited to present this proposed plan to you, and look forward to your continued feedback, engagement, and new ideas as we build on our previous success for an even stronger Fairfax County. Your insight and guidance will be key as we prioritize our areas of greatest community need and pursue a financially sustainable plan for the future together.
To our community: We view community engagement as a process that is never complete, and strongly encourage you to see the ways the strategies within this plan will positively impact your daily lives. We are counting on you to help us track success, as well as how we can continue to improve – this is not only a government plan, but a way to shape our collective future in a way that benefits us all.
To our employees: Through your response to COVID-19, you have stepped up to meet new challenges head-on. Your adaptability, flexibility, and commitment to serving our community at the highest possible level has been inspiring. We must continue to move out of our departmental silos and seek new ways to collaborate and implement strategies that will deliver clear and measurable outcomes to our community.
To our Strategy Teams: I want to thank the nine strategy teams (pictured below) for building a strong foundation and producing a plan that has already demonstrated its relevance, as an unwavering "North Star" during the new and constantly changing challenges related to COVID-19. Although you could not have predicted the events of the past year, you demonstrated the virtues of open collaboration, bold thinking, adaptability, and sincere commitment to the community which are more important than ever as we enter a new era of public service in Fairfax County. While we made some updates to the original draft plan to reflect some new issues and ideas that have emerged during the pandemic, this proposal fully honors our original vision of producing an overarching, long-range plan which can be easily adapted as community conditions continue to evolve over time.
To my Strategic Plan Steering Committee: I thank you for your dedicated support, the long days and evenings spent together as we set the conditions for change. The vision and values of our Board will be how we move forward collectively.
Regards,
Bryan Hill

Executive Summary
In January 2019, Fairfax County launched a process to develop its first-ever Countywide Strategic Plan. At the heart of this effort was the realization that Fairfax County must evolve and find new, better, and more innovative ways to serve the community. While the county overall enjoys enviable national rankings in median income and school performance, as well as low crime rates and beautiful outdoor spaces, there are clear and persistent challenges that must be addressed.
Through the lens of the One Fairfax racial and social equity policy, we recognize that access to opportunity varies significantly depending on who you are and where you live in the county, and there is a widening gap between those at the highest rung of the economic ladder and those who struggle to get by. Higher rents and housing, taxes, and other living costs prevent many people from living here, or from remaining in the community if they have called Fairfax County home for many years. And now the impact of COVID-19 on our community has created new challenges while also highlighting existing ones.
The intent of this strategic plan is to define a clear and compelling vision for our community, to prioritize the specific actions which address our most critical challenges, and to move us towards that vision while tracking and sharing our progress.
The following goals guided the strategic planning work: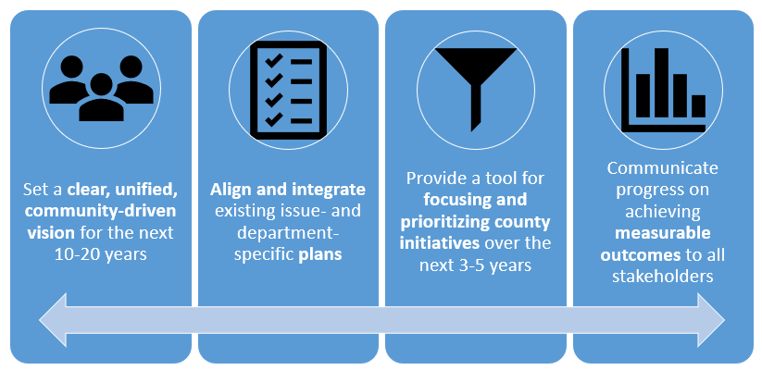 And the following principles were followed: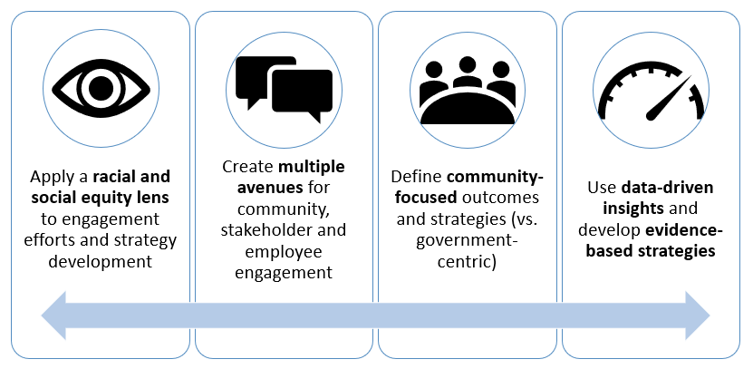 One of the key principles was to create a plan focused on community-defined outcomes, so two rounds of initial public input were held. More than 16,000 people participated in our first round of engagement in spring 2019 either through in-person meetings or a countywide survey.
Consistent with the One Fairfax racial and social equity policy, a focused effort was made to hear from all voices by engaging historically underrepresented segments of the community and to integrate the principles of equity throughout the plan. During engagement sessions, the participants answered five questions:
What are the greatest challenges facing Fairfax County in the next 10 years?
What headlines do you want to read about Fairfax County in 10 years?
What does county government do well?
In what areas does county government need to improve?
What actions would you prioritize over the next three to five years?
Based on this community input, nine priority areas were identified:
Cultural and Recreational Opportunities
Economic Opportunity
Effective and Efficient Government
Empowerment and Support for Residents Facing Vulnerability
Health and Environment
Housing and Neighborhood Livability
Lifelong Education and Learning
Mobility and Transportation
Safety and Security
The teams for each of the nine priority areas embarked on extensive research to examine root causes of community conditions, review existing planning documents, carefully consider community input, and to benchmark the work of other communities. The teams also conducted additional targeted outreach to stakeholders and service provider partners to gain additional insight. In addition, Fairfax County Public Schools was a key partner and participant in developing the plan. Once the research was completed and draft strategies were developed, another round of community engagement was conducted in the fall of 2019. This draft plan represents a culmination of the work by the teams with input from the community.
Efforts are now underway to lay the groundwork for implementation following Board of Supervisors' adoption, including another round of intensive community outreach throughout the spring of 2021. Future budgets and work by county staff will align with the priorities in this plan, and performance management systems will also be positioned to clearly show the community how the needle is moving on desired outcomes, and to hold county government accountable for results.
Alignment with One Fairfax Equity Policy
While the county is a great place to live, learn, work and play, persistent racial and social inequities and disparities in outcomes continue to exist. To confront these realities, the county has embraced a vision of One Fairfax: The belief that ALL residents deserve an opportunity to succeed. The county has committed to considering equity as we create and implement county policy and practice – to intentionally, comprehensively, and systemically identify and address barriers to and gaps in opportunity.
As our county responds to COVID-19 and continues the journey to recovery, we have seen the convergence of a public health crisis and an economic crisis. In addition, with incidents nationally and locally involving law enforcement, we are further confronted by the realities of systemic racism and injustice. For the future success of our county, it is critically important to fully employ our resources and ingenuity to address the inequities embedded in our community that stifle opportunity for many of the residents and businesses that call Fairfax County home.
The research and outreach conducted for the Countywide Strategic Plan has shown the complex and interconnected web of systems such as housing, education, transportation, employment, health, and other factors that can significantly shape an individual's or family's potential for life success. We are gaining a better understanding of how these opportunities vary depending on who you are and where you live in the county.
As we plan for the county's future success, we must prioritize building the productive capacities of all neighborhoods and residents, bolstering their connection to the county's assets and resources, and facilitating their full participation in and contribution to the county's economic and social vitality and readiness for the future.
Creating Communities of Opportunity
As the strategic plan is implemented, we will strive to transform islands of disadvantage – areas where residents face economic, educational, health, housing, and other challenges – into communities of opportunity by:
Understanding Opportunity & Vulnerability
Use analytical tools to better understand and represent the dynamics of opportunity and vulnerability within the county.
Targeting Interventions to Build Opportunity
Facilitate the development of targeted, strategic interventions in low-opportunity areas to cultivate critical opportunity structures for residents.
Targeting Interventions to Connect to Opportunity
Affirmatively connect low-income and otherwise marginalized individuals and families to existing opportunity.
Encouraging the Development of an Inclusive Economy
Sustain our strong economy while expanding opportunity for more broadly shared prosperity, especially for those facing the greatest barriers to advancing their well-being.
Guiding Principles
Fairfax County will be guided by the following set of overarching themes to help achieve the nine priority area outcomes outlined in this strategic plan. They will influence how the county makes decisions, sets policies, allocates resources, implements strategies, and measures results.
Access
Fairfax County provides a wide variety of high-quality programs and services for our community. However, many residents face barriers — physical, economic, language, technological, and others — that prevent them from easily accessing these offerings. As the county moves forward to implement this strategic plan, it will incorporate the perspectives of those who face those barriers in designing solutions to address them. In this way, more members of the community are able to take advantage of all available opportunities.
Affordability
The cost of living in the community will likely continue to rise, and many residents have lost their jobs and savings due to the COVID-19 pandemic. In the face of this challenge, Fairfax County will work to ensure that everyone in the county can afford to meet their most fundamental needs, such as housing, food, healthcare, transportation, utilities and childcare. This will involve setting strategies and implementing policies that help keep the costs of those necessities — as well as the tax burden we place on individuals and businesses — reasonable. In addition, Fairfax County will pursue initiatives and programs that expand opportunities for individuals and families to increase their income and wealth so that they can remain here and thrive.
Collaboration and Engagement
The challenges and opportunities facing Fairfax County cannot and will not be solved by county government alone. The creativity, diversity and energy of our residents, businesses and community organizations will need to be harnessed if we are all to achieve success on the nine strategic outcomes outlined in this plan. To achieve this, the county will need to proactively create opportunities for collaboration and engagement that are inclusive, accessible, and authentic — convening these partnerships in ways that enable a wide range of views and voices to be heard and that represent the diversity of all communities.
Innovation
The world is changing rapidly in a multitude of ways, and the residents and businesses of Fairfax County expect their county government to keep pace and deliver on their desired outcomes. This will require the county to embrace new ways of working, new technologies, and new partnerships. Fairfax County will need to let go of comfortable, status quo approaches and seek new insights about what it will take to make performance even better. As the county pursues more innovative practices and learns from the challenges and opportunities that arose during the COVID-19 pandemic, it will need to become more agile and adaptive — constantly refining programs to acquire and process new information. To be as effective as possible, Fairfax County will need to be open to opportunities for learning and growth, and then adapt approaches accordingly.
Sustainability
Fairfax County is a steward of the community's resources, whether these are the funds provided through taxes and fees to deliver needed services, the natural environment everyone relies on to live or the human talent that works each day to serve the community. It is imperative for Fairfax County to manage those resources in ways that maximize their long-term health and sustainability, even as it acts to address the real-time, urgent needs of today. This means considering the impacts of our policies on future generations of residents, taxpayers, and employees, and intentionally incorporating those insights into decisions.
Placemaking
Natural and built environments are foundational to any community's quality of life. Where people live is a major determinant in the opportunities they will experience. Does the area in which they live provide access to basic needs – affordable housing, healthcare, safety and security, employment, transportation, and education? Does the area also provide diverse cultural/recreational opportunities that enrich their lives such as the arts, beautiful parks, and social connections? Are these opportunities equitably shared?
Placemaking is about creating environments where people can thrive; where people want to be; and where businesses want to locate and grow. Placemaking recognizes that all areas have not historically experienced the same level of opportunity, and different levels of investment are needed. Placemaking strategies cut across all the priority areas in this plan and will require a thoughtful approach to how the multiple goals in this plan intersect.
Creating great places will require integrating land use planning with transportation choices and providing access to community amenities in a healthy, secure, and environmentally sustainable manner. Placemaking is also about providing choices – protecting and preserving the fabric of existing neighborhoods and building new vibrant, mixed-use, pedestrian friendly urban centers that celebrate our cultural diversity. As implementation of the plan is advanced, specific attention will be focused on placemaking and integrating strategies across the nine priority areas. As we continue to move forward with our COVID-19 recovery, we will also take a fresh look at our use of physical space countywide and seek new ways to maximize our available land and built infrastructure.
Inside the Process
The process to develop this plan began in January 2019. It featured many phases.
Community Feedback
Extensive community feedback and stakeholder engagement in the spring and fall of 2019 helped shape the plan, including:
1,674 in-person meeting participants
17,355 survey responses
Intentional outreach to underrepresented communities
Feedback from Boards, Authorities and Commissions, as well as the business community
As the Board requested, an additional round of community feedback will be held concurrent with the FY 2022 budget process, including a survey to seek input on the results that residents and other stakeholders most want to see related to each of the nine priority areas.
Implementation of the Plan
Following additional community feedback this spring, the Board of Supervisors will adopt the fiscal year 2022 budget and a final version of this proposed strategic plan. Staff will then initiate efforts to implement the Board-identified priorities of the strategic plan, recognizing that not all strategies will be started at the same time. Specific workplans will be established with defined deliverables and targets to measure progress. Regular updates will be provided to the Board and community. Community and stakeholder engagement will continue to be a core focus of our efforts. Each successive fiscal year budget will link to the strategic plan and the identification of prior year accomplishments, along with goals and targets for the coming year.
Plans Consulted
The strategic planning process will integrate many existing plans so all efforts are aligned, coordinated and in context. For your background, learn more about these plans, which range from health/human services to the environment to economic success to public schools and much more.
Nine Priority Areas
The nine priority areas outlined below provide the framework for the people and organizations
of Fairfax County to shape the future together for 2021 and beyond.
Download Documents
If you'd like to view the proposed plan as a document, we invite you to download the following PDFs:
If you need the information in an alternate format, please call 703-324-7329, TTY 711.