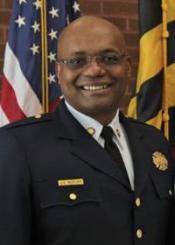 The Fairfax County Board of Supervisors today appointed John S. Butler as the county's next Fire and Rescue Department chief. He succeeds Chief Richard Bowers, who retired in April. Butler's appointment is effective Sept. 1.
Butler has been with the Howard County, Md. Department of Fire and Rescue Services since 1993 and was appointed chief in 2014. He began as a firefighter-paramedic in Howard County, rising through the ranks to serve in a variety of roles with that department, including as battalion chief, emergency medical services chief and administrative chief. In addition to his firefighting experience, Butler served in the U.S. Marine Corps for 21 years, including two combat tours.
"After an extensive search including a community engagement process, Fairfax County is pleased to appoint Chief Butler to the position of Fairfax County Fire and Rescue Chief," said Fairfax County Board of Supervisors Chairman Sharon Bulova. "He will have the opportunity to lead an elite world-renowned department and I look forward to working with him."
During his tenure in Howard County, Chief Butler expanded services, hired the most diverse firefighter/paramedic trainee class in the department's history, helped establish the first and only local affiliate of the International Association of Women in Fire and Emergency Services (iWomen), established numerous community outreach programs, led the construction of several fire stations and improved service delivery and response times.
"We had a number of strong candidates, however, Chief Butler demonstrated the leadership, vision and communications skills that will move our excellent Fire and Rescue Department forward," said County Executive Bryan Hill. "His proven experience and successful leadership at the helm of a large department will continue to strengthen our culture and contribute to a positive future for the department."    
Butler holds a Master of Science in management from Johns Hopkins University and a Bachelor of Arts from the University of Baltimore. He is a graduate of the National Fire Academy's Executive Fire Officer Program and holds a certificate from Harvard University's John F. Kennedy School of Government Leadership in Crisis Program. He is a member of the International Association of Fire Chiefs Human Relations Committee and Maryland's Emergency Medical Services Board and is a 2014 recipient of Johns Hopkins University's Global Achievement Award for his humanitarian work in Africa.
He will receive an annual salary of $201,878.77.