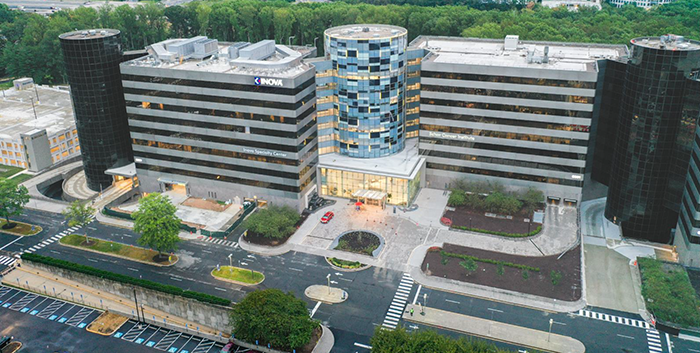 Inova's vision to expand its Center for Personalized Health to create a destination for health innovation and discovery won approval from the Fairfax County Board of Supervisors on Tuesday, Sept. 24.
The board approved updates to the county's land use plan for the center's 117-acre campus across the street from Inova Fairfax Hospital in Merrifield. The changes are the first step needed to allow the health system to incorporate more academic and research space at its campus, plus add complementary housing, retail and  hotels.
The center will establish the county as a health sciences innovation hub helping to grow and diversify the economy, officials say. The center's expansion will also benefit residents who will have access to state-of-the-art medical care like the Inova Schar Cancer Institute that opened in May.
"I am so pleased that Inova continues to invest in our community through the expansion of their research and treatment center," said Fairfax County Board of Supervisors Chairman Sharon Bulova. "This center will combine innovation, technology, and groundbreaking research to prevent and treat diseases. It is a once-in-a-generation opportunity that will transform the lives of not just Fairfax County residents, but of those who visit in search of world-class treatment as well."
Inova's Plan
The campus, which was once ExxonMobil's headquarters, is already developed with five office buildings totaling more than 1.2 million square feet. The newly approved Comprehensive Plan envisions another 3.8 million square feet in possible development on the property's western side.
Inova says that about half this proposed future development would be for academic partners led by the University of Virginia. Inova already has entered into a comprehensive research and medical educational partnership with George Mason University and the University of Virginia. It will bring together clinicians who will work side by side with researchers from state universities and biomedical technology startups.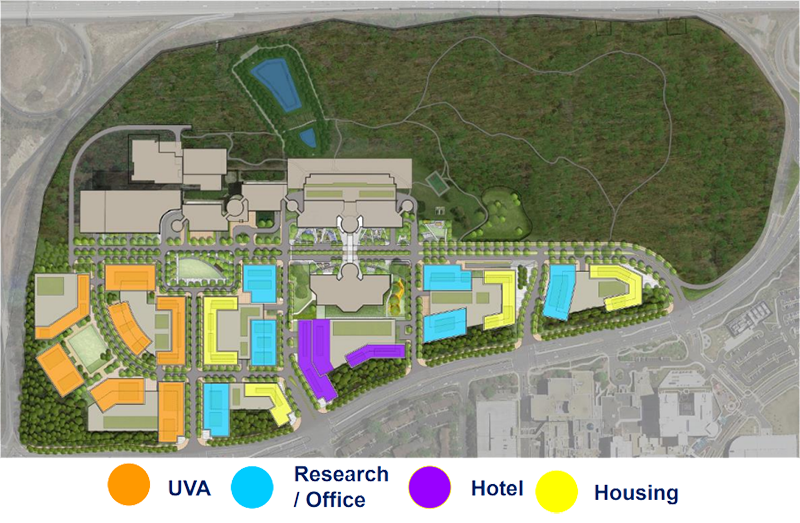 One component of this partnership is the Global Genomics and Bioinformatics Research Institute that's based at Inova's campus. The institute will focus on translating research and technology breakthroughs into clinical care to address patient needs.
In the first phase of its expansion, Inova plans to build new academic and research spaces and up to 705 housing units that could be used for assisted living, student housing and workforce housing. The future development will include up to 120,000 square feet for a short-term  stay hotel that could be used by families of cancer patients and researchers.
"This is a once-in-a-lifetime opportunity to change healthcare in Northern Virginia," said Dr. J. Stephen Jones, president and CEO of Inova Health System. "The clinical, academic and commercial collaborations on this campus will improve the health of our community and become a source of economic growth and jobs for Fairfax County."
Center's Economic Impact
By 2035, Inova estimates that activity on and related to the campus will generate $1.18 billion in economic impact, including $68 million in local and state tax revenue.
In addition to fostering a new innovation ecosystem, the center will help diversify the local economy and tax base, a key goal in the county's economic growth strategy.
The campus also houses a startup accelerator and investment fund to help biotech companies expand. Its accelerator works with startups to provide education, capital and access to Inova's resources. Inova also invests directly in companies and in health and technology venture funds.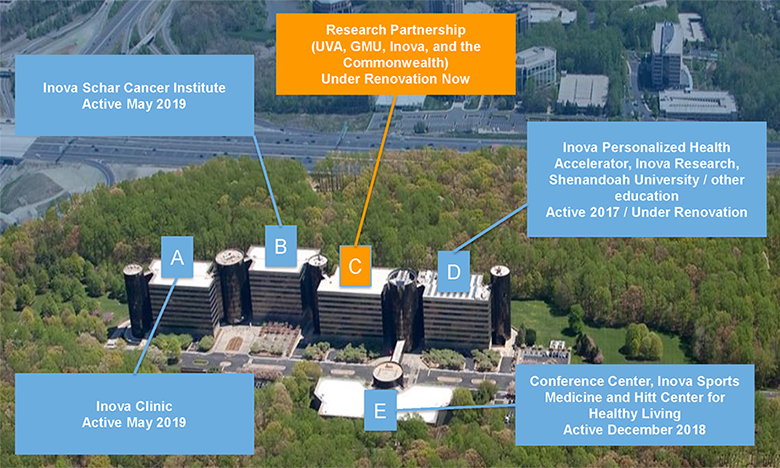 Community Engagement
Fairfax County's updated land use plan was developed with extensive community involvement. The county worked with a community task force that reviewed and shaped the land use recommendations over the course of 26 public meetings. In addition, Inova conducted quarterly meetings with neighborhood associations and held open houses throughout the process.
#  #  #