Fairfax County received a prestigious planning award for its urban design guidelines for development in Reston's transit station areas.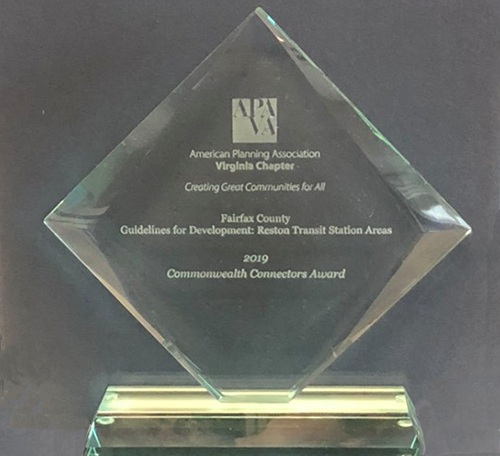 The American Planning Association's Virginia Chapter recognized the county with its 2019 Commonwealth Connectors Award. The award was presented at the group's annual meeting on July 23.
In presenting the award, the association lauded the county's extensive public engagement and collaboration with residents, property owners and others to craft the guidance.
Formally called the "Guidelines for Development in the Reston Transit Station Areas," the 190-page document offers flexible guidance on how to implement the urban design elements recommended in the Comprehensive Plan. This includes:
Streetscape layout.
Hardscape elements.
Planting strategies.
Building placement.
Building mass.
Architectural form.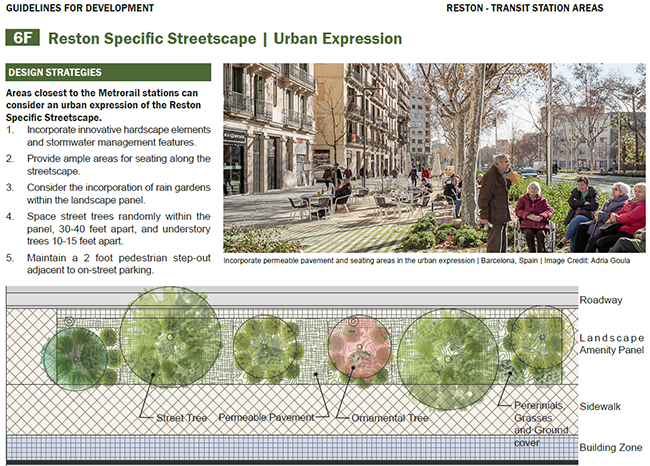 The guidelines ensure forward-thinking design while preserving the Reston's original vision and character. This includes focus on bicycling, pedestrian movement and enhanced connections between people and nature. The integration of buildings, sidewalks, plazas and public art with natural elements, such as tree canopies, open space and water features, helps create these connections.
The county developed the guidelines following a multi-year process that involved the participation of multiple county agencies, the use of surveys and consultations with an appointed advisory group, the Reston Association, the Reston Design Review Board and other stakeholders, and public outreach efforts.
For more information, contact the Department of Planning and Development, 703-324-9300, TTY 711.
#  #  #