With seven high rises facing a central park on top of a podium-style parking garage, Reston Crossing's unique 2-million-square-foot development plan won approval from the Fairfax County Board of Supervisors on June 25.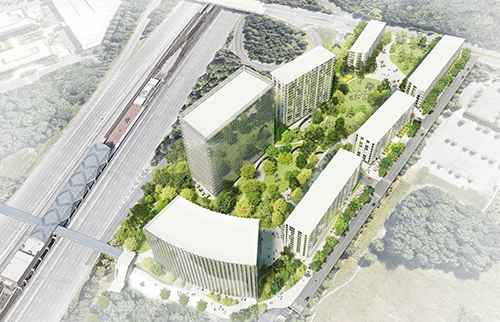 The buildings will be perched around of a four-story, mainly underground parking structure that spans the entire development. Rather than making their way across a network of local streets, cars will primarily traverse the development through the garage with building lobbies accessible underground. The parking podium will have parks on top with openings called "oculi" that offer views to the parking structure below while offering natural light and views to motorists.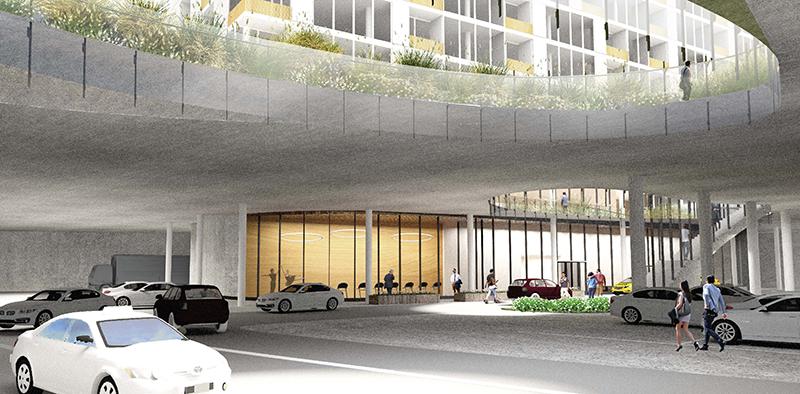 Located Next to Reston Station Metro
New York-based Tishman Speyer plans to build offices, residences and retail on a site that's a quarter mile south of the Reston Town Center Metro station's platform. The 14-acre property sits south of the Dulles Toll Road between Edmund Halley Drive and Reston Parkway and is located immediately north of Halley Rise, a 4.1-million-square-foot project that will feature Reston's first Wegmans.
Seven New High-Rises
The site is currently developed with two late '90s-era, mid-rise buildings that will be replaced with two office buildings and five residential towers. The development contains up to 890,000 square feet of office uses; up to 1,194 residential units and up to 50,000 square feet of retail in seven buildings. Building heights will range from five to 22 stories. Affordable housing will make up 16% of the planned residences, totaling 191 units.
Pedestrian Connections to Metro
Reston Crossing will build an elevated pedestrian bridge to the Metro station platform in addition to sidewalks and trails that connect to the station.
The development includes 10-foot-wide shared walking and biking trails along the property's boundaries, including a new public road connecting Edmund Halley Drive to Reston Parkway. This road will be jointly built with Reston Crescent's developer Brookfield Properties. There will be pedestrian and bike access across Reston Crossing, and the developer will provide space for a bikeshare station.
Six Parks Span Reston Crossing's Length
The project provides 3.7 acres of urban parks, more than recommended by the county's guidelines. The six parks planned, and they will stretch across the entire development from Reston Parkway to the entrance plaza to the Metro station:
The Crossing Plaza: Located on the property's west side, this 30,492-square-feet plaza will be the gateway to Reston Crossing from the Metrorail entrance pavilion. It includes outdoor tables and chairs, and is planned to be built along with the first office building.
Verdant Park: This park will be an extension of The Crossing Plaza, and it is designed with flexible, multi-purpose lawn panels that be changed to allow for, an ice rink, temporary sports court or other seasonal activities.
Halley's Steps: This pocket park, at Edmund Halley Drive along the site's southwest corner, will feature steps and an ADA accessible ramp, seating and landscaping.
The Grove:  A 1.4-acre common green that is designed the with oval-shaped, oculi, pedestrian paths, outdoor seating, public art and landscaping.
Lively Park: Next to The Grove, this one-acre common green space will offer a synthetic turf lawn that could accommodate kickball, volleyball, frisbee, lawn bowling, whiffle ball and U-8 soccer; a multi-generational play area; and public art.
Promontory Garden: Located along Reston Parkway, this 13,068-square-foot pocket park will have steps and seating integrated into the hillside that can be used like an amphitheater.
Ribbon Garden: This one-acre trail along the development's northern boundary will connect Reston Parkway to the Metro station and feature a 10-foot wide shared-use trail and outdoor seating areas along with landscaping.
In addition to these parks, Tishman Speyer will contribute money to buy land for an athletic field.
Phased Construction
Reston Crossing will be built in three phases, and the Board of Supervisors approved its final development plans for the project's first phase. This includes the up to 16-story office building closest to the Metro Station entrance, a 15-dock bikeshare station and the urban plaza that connects Reston Crossing to the Metro entrance.
#  #  #