Stream Monitoring in Fairfax County
NVSWCD assesses the ecological condition of several Fairfax County streams based on the presence and abundance of benthic macroinvertebrates (aquatic insects).
NVSWCD's volunteer stream monitoring program began in 1997 and has grown to be one of the largest and longest-running volunteer stream monitoring programs in Virginia. Our program began through the dedication of local monitors and continues as a result of our enthusiastic and committed volunteers. They trudge through tall grass, sink in muck, and break through ice to monitor their streams in winter.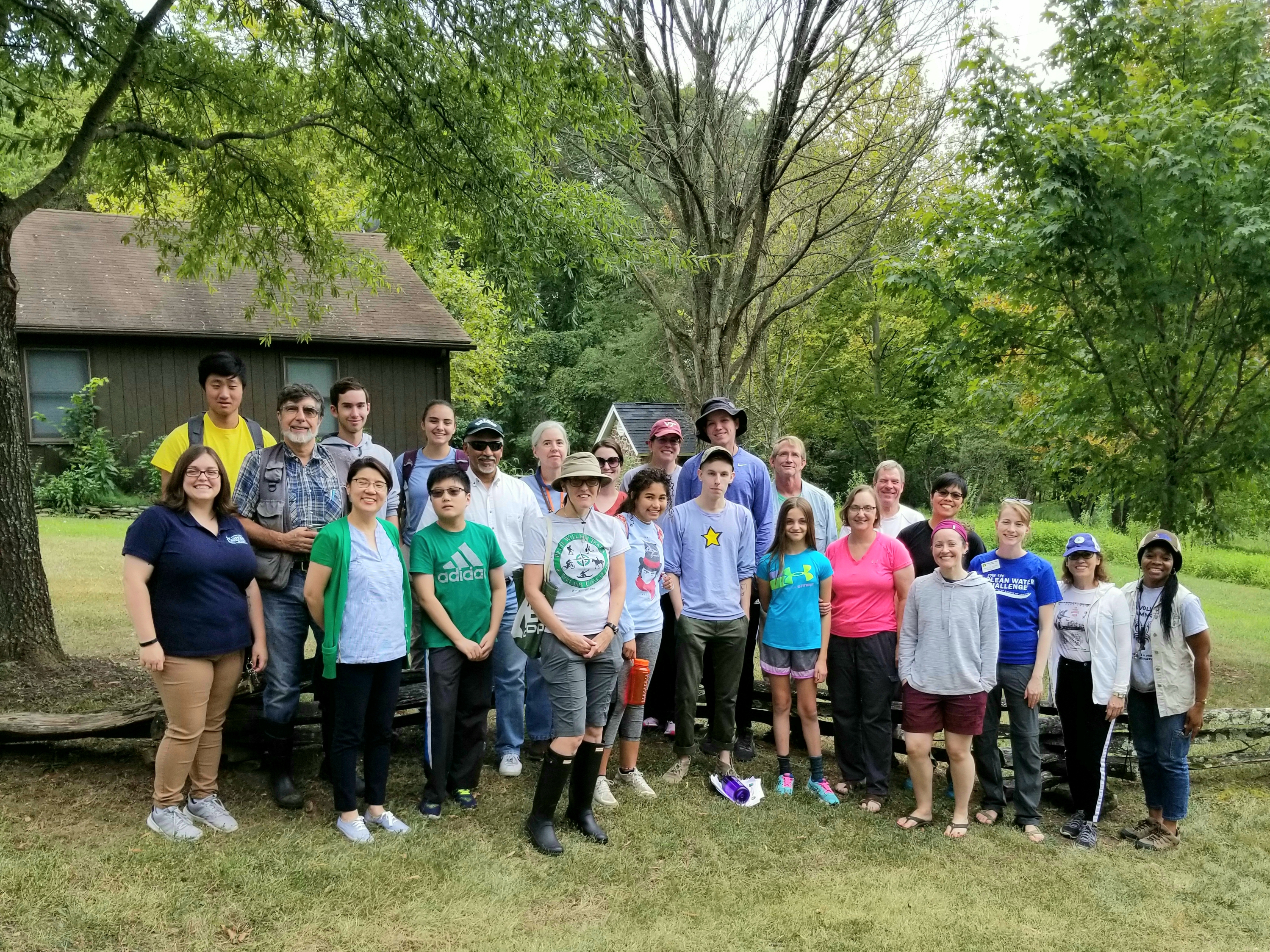 The exact number of monitoring sites changes due to the availability of volunteer monitors and changes in stream morphology and water levels. As of 2019, NVSWCD has approximately 20 stream monitoring sites. All but six are monitored exclusively by local volunteers. Locally, our data is used in the Fairfax County Stream Protection Strategy Program, and our volunteers are the first to notify us if their stream becomes impaired. 
Virginia Save Our Streams and Macroinvertebrates
NVSWCD follows the stream monitoring protocol outlined by the Izaak Walton League of America's Virginia Save Our Streams (VASOS) Program. The VASOS Rocky Bottom Protocol outlines how often streams can be sampled, the proper equipment and techniques used to sample them, and how to calculate a stream score using the number and biodiversity of macroinvertebrate species sampled. You can learn more about VASOS by visiting their website.
NVSWCD stream monitoring sites are sampled 2-4 times yearly and the data is reported to VASOS. VASOS performs quality control on the data and forwards it to the Virginia Department of Environmental Quality where it is used to make state-wide stream management decisions. You can view data collected by NVSWCD volunteer stream monitors and other monitors across the state by accessing the VASOS Data Portal. Data is made available to the public with a free account; username and password are required to create the account.
Macroinvertebrates are aquatic insects that live in our streams. Some live there year-round, like aquatic worms and clams. Others live in our streams and larvae or nymphs, and their adult forms leave the stream, like mayflies and dragonflies. A healthy stream has a large number and wide variety of macroinvertebrates. There are many resources for learning more about macroinvertebrates, including identification resources from VASOS and the interactive online Atlas of Common Freshwater Invertebrates of North America.
Become a Volunteer Stream Monitor!
You can gain stream monitoring experience and service hours by attending a stream monitoring workshop. NVSWCD Stream Monitoring workshops are open to the public and held February-November yearly, with more workshops occurring during the spring and fall monitoring seasons. Workshops are held at NVSWCD stream sites throughout the county and last approximately 2.5 hours. Volunteers learn about watersheds and water quality, collect macroinvertebrates, sort and identify the macroinvertebrates caught, and calculate a stream health score.
Want to join NVSWCD at a stream monitoring workshop? View open volunteer opportunities. 
If you have any questions about NVSWCD's stream monitoring workshops or would like to be put on a waitlist for a workshop, please email NVSWCD.
Stream monitoring workshops offered by NVSWCD and other local stream monitoring groups are announced in NVSWCD's monthly email newsletter, the Watershed Calendar. Past issues of the Watershed Calendar can be viewed here and you can register for the email listserve here or by emailing NVSWCD.
After you have attended at least 3 workshops with NVSWCD or another stream monitoring group, you are eligible to become a certified stream monitor. Certification workshops are held once annually as a full day training in the summer and consist of a written test on macroinvertebrate identification and VASOS monitoring protocols, and a practical field exam in a nearby stream. After you become certified, you can join one of NVSWCD's volunteer-led Stream Teams, start a Stream Team at a new monitoring site, or assist in our stream monitoring workshops. Stream monitoring certification lasts for two years, or as long as you continue to submit stream monitoring data to VASOS.
Want to join NVSWCD at a stream monitoring workshop?