Stream Monitoring in Fairfax County
COVID-19 Program Update: Due to limited availability and more stringent protocols, stream monitoring workshops are only offered through the Watershed Calendar. You can register for this email listserve here or by emailing NVSWCD.
NVSWCD assesses the ecological condition of several Fairfax County streams based on the presence and abundance of benthic macroinvertebrates (aquatic insects).
NVSWCD's volunteer stream monitoring program began in 1997 and has grown to be one of the largest and longest-running volunteer stream monitoring programs in Virginia. Our program began through the dedication of local monitors and continues as a result of our enthusiastic and committed volunteers. They trudge through tall grass, sink in muck, and break through ice to monitor their streams in winter.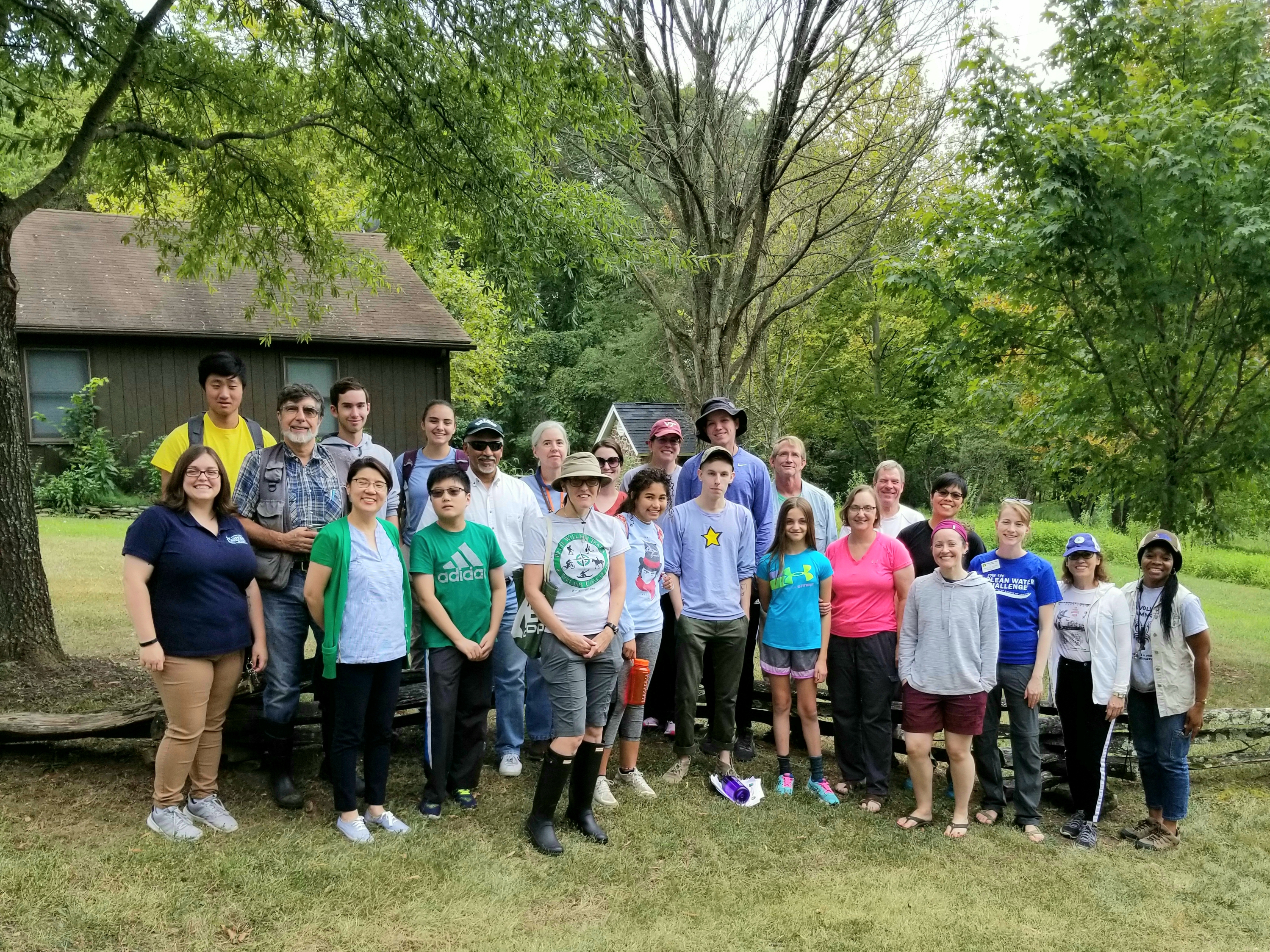 The exact number of monitoring sites changes due to the availability of volunteer monitors and changes in stream morphology and water levels. As of 2019, NVSWCD has approximately 20 stream monitoring sites. All but six are monitored exclusively by local volunteers. Locally, our data is used in the Fairfax County Stream Protection Strategy Program, and our volunteers are the first to notify us if their stream becomes impaired. 
Virginia Save Our Streams and Macroinvertebrates
NVSWCD follows the stream monitoring protocol outlined by the Izaak Walton League of America's Virginia Save Our Streams (VASOS) Program. The VASOS Rocky Bottom Protocol outlines how often streams can be sampled, the proper equipment and techniques used to sample them, and how to calculate a stream score using the number and biodiversity of macroinvertebrate species sampled. You can learn more about VASOS by visiting their website.
NVSWCD stream monitoring sites are sampled 2-4 times yearly and the data is reported to VASOS. VASOS performs quality control on the data and forwards it to the Virginia Department of Environmental Quality where it is used to make state-wide stream management decisions. You can view data collected by NVSWCD volunteer stream monitors and other monitors across the state by accessing the VASOS Data Portal. Data is made available to the public with a free account; username and password are required to create the account.
Macroinvertebrates are aquatic insects that live in our streams. Some live there year-round, like aquatic worms and clams. Others live in our streams and larvae or nymphs, and their adult forms leave the stream, like mayflies and dragonflies. A healthy stream has a large number and wide variety of macroinvertebrates. There are many resources for learning more about macroinvertebrates, including identification resources from VASOS and the interactive online Atlas of Common Freshwater Invertebrates of North America.
Become a Volunteer Stream Monitor!
You can gain stream monitoring experience and service hours by attending a stream monitoring workshop. NVSWCD Stream Monitoring workshops are open to the public and held February-November yearly, with more workshops occurring during the spring and fall monitoring seasons. Workshops are held at NVSWCD stream sites throughout the county and last approximately 2.5 hours. Volunteers learn about watersheds and water quality, collect macroinvertebrates, sort and identify the macroinvertebrates caught, and calculate a stream health score.
Want to join NVSWCD at a stream monitoring workshop? View open volunteer opportunities. 
If you have any questions about NVSWCD's stream monitoring workshops or would like to be put on a waitlist for a workshop, please email NVSWCD.
Stream monitoring workshops offered by NVSWCD and other local stream monitoring groups are announced in NVSWCD's monthly email newsletter, the Watershed Calendar. Past issues of the Watershed Calendar can be viewed here and you can register for the email listserve here or by emailing NVSWCD.
After you have attended at least 3 workshops with NVSWCD or another stream monitoring group, you are eligible to become a certified stream monitor. Certification workshops are held once annually as a full day training in the summer and consist of a written test on macroinvertebrate identification and VASOS monitoring protocols, and a practical field exam in a nearby stream. After you become certified, you can join one of NVSWCD's volunteer-led Stream Teams, start a Stream Team at a new monitoring site, or assist in our stream monitoring workshops. Stream monitoring certification lasts for two years, or as long as you continue to submit stream monitoring data to VASOS.
Meet Your Streams! 
NVSWCD monitors five streams throughout Fairfax County during our scheduled stream monitoring workshops, which engage volunteers from the public in collecting data from these sites. Each location is monitored at least twice per year, in spring and fall, and often more frequently if weather and scheduling allow. All of the data collected at NVSWCD stream monitoring sites is submitted to the VASOS Data Portal as well as the Clean Water Hub, where you can see all the data from NVSWCD workshops sites and certified monitor sites. 
Fairfax County is home to 30 major watersheds and many smaller subwatersheds. Visit the Watersheds webpage to learn more about watersheds and streams in Fairfax County.
Cub Run 
Site CR13 on Cub Run was started in 2005, and the location has served as an invaluable workshop site for many years. Cub Run tends to be a deeper stream with steeper access than most monitored by NVSWCD, presenting unique challenges in finding sampling locations. Each spring, the workshop site is covered in beautiful bluebells. The Cub Run monitoring site lies within Cub Run Stream Valley Park in Centreville in western Fairfax County. Cub Run flows south into the Occoquan River. The Cub Run Park Volunteer Team is active in protecting Cub Run and the surrounding watershed through stream monitoring, cleanups, storm drain labeling, and guest speakers at their meetings.
Big Rocky Run
Monitoring at site CR5 in Big Rocky Run began in 2001, and took a brief hiatus from 2016 to 2019. Big Rocky Run lies within the Cub Run Watershed and is located upstream of the Cub Run monitoring site. Big Rocky Run has the smallest watershed of all the NVSWCD workshop sites. The Big Rocky Run monitoring site is located within E. C. Lawrence Park, and is home to a wide array of recreational opportunities and wildlife.
Horsepen Run
Site HP5 is Horsepen Run is NVSWCD's newest stream monitoring workshop site and began in 2018. Horsepen Run has a small watershed located in Herndon and flows west and north through Loudoun County to reach the Potomac River. The Horsepen Run Stream Valley Park is often used for recreational purposes by runners, bicyclists, and dog walkers.
Sugarland Run
The SLR6 stream monitoring site on Sugarland Run was initially started as a volunteer-led site in 2011, but its value as a workshop site was soon discovered. After flowing out of Fairfax County, Sugarland Run flows north to feed into the Potomac River. Large amounts of impervious surfaces at Sugarland Run's headwaters in the Herndon and Reston city centers present a challenge to water quality. Despite pollution upstream, volunteers and monitors at this site often report seeing great blue herons from the nearby Kincora rookery in Dulles.
Pohick Creek
The POH2 site on Pohick Creek has served as a reliable NVSWCD workshop site since 2010. The site is located along Pohick Creek near I-95 and Fort Belvior. Many of the small lakes and tributaries of the Pohick Creek watershed lie in protected Fairfax County Park Authority land. With numerous riffles, pools, and small stream offshoots, the Pohick Creek stream monitoring site often changes structure and appearance. 
Want to join NVSWCD at a stream monitoring workshop?
COVID-19 Program Update: Due to limited availability and more stringent protocols, stream monitoring workshops are only offered through the Watershed Calendar. You can register for this email listserve here or by emailing NVSWCD.