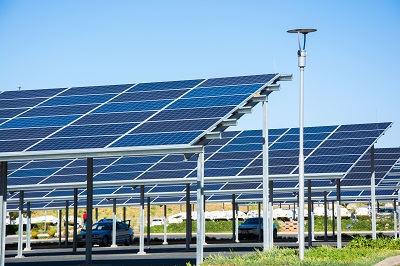 Renewable energy is generated from sustainable natural resources that are not depleted when used. Typically renewable energy is associated with the generation of electricity, but it can also refer to fuel used for transportation or heating. Renewable energy projects vary in size from utility-scale power plants to commercial and residential applications. Data from the U.S. Energy Information Administration shows historical and projected growth for the U.S. renewable energy industry.
Many people are familiar with solar and wind energy, but other renewable energy sources include geothermal, hydroelectric, biomass, ocean, and waste. More information on all types of renewable energy can be found on the DOE Office of Energy Efficiency and Renewable Energy and Virginia Energy Sense webpages.
Most electric utilities offer the opportunity to buy "green" power for a small bill surcharge. Utilities supply "green" power by purchasing Renewable Energy Certificates, or RECs, on behalf of their customers. RECs represent the environmental attributes of power produced from renewable energy sources. They give customers the opportunity to support renewable energy without having to install a renewable energy project onsite. For more information, visit the Dominion Green Power or NOVEC Renewable Energy Certificates webpages. RECs can also be sold and purchased independent from a local utility.
Please note: This page is under construction. Information will be added as it becomes available. Please check back for updates.