On this page, you can find information about the county's climate planning, initiatives, and actions, locate resources and information to help improve the sustainability of your home or your business, find information about upcoming events and explore the latest news from Fairfax County on topics like clean energy and environmental conservation.
There are currently no upcoming events to view.
Latest News and Information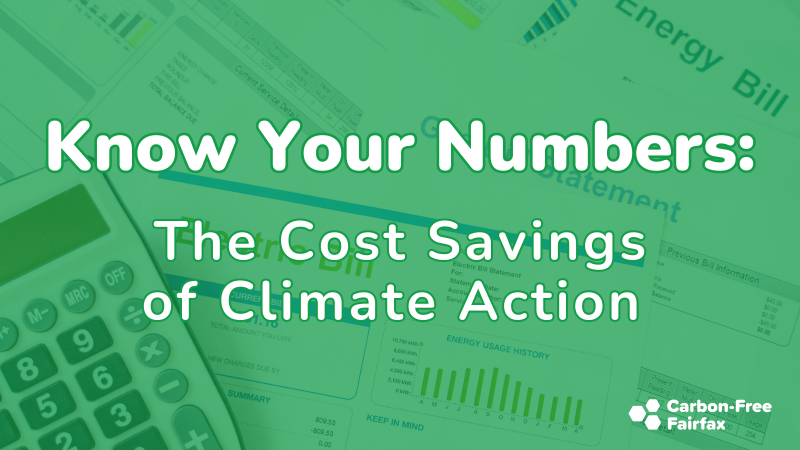 May 30, 2023 | 08:49AM
Many of our daily actions have an environmental impact, whether we're at home or on the go. Things that use electricity or fuel—like turning on our lights, using appliances and devices, heating and cooling our homes, and driving our cars—contribute to climate-warming greenhouse gas emissions. They also cost money: for example, the U.S. Department of Energy estimates that Americans spend an average of $2,000 per year on home energy.   Fortunately, reducing your emissions doesn't have to be complicated—and it doesn't have to be costly. In fact, it's easier than you might think to reduce your personal environmental impact and even save money, all while still meeting your everyday needs. Read on to learn how you can assess your personal emissions and identify ways to give back to the environment and your wallet.  Calculate Your Emissions (and Savings) The emissions we generate in our daily lives depend on our individual circumstances, needs, and behaviors. For instance, different households get their energy from different sources, such as electricity, natural gas, or renewable energy like solar. Households also have unique needs and habits when it comes to energy consumption, such as using appliances, lighting, and heating and cooling systems. And transportation emissions depend on a handful of factors, from your vehicle to how far and how often you drive. By taking a deeper dive into your routine—and what parts of it create the most emissions—you can find the best opportunities to save. But how do you assess your emissions (and find ways to save) when you have to account for these specifics? There's a tool for that! The U.S. Environmental Protection Agency's Carbon Footprint Calculator makes it easy to estimate your household's emissions and the cost savings of reducing them. Using basic information about your household size, general location, home energy costs, and driving habits, the calculator identifies ways to reduce your emissions and provides estimated annual savings.  Reduce Emissions, Reduce Costs  While the calculator can provide you with suggestions that are unique to your own personal habits, here are some examples of just how much you could save by taking steps to reduce your emissions. Keep in mind that there are lots of ways to reduce emissions (and costs) both at home and on the go—and, big or small, every action adds up!  At Home:   Save $80 by simply switching one of your frequently used lights to a 15,000-hour ENERGY STAR®-certified LED bulb, compared to the 15 halogen-incandescent bulbs you'd need over the same period. (Switch more bulbs to reap more savings!)   Save $60 annually by washing your clothes in cooler water, setting your machine to 60 degrees Fahrenheit (compared to 75 degrees Fahrenheit).   Save $200 to $400 per year by fixing drafts, air leaks, and outdated HVAC systems in your home.  Save $80+ per yer by adjusting your thermostat 7-10 degrees from its normal setting - for 8 hours a day Save $370 over the lifetime of the product by switching to an ENERGY STAR-certified clothes washer or save even more when you switch to ENERGY STAR-certified products when you're on the hunt for new appliances.  Receive tax credits of 22 percent to 30 percent by installing qualifying solar energy systems, depending on the year.   On the Go: Save about $600 per year by walking or biking, instead of driving, for at least half of your short (3-mile or less) trips, based on national averages.  Save about $100 annually (per vehicle) by driving just 10 fewer miles a week. For example, by trip-chaining—efficiently planning your route to reduce stops—or carpooling.3   Save $6,000 to $10,000 over your car's lifetime by choosing an electric vehicle when it's time for a new ride.    Learn More  Find more ways to reduce your emissions and energy bills—with some actions as easy as flipping a switch—on our Climate Action Dashboard.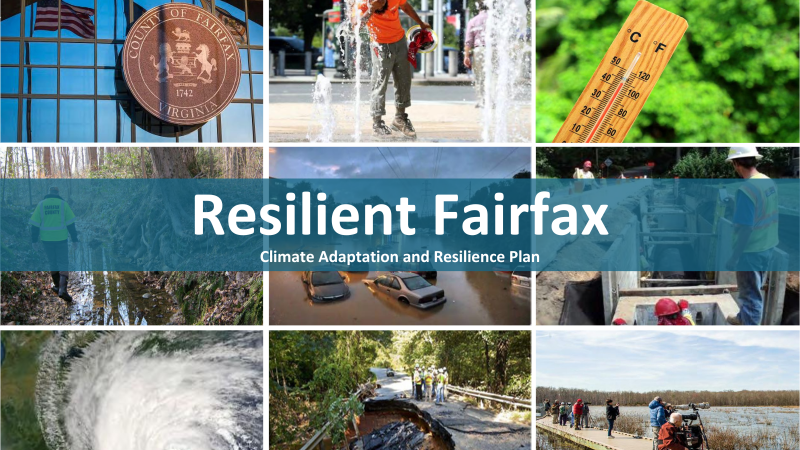 May 18, 2023 | 04:02PM
Resilient Fairfax, the county's plan to address the effects of changing climate on residents, critical infrastructure, public services, and natural resources, has been honored again — this time by the American Planning Association's Virginia Chapter. Each year the American Planning Association's Virginia Chapter (APA Virginia) honors and showcases the best in planning throughout the Commonwealth with its annual Awards Program. The Chapter awarded Fairfax County with its 2023 Resilient Virginia Community of the Year Award, which recognizes a community's effort and commitment to building resilience through responsible planning practice and innovation. An award ceremony will be held at APA Virginia's annual conference on July 18. Fairfax County's plan was recognized earlier this year by the American Planning Association's Sustainable Communities Division, a national award that honors projects, policies and plans that show exemplary leadership and inspiration in sustainability planning and implementation. Adopted in November of 2022, the Resilient Fairfax plan establishes goals and strategies to adapt to and to reduce risks from extreme heat, severe storms, and flooding. As Fairfax County faces increasingly "warmer, wetter, and weirder" conditions on average, the strategies in the plan will help the county boost the resilience of its population, infrastructure, public service systems, and natural resources to these climate-related hazards. Visit the OEEC website to learn more about the Resilient Fairfax plan. And find more information about the 2023 APA Virginia Awards Program. About APA Virginia APA Virginia represents 1,500+ practicing planners, elected and appointed officials, educators, students, and citizens in every region of the state. APA Virginia's mission is to make great communities happen in Virginia by offering continuing professional development and other valuable services to planners that enable them to excel in their practice. APA Virginia raises awareness about the many benefits that planning offers as a foundation for effectively addressing the physical, economic, and social changes that take place in Virginia, and provides leadership in planning advocacy for Virginia's diverse geography and population.
April 27, 2023 | 09:39AM
Cars and trucks are one of the biggest sources of greenhouse gas emissions in Fairfax County, accounting for nearly 40 percent of total emissions. These emissions contribute to pollution that accelerates climate change and negatively impacts our health. Fortunately, Fairfax County has plenty of alternative transit options besides driving. These options can reduce emissions, get you where you need to go, and in some cases, improve your health and well-being!  The Benefits of Driving Less Go greener. Driving less can help the environment. By choosing to bike or walk somewhere, you'll reduce your transportation emissions for that trip to zero. Public transit and carpooling also reduce individual on-road emissions.  Save money. You could save around $600 each year by choosing to bike or walk for at least half of your trips under 3 miles! If you carpool, you can save money by splitting fuel costs among your group. Members of your group can also take turns driving to reduce maintenance and repair bills. Support your health. Driving less has mental and physical health benefits. Biking or walking to your job or to a transit station near you are great ways to get in your daily exercise and decompress before and after work. Sharing duties among your carpool or vanpool can also help reduce the stress of driving and allow you to socialize with your coworkers. Alternative Transit Options in Fairfax County Biking and walking. In addition to reducing vehicle emissions, biking and walking are great ways to get fresh air and exercise! If you choose to bike to work, you'll be in good company—hundreds of Fairfax County residents commute to work by bike. The county offers plenty of resources for cyclists and pedestrians, such as a bike map, tips for biking to work, and safety tips. You can also connect with fellow commuters on community events like Bike to Work Day, which is coming up on May 19, 2023. In addition, the Capital Bikeshare program provides bikes for rent at locations across Fairfax County and launched a new electric bicycle in March 2023! Buses. Fairfax County's robust bus system, the Fairfax Connector, has more than 93 routes! You can use the bus to access the D.C. Metro, Amtrak, and Virginia Railway Express stations; George Mason University and Northern Virginia Community College; shopping hubs like the Mosaic District and Tyson's Corner; and more. Metrorail. The county has 13 Washington Metro and Transit Association (WMATA) stops on the Orange, Blue, Silver, and Yellow lines—perfect for those commuting to Washington D.C., Dulles International Airport, or other destinations in and around the area. Need to Drive? You Can Still Reduce Emissions! If you must drive, there are still plenty of ways to reduce your emissions. You can carpool with coworkers or check out Commuter Connections to find potential carpool riders in your area. Commuter Connections has a 'Pool Rewards program that provides cash incentives for new carpools—you could earn $2 for each day you commute for a consecutive 90-day period! If you start a vanpool with seven to 15 occupants, you could also qualify for monthly $200 subsidies. You can still reduce your carbon footprint while driving alone, too. For example, trip-chaining—planning efficient trip routes to reduce the amount of stops you need to make—can help reduce your emissions. (You can use the U.S. Department of Energy's Vehicle Cost Calculator to estimate fuel costs and emissions for your vehicle based on driving distance.) Avoid idling your car, or running it while parked, which creates unnecessary emissions when you're not driving. It's also important to make sure your tires are filled to the recommended pressure: driving with improperly inflated tires can cause your car to use more fuel, resulting in more emissions. These tips for reducing your environmental impact while driving can also help you save money on gas!  Learn More Find out what Fairfax County is doing about transportation emissions on the transportation page of our Climate Action Dashboard. To learn more about alternative transportation options in Fairfax County, check out Fairfax County's transportation homepage. Learn more about Fairfax Connector bus schedules and routes on the Fairfax Connector webpage. For more information about starting a carpool or vanpool (as well as incentives), check out Commuter Connections and Pool Rewards.   
Below, you will find information about timely or featured topics. For more information about our ongoing work on climate, energy, and sustainability issues, please see the sidebar menus or use the search bar at the bottom of the page.
Carbon-Free Fairfax is primarily a public education and outreach initiative to help Fairfax County realize a healthy, sustainable, and economically prosperous future without local greenhouse gas emissions.
Resilient Fairfax encompasses the development of a comprehensive Climate Adaptation and Resilience Plan for the county and the community as well as the implementation of strategies to reduce risk to county residents, businesses, and infrastructure
The Fairfax County HomeWise program educates, empowers, and enables residents to make changes that reduce energy use, water use, and associated costs in their homes.
A new, five-cent tax on disposable plastic bags from grocery stores, convenience stores, and drugstores took effect on January 1, 2022.