From this page you can find information on the development the county's first-ever greenhouse gas reduction plan and the first comprehensive climate adaptation and resilience plan, locate resources and information to help improve the sustainability of your home or your business, and explore the latest news from Fairfax County on topics like clean energy and environmental conservation.
Latest News and Information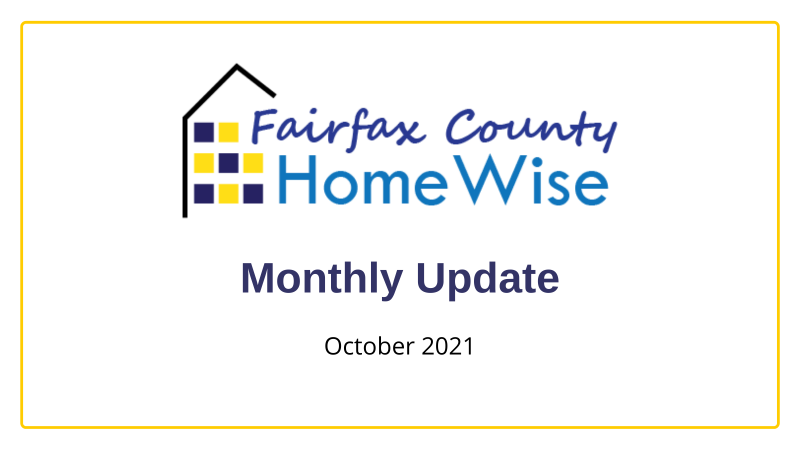 October 25, 2021 | 05:05PM
The Fairfax County HomeWise program actively worked to educate and enable residents to reduce their energy use, water use, and associated costs in September and October. As a capstone to the 10-week virtual training offered earlier this year, the first class of HomeWise volunteers met at the Fairfax County Government Center in late September to complete a hands-on training with staff and energy experts. Volunteers cycled through three different stations to practice installing weatherstripping on a window, low-flow aerators on kitchen and bathroom sinks, and socket sealers on outlets and light switches. They also practiced presentations on how different types of light bulbs compare to one another, and how to evaluate and use energy efficient bulbs for home use. In October, volunteers went out into the Fairfax County community to share their knowledge and skills with residents at two demonstration events. On October 2, volunteers and staff set up tables at Sherwood Regional Library and passed out tote bags and provided demonstrations to interested individuals. On October 16, volunteers and staff completed another, similar outreach event at George Mason Regional Library. At these events volunteers provided demonstrations and distributed more than 100 HomeWise efficiency improvement kits. The kits included weatherstripping, foam tape, socket sealers, a low-flow faucet aerator, and four LED light bulbs. Residents also received general and instructional information on how to install and use these materials. Event attendees were offered the opportunity to enter a raffle to win a smart power strip, which allows the user to easily control electricity use for multiple devices. WHAT'S NEXT The HomeWise team within the Office of Environmental and Energy Coordination will continue to look for opportunities for volunteers to provide kits and demonstrations to low- and moderate-income residents in the coming months. Additionally, the team hopes to be able to provide workshops in community centers and housing complexes in the New Year. The team is also preparing for an upcoming volunteer recruitment period. Starting November 10, the application period to become a member of the second class of HomeWise volunteers will open. The application period will close on December 10. Training for this class of volunteers will begin in January 2022 and they will join our existing volunteers for exciting community engagement opportunities starting in the spring. Stay tuned for more information on upcoming events and opportunities to get involved with the HomeWise program. This article is part of a series. A new HomeWise Monthly Update will be published roughly every four weeks and will provide a snapshot of work completed and anticipated activities in the weeks ahead. Check out our Home Energy Savings news feed, or follow us on Twitter and Facebook to keep up with all the latest HomeWise news.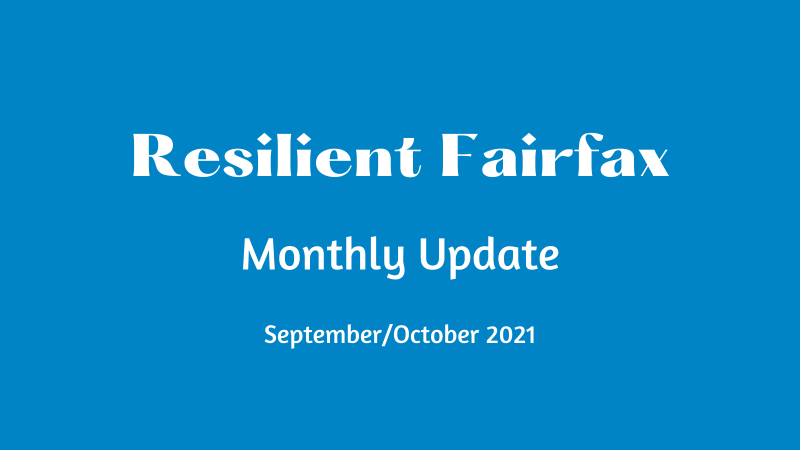 October 14, 2021 | 04:23PM
Since the last Resilient Fairfax monthly update, significant strides have been made toward the completion of major planning deliverables such as an audit of existing county policies, plans, and programs and a countywide vulnerability and risk assessment. Additionally, staff from the Resilient Fairfax team within the Office of Environmental and Energy Coordination (OEEC) hosted and attended numerous meetings with stakeholders and partners, and prepared for a virtual public meeting taking place tonight, October 14, at 6:30 PM. Read on for more information about recent Resilient Fairfax efforts and what's to come in the next four weeks. Stakeholder Group Meetings In September, meetings were held with the Planning Team, the Community Advisory Group, and the Infrastructure Advisory Group to discuss a draft vulnerability and risk assessment, a draft audit of county policies, plans, and programs, and a draft climate projections report. In these meetings, staff from the OEEC and from Cadmus, the principal consultant on the development of the Fairfax County Climate Adaptation and Resilience Plan, presented the findings of the draft documents and solicited feedback from group members. The September meetings also included initial discussion of potential strategies to address areas of vulnerability and risk throughout the county. Summaries of these meetings will be available online in the coming weeks. Staff also hosted smaller subgroup meetings with stakeholders to gather more detailed input, drilling down into particular parts and pieces of the draft documents. Representatives from related departments and agencies, such as Land Development Services and the Department of Planning and Development, met to discuss portions of the deliverables specifically related to their areas of expertise. Connecting With Partners Apart from hosting stakeholder group meetings, Resilient Fairfax staff also participated in a number of meetings with external partners and collaborators including the National Park Service and George Mason University. Staff took part in a Southeast Sustainability Directors Network meeting to connect with others from the region doing similar work. They also joined One Fairfax data group meetings to gather information to help with the accurate identification of vulnerable populations within the county. Finally, staff attended the U.S. Army Corps of Engineers Northern Virginia Coastal Study kickoff meeting. The Resilient Fairfax team will continue to participate with the study and will use data from the Army Corps of Engineers to support the development of the final Climate Adaptation and Resilience Plan. Illustrative Data and Tools           The past month also saw the completion of a report from NASA Develop on urban heat islands within Fairfax County. This report will be published with the findings of the climate projections report in mid-November. The report draws on land surface temperature data for the county and illustrates the areas where we are most vulnerable to extreme heat. In addition to the maps and materials provided by NASA, Resilient Fairfax staff are working to develop a GIS viewer for use by county residents and stakeholders. The viewer will enable users to view climate projection information for a specific address or zip code, including the likelihood of flooding, extreme heat, and other future climate impacts. The GIS viewer will be made available on the OEEC website later this year. WHAT'S NEXT In the coming month, Resilient Fairfax staff will integrate comments from more than 90 advisors and stakeholders into the draft audit and the draft vulnerability and risk assessment. Commentary from the public will also be included following the public meeting. These documents, along with the climate projections report, form the foundation of the final Climate Adaptation and Resilience Plan. Another round of Planning Team, Community Advisory Group, and Infrastructure Advisory Group meetings will be held in November and December as the planning process turns toward strategizing for future climate impacts, given our vulnerabilities. This article is part of a series. A new Resilient Fairfax Monthly Update will be published roughly every four weeks and will provide a snapshot of work completed and anticipated activities in the weeks ahead. Check out our Climate Action News, or follow us on Twitter and Facebook to keep up with all Resilient Fairfax news.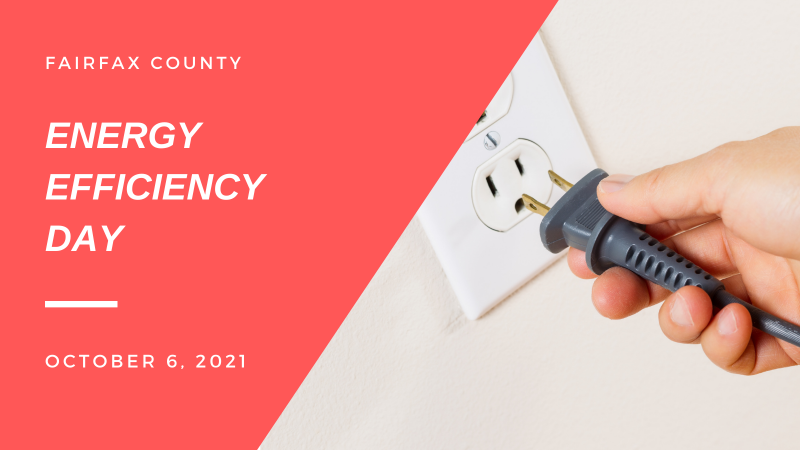 October 6, 2021 | 02:46PM
Each year we mark Energy Efficiency Day in early October and are reminded of the importance of using energy wisely. This year, Energy Efficiency Day takes on new importance in Fairfax County as the community has recently established an ambitious but achievable carbon neutrality goal. Reaching carbon neutrality by 2050 will only be possible if everyone in Fairfax County, residents, workers, and visitors alike, does their part to cut down on greenhouse gases. Energy efficiency measures can help us move the needle by cutting down on the amount of energy we use to heat and cool our homes and businesses, run appliances, lighting, and electronics, and enjoy shared amenities like neighborhood parks and pools. Apart from contributing to our overarching greenhouse gas reduction goal, taking action to be more energy efficient is good for your personal bottom line. By making smart choices about energy use at home, you can reduce your monthly utility bill. On that positive note, here are our top five energy efficiency recommendations for 2021: 1. LEDs all the way. It's a very easy, common-sense step to replace your older, less efficient light bulbs with more efficient, longer-lasting versions. You could save up to $75.00 per year just by switching five of your lightbulbs to LEDs. 2. Eliminate air leaks. If you had a soccer ball sized hole in a wall of your home you would do something about it, right? By not properly sealing air leaks around your exterior doors and windows, you could be losing heated or cooled air that you are paying for and it adds up quickly. 3. HVAC smarter. Does your AC run even when you're not home? Are you heating your house to 75 degrees while you're sleeping? Think about your schedule and make adjustments to your thermostat so that you're not heating and cooling unnecessarily. Even one or two degrees up or down can make a major difference. 4. Embrace natural lighting and heating. Open your blinds and curtains in the fall and winter months, especially on south- and west-facing walls, to allow natural light to enter and the sun's warmth to provide your home with a natural heat boost. 5. Use appliances wisely. Run your dishwasher only when it's full, and avoid the "rinse/hold" cycle. When you wash your clothes, use the "cold" option. And if you're looking to purchase a new appliance, look for the ENERGY STAR label. View our full list of home energy saving tips and tricks here.
Below you will find information on timely or featured topics. For more information about our ongoing work on climate, energy, and sustainability issues please see the sidebar menus or use the search bar at the bottom of the page.
The Community-wide Energy and Climate Action Plan establishes greenhouse gas emissions goals for the community, including a goal of achieving carbon neutrality by 2050.
A 5-cent tax on disposable plastic bags offered at grocery, convenience and drug stores will take effect in Fairfax County on January 1, 2022. The purpose of the tax is to curb our collective use of disposable plastic bags, to reduce the amount of plastic waste in our local waterways and the damage it causes.