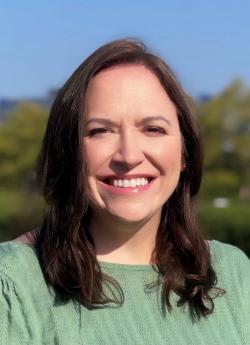 Christina Jackson was appointed Fairfax County's chief financial officer (CFO) by the Board of Supervisors at its meeting today, Tuesday, July 27. Jackson, director of the county's Department of Management and Budget (DMB), succeeds Joe Mondoro, who is retiring after 26 years with the county, the last six as CFO. Jackson's appointment is effective Monday, Sept. 13.
Jackson, who will continue in her role as DMB director, has worked for Fairfax County for nearly 18 years and served as DMB's deputy director prior to her appointment as director in 2019. She began as a budget analyst in 2003.
As CFO, Jackson will lead county financial management and budget operations and oversee the departments of Tax Administration, Finance and Procurement and Material Management.  She also serves as a liaison with the county's Office of the Internal Auditor and the Retirement Administration Agency.
As director, Jackson oversees the agency responsible for coordination of the county's annual budget process, which includes the financial forecast, development of budget guidelines, review of agency and program requests, presentation of recommendations to the county executive and preparation of the multi-billion-dollar budget plan. DMB also manages bond sales and special financings, leads the coordination and development of the county's Capital Improvement Program, and is currently helping to manage over $600 million received in federal stimulus funds. Fairfax County's is the largest municipal budget in Virginia and is larger than some state budgets.
Jackson has a master's in public affairs from the University of North Carolina at Greensboro and a bachelor's in public policy studies from Duke University. She will receive an annual salary of $210,000.