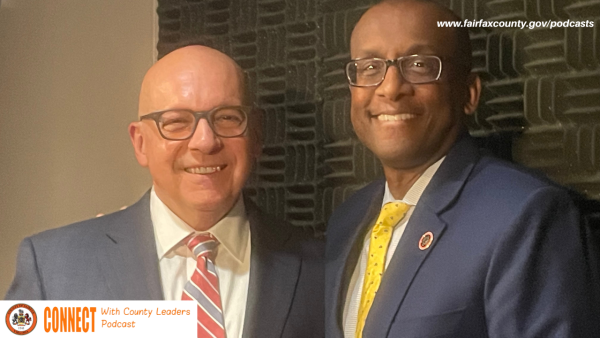 On the June episode of the "Connect with County Leaders" podcast, County Executive Bryan Hill talks with Dr. J. Stephen Jones, president and CEO of Inova Health System – the region's leading nonprofit healthcare provider. 
Jones shared his insights on the importance of healthcare equity and community collaboration, as well as his experience leading Inova through the COVID-19 pandemic.
"We want to ensure access to healthcare for everyone, anywhere within our system, even if they are not in Fairfax County," Jones said. 
Inova is committed to integrating diversity, equity, inclusion and belonging in healthcare to provide better outcomes, regardless of their background or circumstances, according to Jones. His vision also includes a system that spans various jurisdictions and helps solve hard problems together working with counterparts in other areas.
Inova Health System
Inova is the region's leading nonprofit healthcare provider. Its 20,000-plus team members provide more than 2 million patient visits each year through an integrated network of hospitals, primary and specialty care practices, emergency and urgent care centers, outpatient services and destination institutes.
Inova's five hospitals are consistently recognized by the Centers for Medicare and Medicaid Services, U.S. News & World Report Best Hospitals and Leapfrog Hospital Safety Grades for excellence in healthcare. Inova is also home to Northern Virginia's only Level 1 Trauma Center and Level 4 Neonatal Intensive Care Unit. Its hospitals have a total of 1,952 licensed beds.
Connect with the County Leaders Podcast
The "Connect with County Leaders" podcast hosted by Hill is a monthly opportunity to meet and connect with Fairfax County leaders, to learn about the latest county news and information, and hear more on specific Fairfax County programs and services. Listen to past episodes of "Connect with County Leaders" or watch on YouTube (playlist).
For other Fairfax County podcasts, visit www.fairfaxcounty.gov/podcasts, and for additional audio content, tune in to Fairfax County Government Radio at www.fairfaxcounty.gov/radio.