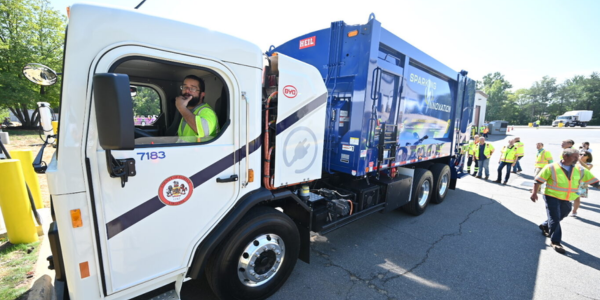 On Aug. 25, county leaders gathered at the Newington Collections Facility in Lorton to unveil the Department of Public Works and Environmental Services' first electric trash truck. The vehicle will begin to pick up residential and yard waste on partial routes on Aug. 28.
"This is an exciting moment for us as a county and one of many environmental initiatives. These electric trucks aren't just great for the environment, but also great for our residents. They will save residents money with lower maintenance costs and no fuel costs and are also much quieter vehicles," said Board of Supervisors Chairman Jeffrey C. McKay.
"The effort to reduce our greenhouse gas emissions and make our neighborhoods healthier for our residents is huge," said Mount Vernon District Supervisor Dan Storck. "We need everyone to join us in this effort and Fairfax County must lead by example. This new EV truck is a great example of that leadership."
The launch of the electric trash vehicle in Fairfax County is aligned with the Countywide Strategic Plan and the Community-Wide Energy and Climate Action Plan as well as the county's operational energy strategy, which aims for government operations to be carbon neutral by 2040.
Fairfax County Executive Bryan Hill and John Morrill, acting director for the Office of Environmental and Energy Coordination, also spoke at the event. The celebration was marked with a ribbon cutting and a ceremonial plugging in of the first electric-powered truck.