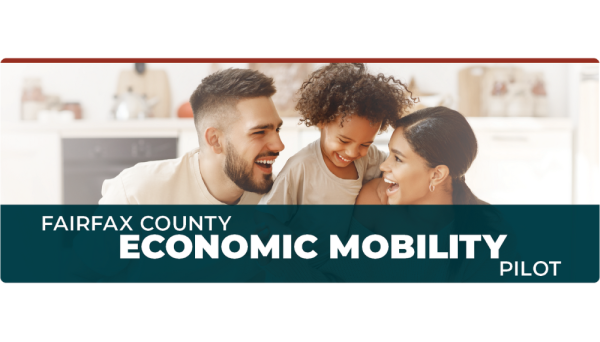 The Fairfax County Economic Mobility Pilot will provide payments to eligible households, optional financial coaching and supportive resources to promote economic stability and social capital. The pilot includes three elements: 
A monthly payment of $750 to 180 eligible families for 15 months. 
Freedom of choice for the families to use the cash as they deem necessary.
Optional financial coaching and the opportunity to increase their social networks through virtual or in-person events.
Eligibility Criteria
Applicants must meet the following criteria to be eligible:
Be employed.
Have at least one child aged 16 or younger living the household.
Have an income that falls between 150% and 250% of the 2023 Federal Poverty Level. 
Live in a neighborhood in one of the following Zip Codes: 22306, 22309, 20190, 20191, 22041, 20170, 22003, 22150, 20120 or 20151.
The application portal will be open Sept. 23 – Oct. 3, 2023. 
Economic Mobility Pilot
While Fairfax County is a great place to live, work, learn and play, persistent racial and social inequities remain, which result in significant disparities in community outcomes. To confront these realities, Fairfax County has embraced a vision of One Fairfax: A declaration that all residents deserve an equitable opportunity to succeed. 
To this end, the economic mobility strategy is grounded on the values of trust and respect for participants with a fundamental commitment to preserving and reinforcing the freedom of choice and dignity of individuals and families; when every resident has the opportunity to reach their full potential, the entire community benefits. 
The Board of Supervisors recently authorized funds for innovative programs to advance equity and encourage collective impact. The Economic Mobility Pilot is currently supported by a combination of Fairfax County General Fund dollars and American Recovery Plan Act, Coronavirus State and Local Fiscal Recovery Funds. The possibility of philanthropic donations is also being explored.