This year's James M. Scott Exceptional Design Awards recipients are being recognized for their com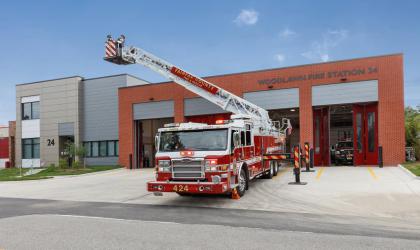 mitment to design excellence that enhances the experience for people visiting each site. The winners represent works of architecture that combine green building practices with outstanding site design and landscaping.
The honor award went to Shalom Baranes Associates for The Boro, owned by Kettler and The Meridian Group. The awards jury liked the mixed-use property because it centered pedestrian space as a key part of the overall project.
The merit award went to the BKV Group for the Woodlawn Fire Station 24 Replacement. The awards jury felt the contemporary design of the fire station was well-integrated into the neighborhood.
Fairfax County established the Exceptional Design Awards in 1984 to recognize achievement in the total design of a building and its site. The awards aim to raise awareness of outstanding planning and design projects among design professionals and the general public. The design awards program is sponsored by the Board of Supervisors and administered by the Department of Planning and Development in cooperation with the Architectural Review Board and the Northern Virginia Chapter of the American Institute of Architects.
Awards are granted in three categories: honor, merit and honorable mention. A jury of design professionals, including architects, selected the winners.