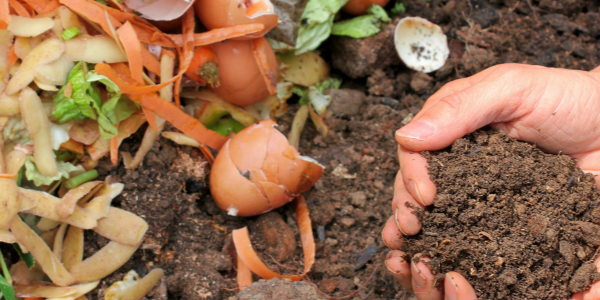 Markets in Alexandria, Burke, Fairfax and Herndon will take your food scraps.
22 tons of food scraps (and methane gas) diverted to compost in 2021.
More than 1,000 items can be composted.
Fact: In 2021, Fairfax County residents diverted 22 tons of food scraps from the trash stream by bringing them to local farmers markets as part of our food scraps composting pilot program.
Fact: That pilot program is expanding to five farmers markets in 2022. 
Market Locations Accepting Food Scraps
Collect your food scraps at home and bring them to one of the markets listed below. Use something like an old coffee container, food storage container or a compost caddy that is specially designed to hold food scraps. Drop off your food scraps and then shop at the farmers market for fresh produce!
Food scrap drop off is available only during regular market hours. Please do not drop off scraps when the market is closed.
Mount Vernon Farmers Market
Wednesday | 8 a.m. to noon | Beginning April 20
2501 Sherwood Hall Lane
Alexandria, VA, 22306
 
Herndon Farmers Market
Thursday | 8 a.m. to 12:30 p.m. | Beginning April 28
765 Lynn St.
Herndon, VA 20170
 
Kingstowne Farmers Market
Friday l 3 to 7 p.m. l Beginning on May 6
5844-5862 Kingstowne Center
Alexandria, VA 22315
 
Burke Farmers Market
Saturday | 8 a.m. to noon | Beginning on April 16
5671 Roberts Parkway
Burke, VA 22015
 
Mosaic District Farmers Market
Sunday | 9 a.m. to 2 p.m. | Year round
2910 District Ave.
Fairfax, VA 22031
OTHER DROP-OFF LOCATIONS
7 a.m. to 4 p.m., seven days a week
I-66 Transfer Station
4618 West Ox Road
Fairfax, VA 22030
 
I-95 Landfill Complex
9850 Furnace Road
Lorton, VA 22079
Benefits of Food Scrap Composting
Composting lowers greenhouse gases by improving carbon sequestration in the soil and by avoiding methane emissions. In 2021, our pilot program eliminated an estimated 20 tons of carbon dioxide-equivalent greenhouse gas emissions, the equivalent of taking 50 cars off the road!
If you want to compost but cannot do it at home, our program provides a convenient solution to keep food out of the waste stream. Composting is a sustainable alternative that puts the nutrients from our food scraps back into the earth.
More Information
To learn more or ask questions about the pilot program, contact our Solid Waste Management Program at 703-324-5230 or Recycling@fairfaxcounty.gov.