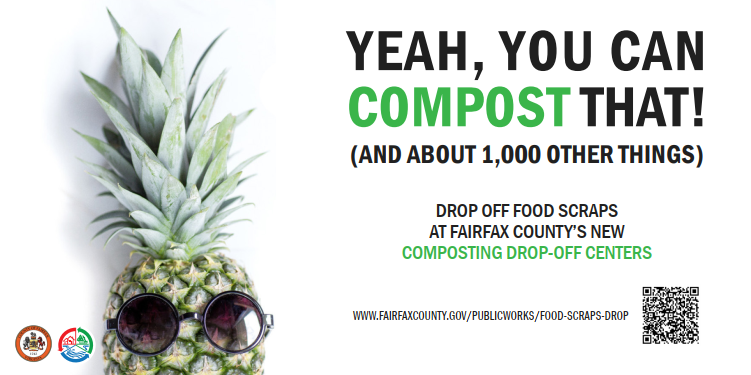 Bring your food scraps to two food composting locations in Fairfax and Lorton or to select farmers markets.
More than 1,000 food scrap items can be composted.
Finished compost is used for landscaping and agriculture.
(Updated July 20)
Ready to help tackle the next frontier of composting and caring for our environment?
We all eat, and that subsequent food waste makes up as much as one-third of the trash we dispose of every day.
A food composting pilot program recently began at our two main recycling facilities in Fairfax and Lorton. More than 1,000 types of food scraps and related material can be dropped off (on a voluntary basis).
 
WHERE TO DROP OFF FOOD WASTE
The two new sites are at the I-95 Landfill Complex and the I-66 Transfer Station, which are open daily from 7 a.m. to 4 p.m. You can drop off your food waste into one of the green bins. The waste is taken to a local composting facility. Finished compost is used for landscaping and agriculture.
Food scrap composting will also be offered at five farmers markets in 2022. Collect your food scraps at home and bring them to the market. Use something like an old coffee container, food storage container, or a compost caddy that is specially designed to hold food scraps. Drop off your food scraps and then shop at the farmers market for fresh produce!
Mount Vernon Farmers Market - Starts April 20 from 8 a.m. to noon
Herndon Farmers Market - Starts April 28 from 8 a.m. to 12:30 p.m.
Kingstowne Farmers Market - Starts May 6 from 3 p.m. to 7 p.m.
Burke Farmers Market - Starts April 16 from 8 a.m. to noon
Mosaic District Farmers Market - all year from 9 a.m. to 2 p.m.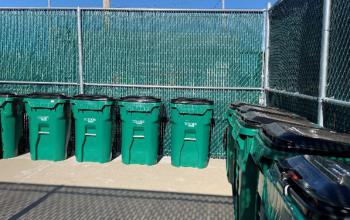 HOW IT WORKS
While you're cooking dinner, scrape the trimmings from your vegetables or pieces of meat into a container. This could be potato peels, bones or egg shells. If you had coffee or tea, the grounds or the tea bag can go in too. After dinner, you can scrape whatever's left on you plate into the container. You may choose to keep your food waste in your fridge or freezer before you're ready to take it to the drop-off site. Or you may choose to use a sealed countertop container. Do whatever works for you.
When you've accumulated a good amount of food waste, it's time to drop it off at the location that's most convenient for you. If you lined the bucket with a compostable liner, you can throw that in too. If you used a regular plastic bag, you'll need to empty the food scraps into the container and throw away the plastic bag separately. Rinse the bucket out when you get home. And pat yourself on the back – you just made a difference.
FOOD ITEMS YOU CAN COMPOST
All food items are accepted, including meat, dairy, and leftovers. Food-soiled paper like tea bags, coffee filters, napkins, and paper plates are also acceptable. More than 1,000 food items can be composted.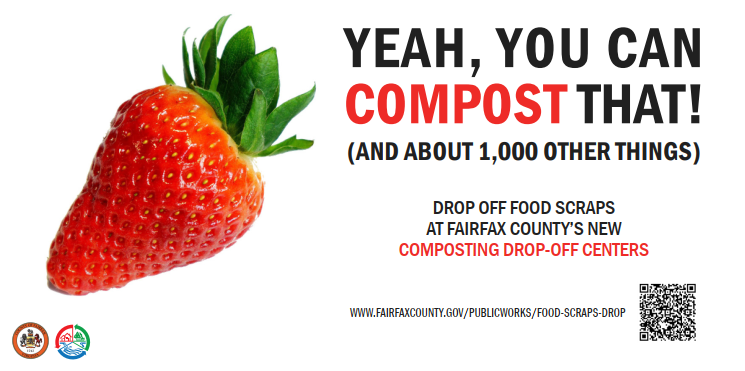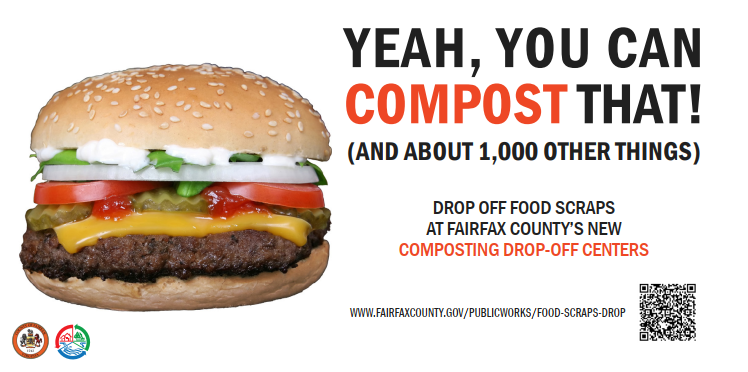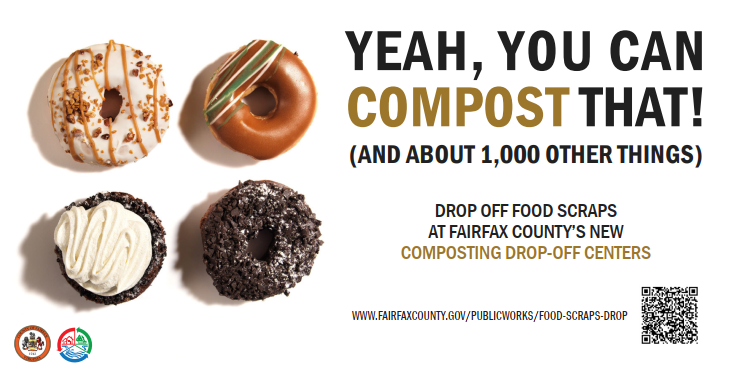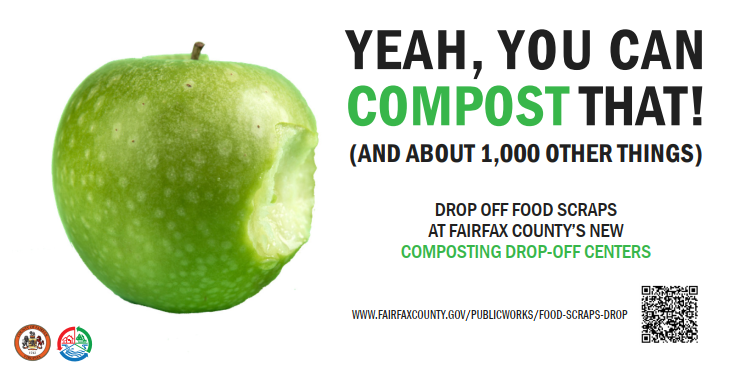 FOR MORE INFORMATION
Visit our food composting webpage for more details: https://www.fairfaxcounty.gov/publicworks/recycling-trash/food-scraps-composting-drop