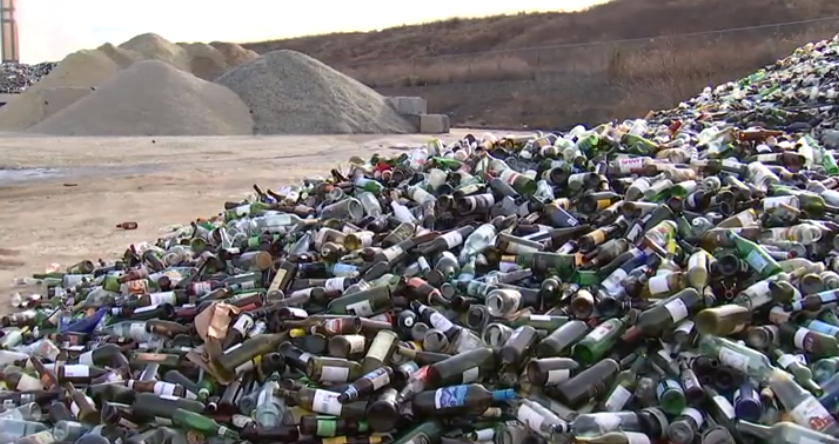 More than four million pounds of glass recycled
Collected glass now being recycled into glass bottles
Find purple bin locations to bring your glass
If you can't bring glass to a purple bin, then either reuse it or place it in your regular trash
More than 4 million pounds.
That's how much clean glass has been collected in purple bins located in Northern Virginia and taken to the region's only glass-crushing machine in Fairfax County. A truly smashing success that has shattered expectations after a new policy went into effect last year that the county and our private recycling haulers will no longer accept glass bottles and jars at curbside.
But that's only part of this evolving story. This change has made headlines in the recycling industry — and now the glass you deposit in a purple bin may become a glass product again, all thanks to many of you who've participated in this voluntary program.
Glass-to-Glass Recycling Now Happening
North America's largest glass recycler, Strategic Materials, has begun transporting glass from our processing plant in Lorton to one of its recycling facilities. There, the glass will be processed and sold to manufacturers of a wide range of glass products. One such customer is Owens-Illinois, Inc. also known as O-I, which produces 3.6 million bottles a day at its bottle manufacturing plants in Danville and Toano, Va.
Glass collected in Virginia and recycled into glass bottles in Virginia closes the loop on the circular economy, a goal of sustainable communities. According to O-I, glass-to-glass recycling uses less energy than making bottles from original material, reduces carbon dioxide and other greenhouse gases, and supports hundreds of jobs.
Key to Success: Clean Glass
"This new market for our glass wouldn't be possible without our residents," said John Kellas, solid waste management program director. "They have adjusted their glass recycling habits and are filling up our purple cans almost faster than we can empty them. I appreciate their willingness to participate in the program and their patience as we identify additional drop-off locations and work through the logistics of the new collection routes."
The quality and volume of clean glass resulted in the partnership with Strategic Materials, which is taking the glass before it's crushed by the county's "Big Blue" machine.
"Fairfax County probably has the highest quality of material we've seen in a drop-off program," said Laura Henneman, vice president of marketing and communications for Strategic Materials. "The trial glass load was about 98 to 99 percent usable glass, which is incredible."
Where to Bring Your Glass
Haven't participated yet? No problem! Here's a map of where you can find purple bins in the county, as well as in Alexandria, Herndon, Vienna, Prince William County and Arlington County. And because of the success, some Fairfax County locations are now on a twice-a-week pickup schedule.
And if you can't bring glass to a purple bin, then either reuse it yourself or simply place it in your regular trash.