To improve the quality of single-stream recycling, we will no longer accept glass bottles and jars in curbside recycling bins effective Oct. 1, 2019. This change applies to county collection customers and private haulers.
You now have two options for glass disposal:
Deliver used glass containers to purple, glass-only recycling containers; there are now 21 purple containers available, and more sites are being evaluated to make dropping off glass more convenient.
Place used glass in the trash.
Why Is This Changing?
The decision to remove glass from the single-stream recycling program was made after consulting with private recycling sorting centers and Covanta Fairfax, Inc., which operates the waste-to-energy plant.
Glass creates three main problems for single-stream recycling:
Glass containers placed in curbside recycling bins breaks during collection and transport to recycling sorting centers. Broken glass contaminates bales of other more valuable recycled items, such as cardboard and metals. Contamination has become a major problem for the recycling industry in the past two years since China, the largest customer for recycled material, imposed strict standards on the quality of recycled material it accepts .
The abrasive broken glass damages machinery.
Glass is also heavy, which adds cost to transporting recyclables to and from recycling centers.
Recycle Glass at a Purple Bin
Collecting glass separately in a purple container will reduce contamination levels in single-stream recycling. All colors of clean glass bottles and jars are accepted in the purple containers. Glass items not accepted include lamps, light bulbs, ceramics, porcelain, mirrors, windows, and sheet glass.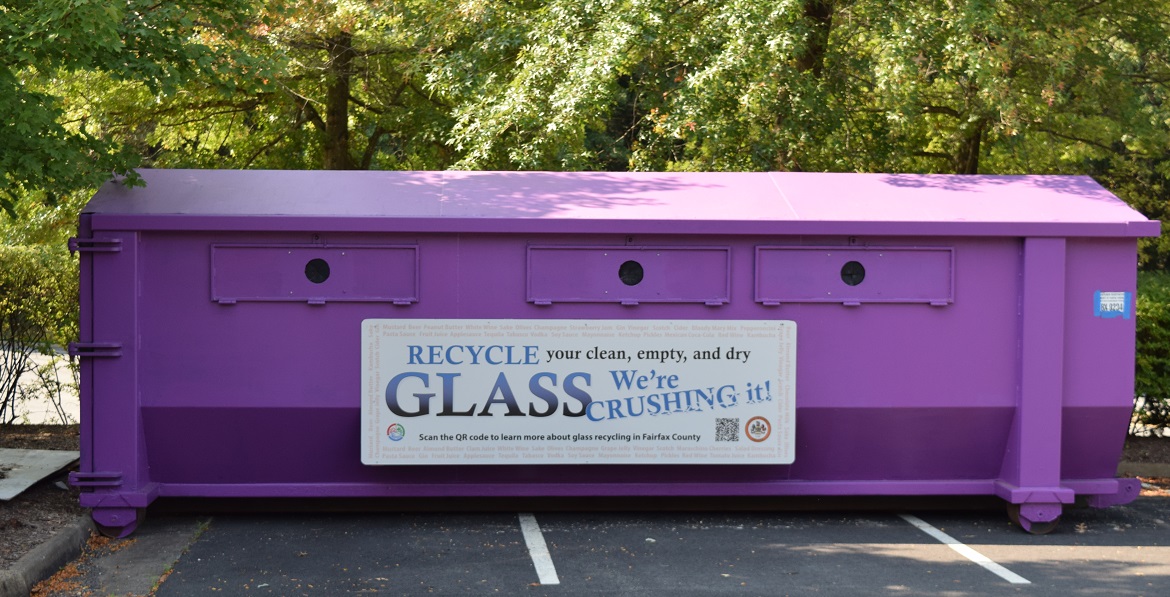 The formation of a regional approach to glass recycling was announced in April 2019. The Purple Can Club includes Fairfax County, City of Alexandria, Arlington County and Prince William County.
More About Recycling
The curbside recycling bin program is designed to collect specific materials. See which items you should always place in the bin. Keep them loose, clean, and dry. And which items should never be put in the curbside recycling bin.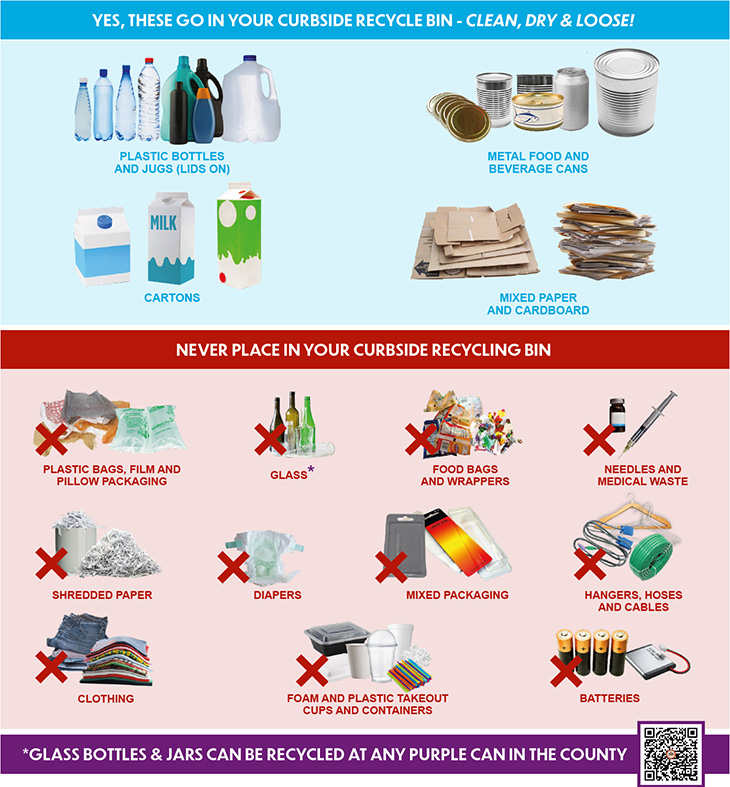 Click image for a larger, printable version of this flyer.
The Northern Virginia Regional Commission and the Northern Virginia Waste Management Board describe the problems with glass recycling in this 2018 fact sheet.