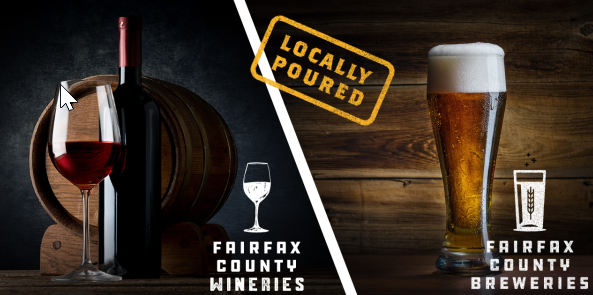 Guide offers discounts and prizes for visiting local breweries and wineries, which supports our local economy. 
Digital passport is easy to download to your mobile device.
The Locally Poured Field Guide, a mobile-exclusive passport designed to encourage you to visit craft breweries and wineries in Fairfax County, offers discounts, deals, and prizes for checking in.
"We have seen continued growth in Fairfax County's craft beverage scene over the last several years and have been working closely with our local brewers and winemakers to support their businesses through tourism," said Barry Biggar, President & CEO of Visit Fairfax. "The Locally Poured Field Guide is an exceptional way to showcase the amazing beer and wine our talented partners craft each and every day, all while giving visitors and residents an incentive to find and enjoy places they may not have previously known about."
How It Works
Available to any beer and wine lover, the digital passport is instantly delivered via text and email to a user's phone and offers a variety of redeemable discounts and deals at participating locations upon check-in. The pass can be saved to a user's home screen for easy one-tap access and without the need to download any apps.
Once a user has signed up for the pass, they must simply show their phone at the brewery taproom or winery tasting room to check-in and redeem the discounts and offers. When a user checks-in at seven of the 15 participating locations, they are eligible to redeem additional prizes and merchandise discounts.
Participating Breweries and Wineries
Credit: Caboose Brewing Company

Aslin Beer Co. (Herndon)
Bike Lane Brewing & Café (Reston)
Bunnyman Brewing (Burke)
Caboose Commons (Merrifield)
Caboose Tavern (Vienna)
Fair Winds Brewing Co. (Lorton)
G34.3 Brewing Co. (Lorton)
Honor Brewing Co. (Chantilly)
Lake Anne Brew House (Reston)
Ono Brewing Co. (Chantilly)
Paradise Springs Winery (Clifton)
Settle Down Easy Brewing Co. (Merrifield)
The Winery at Bull Run (Centreville)
Woodlawn Press Winery (Alexandria)
Drink Responsibly
While we encourage you to take advantage of this new program, we also want to remind you to drink responsibly and ensure you have a designated driver. .