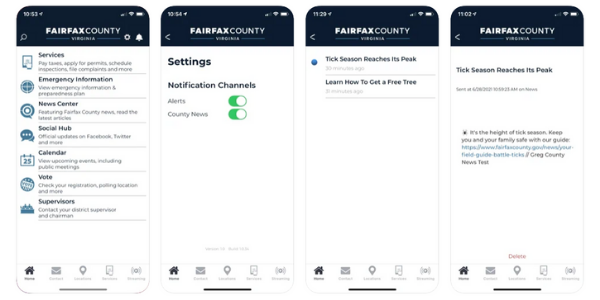 New county iPhone and Android apps are now available for you to download and have county information even closer to your fingertips.
This latest version of the county app includes push notifications that you can opt in to receive about topics such as:
Tax and voting deadlines
Key news headlines
Important updates on COVID-19 and other emerging issues
HOW TO TURN ON NOTIFICATIONS
Download the app
Open the app, click the settings gear
Turn on notifications (currently: "Alerts" and "News")
The in-app notifications do not replace current methods to be notified about important information, but offer yet another way you can stay connected with your county government.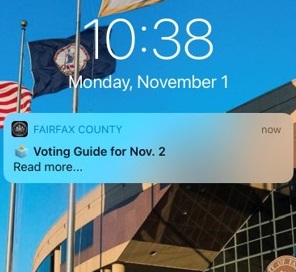 DOWNLOAD
Download the app at the links below or search for Fairfax County Government on the app stores.
After you download the app, please delete the old version of the app as the new app will not automatically replace previous versions of the county app you may have installed.
APP FEATURES
The app itself features easy access to:
Pay taxes, get permits, arrange inspections and file complaints.
One-touch calling to our main 703-FAIRFAX phone number.
Use MyNeighborhood to find the nearest library, park, community center, fire station or police station.
Browse calendars to find upcoming meetings and community events.
Visit the social media hub to watch a video, listen to podcasts or follow us on Facebook, Twitter and Instagram.