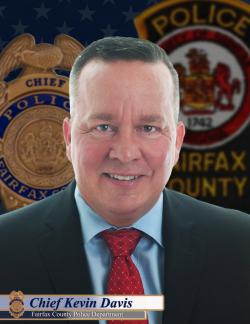 On Friday, April 23, the Fairfax County Board of Supervisors appointed Kevin Davis to the position of chief of the Fairfax County Police Department. Deputy County Executive for Public Safety Dave Rohrer has been acting as interim since former chief Edwin C. Roessler retired in February. Davis's appointment is effective May 3.
Davis served as the City of Baltimore's police commissioner from 2015 to 2018. He had previously served as chief of police of Anne Arundel County, MD, from 2013 to 2014, and as assistant chief of the Prince George's County, MD police department from 1992 to 2013. Most recently he has worked as director of consulting services for GardaWorld.
 "As this nation looks to transform policing to make the community safer for everyone, we have the opportunity for a fresh perspective to further our work on police reform in Fairfax County. After extensive outreach with the community and stakeholders, the board had a clear idea of the characteristics and leadership styles that would be needed in our next chief," said Board of Supervisors Chairman Jeffrey C. McKay. "After thorough interviews, the entire board is confident that Kevin will continue Fairfax's work on police reform, build on the deep community involvement and relationships with stakeholders, and improve morale within the police department. He is recognized across the region as a leader in police reform and has a strong reputation and is well-respected in the communities he has served. I'm looking forward to both our diverse Fairfax County community and police department having the opportunity to meet our new chief and hear his vision and goals firsthand."
Davis took over as commissioner of the Baltimore Police Department after a period of protests and civil unrest. During his tenure he established a Department of Justice Compliance and Accountability Division and a fully implemented body-worn camera program. He also worked to build trust with the community and foster transparency by providing information about the department's internal policies and all police-involved shootings and expanded the department's police chaplains program, which trained more than 100 faith community leaders to serve as ambassadors in the community.
While serving Anne Arundel County, Davis was the first chief in Maryland to require police officers to train for, carry and administer naloxone to individuals suffering from drug overdoses, and created a Crisis Intervention Team including mental health professionals to respond to calls for service where mental illness or a behavioral crisis were factors.
"Following a thorough search process and input from the community, we were fortunate to have many excellent candidates to consider. There are few positions so vital to our community, and Kevin brings leadership, depth of experience and vision to the role," said County Executive Bryan Hill. "I look forward to working together to move the department ahead, building on the reforms we have already put in place, at this defining moment in law enforcement around the country. Our goal is to be stronger and better prepared for the future of policing."
Davis's leadership experience includes reform initiatives in use of force, training and technology that have received international attention and accolades.
Davis is an adjunct professor at American University and a lecturer at Catholic University of America. He was recently appointed to a four-year term on the state's Commission on Judicial Disabilities, an independent body that hears complaints against Maryland judges. He has served on numerous professional boards and commissions and was a member of the Justice Reinvestment Oversight Board in Maryland.
He has a master's degree in management from Johns Hopkins University and a bachelor's degree in English from Towson University. He is also a graduate of the FBI National Academy and the FBI National Executive Institute. He will receive an annual salary of $215,000.