NEWS HIGHLIGHTS
As more retailers close their stores nationwide, Fairfax is considering changes to its land use plan to help the approximately 735,000 square feet of empty retail space in the county today be repurposed for other uses.
Public input sought at Monday, June 25, 2018, meeting at 7 p.m.
Toys "R" Us, Macy's and Sears are just the latest companies to fall victim to the changing retail market. As retailers downsize or close their brick-and-mortar stores across the country, Fairfax County officials are looking to make it easier to convert empty storefronts into other uses.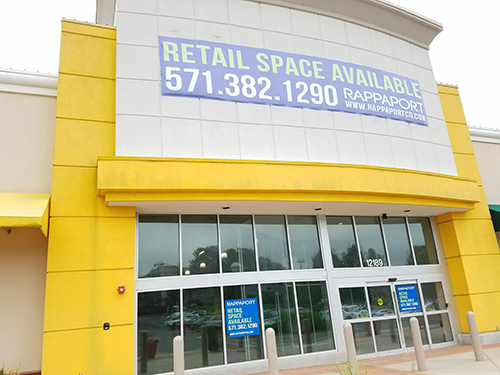 The county is considering changes to its land use plan, known as the Comprehensive Plan, to provide guidance on repurposing vacant retail spaces into alternative uses like entertainment venues, professional offices for doctors or lawyers, and cultural or civic uses such as libraries.
To explain its proposal and gather public input, the county is holding a community meeting on Monday, June 25, at 7 p.m., at the Fairfax County Government Center, 12000 Government Center Parkway, in conference rooms 9/10.
While Fairfax County's retail vacancy rates are lower than those nationwide, officials want to take action to address recent market reports predicting that retail markets are poised to either plateau or enter a period of decline.
Overall retail vacancies peaked at 4 percent in Fairfax during the recession years of 2009 and 2010. The rate dropped steadily during the next seven years, but the county has faced a slight uptick in vacancies since late 2017. For the first quarter of this year, the overall retail vacancy rate stood at just over 2 percent, according to data from CoStar. This amounts to about 735,000 square feet of empty retail space.
There is a total of 36 million square feet of retail and related commercial space in the county. Seventy-five percent of this space is located within what the county calls Activity Centers, which are areas planned for the greatest amount of future growth and include mixed-use development. These centers include places like Seven Corners, Merrifield, and Tysons.
Retail buildings range from freestanding commercial structures to many types of shopping centers, including strip and neighborhood shopping centers, big-box "power centers," and regional malls.
While the county is currently focused on repurposing empty retail space, it also adopted measures to deal with 18 million square feet in vacant office space. The county adopted land use changes in March that ease the way for suburban offices to be repurposed, and last year, similar changes were made for offices in mixed use areas.
For more information on retail repurposing or reasonable ADA accommodations, contact Michael Lynskey with the Department of Planning and Zoning at 703-324-1204, TTY 711.
# # #