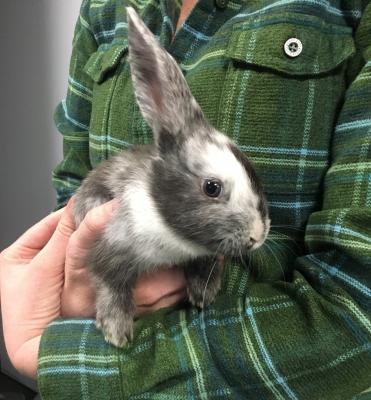 Following a Humane Society of the United States' investigation of Petland Inc, a retail pet store located in the City of Fairfax, 17 rabbits were surrendered to the City of Fairfax Animal Control. The City of Fairfax contacted the Fairfax County Animal Shelter (FCAS) for assistance with all the rabbits, and we readily agreed to take them in. Yesterday afternoon, FCAS staff went to the Petland location to transport them back to the shelter to assess each rabbit and provide any necessary care.
Shelter staff prepared in advance to have comfortable accommodations set up for the rabbits. Upon intake, each rabbit was weighed, given our standard parasite prevention package, and set up in housing in same-gender pairs or trios. Today, foster families will welcome these rabbits into their homes to give the rabbits time to decompress and get some much needed TLC. We expect that the rabbits will be available for adoption in two to three weeks' time, and encourage people to follow us on Facebook for updates: www.facebook.com/FairfaxCountyAnimalShelter.
Related, the shelter will be hosting "So You Want to Adopt a Bunny," a free workshop designed to give potential rabbit adopters or existing owners the resources and information they need to properly care for their pet rabbits. "People don't always realize that rabbits can be fun and sociable little companions," explains Katherine Zenzano, Humane Educator at FCAS. "However, they are not less responsibility because of their smaller size. We want to make sure that adopters have all the information they need to make sure they have a healthy, happy bunny and that they themselves feel confident in their decision to adopt."
The workshop will be hosted at the Fairfax County Animal Shelter on Sunday, April 14th at 2pm, in the shelter's training room. The shelter is located at 4500 West Ox Road, Fairfax VA 22030. No RSVP is required. Adoptable bunnies will be on hand at the workshop. The adoption fee for a rabbit is $15 which includes: spay or neuter, initial deworming, and a certificate for a free vet exam. Animals currently available for adoption can be viewed at www.petango.com/FairfaxCountyAnimalShelter.