The Fairfax-Falls Church Community Services Board is proud to honor its team of Peer Support Specialists on Global Peer Support Celebration Day, Thursday, October 15.
Peer supporters have lived experience with mental health challenges, substance use disorders, or both, are now in stable recovery, and are trained to help others on their own journey to recovery.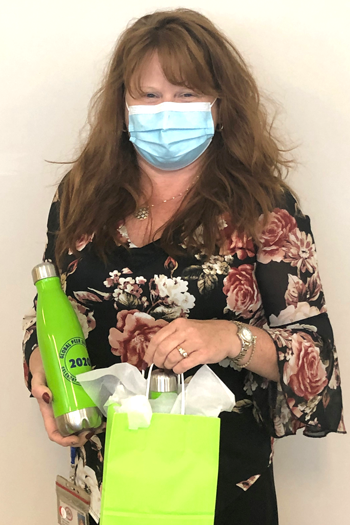 CSB's Michael T. Lane, M.A. Ed., NCPS, CPRP, Director of Individual and Family Affairs, says, "Peer support changes lives. Sometimes that connection is just what someone needs to kindle a fire of hope, a willingness to take the next step toward wellness after long, dark years. The work is not easy. Mindfully sharing some really difficult parts of one's personal journey and being with someone when they're struggling, takes tremendous strength and courage."
Our CSB has approximately 40 Peer Support Specialists who:
Provide one-on-one peer counseling.
Share community resources for housing, employment and other basic needs.
Share their experiences with recovery from mental health challenges and substance use disorders and co-occurring disorders.
Facilitate peer support groups and training events.
Provide hope and support when people are experiencing major life challenges.
Both the Peer Support Specialist and the person receiving services receive benefits from these services. Jennifer Deneault, CPRS, Peer Support Specialist with CSB's Peer Overdose Response Team (PORT) program, says, "Every person's recovery is different. Helping people build sober supports, push through the difficult times, and get to their 'aha moment' is very rewarding." Peer support relies on a nonhierarchical, reciprocal relationship that fosters understanding and trust between peer supporters and their peers, and among populations who otherwise may be alienated from or have poor access to mental health and or addiction services.
Peer support is voluntary, but usually frequent and ongoing, and accessible, flexible, culturally sensitive, and peer focused. Peer support can take many forms – phone calls, text messaging, group meetings, home visits, going for walks together and even grocery shopping. It complements and enhances other mental health and addiction services by providing the emotional and social support and practical assistance necessary for people with mental health, addiction, or both to manage their disorders and stay healthy.
Many of CSB's Peer Support Specialists have earned Certified Peer Recovery Specialist (CPRS) status, which requires completing 72 hours of training and accumulating 500 hours of experience (learn more about the accreditation process). They work in service areas throughout the CSB, including:
Research shows that peer supporters have a transformative effect on the peers they serve, other mental health providers (therapists, psychologists, and psychiatrists), and the mental health systems that employ them. "Peer support specialists provide life-changing support, insight, and resources that enable individuals to live healthy, thriving lives. The value of our Peer Support Specialists' personal experiences is immeasurable," says Daryl Washington, Executive Director of the CSB.
The benefits of peer support are tremendous. Lane says, "Knowing that someone has been in your shoes, has experienced very serious challenges that are similar to yours, and that they're living a rich, fulfilling life – wow! What a difference!"
Thank you, Peer Support Specialists!
Contact Information
Contact for news media inquiries: Lisa Flowers, Communications Director, 571-474-5435 (cell) or 703-324-7006 (office).